Tata Elxsi Celebrates World Industrial Design Day 2013
JMarks occasion through the annual connect-D event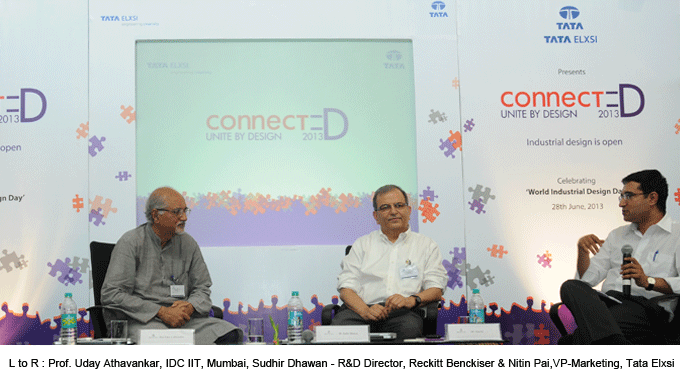 Bangalore, June 28, 2013: Tata Elxsi, a leading design company, celebrated 'connect D' - the annual design event to commemorate World Industrial Design Day (WIDD) on June 28, 2013. The event was held at its corporate office in Bangalore. The theme this year was 'Industrial design is open' and the sessions gave an in-depth analysis of the growing recognition of design across industries and how it helps brands and companies solve day-to-day problems to gain a competitive edge in the market place.
connect D is a platform to bring the industry and academia together where the design students can interact with industry experts and get a firsthand perspective on the various prospects and challenges faced by designers today.
Students and faculty from renowned design schools like NID, IISC, Raffles, NICC and NTTF attended the event. The event featured sessions by the two eminent guests Mr. Sudhir Dhawan- R&D Director, Reckitt Benckiser and Prof. Uday Athavankar - IDC, Mumbai. They shared their insights and experiences on how industrial design is enriching and impacting lives of consumers on a day-to-day basis.
Speaking on the occasion, Sudhir Dhawan - R&D Director, Reckitt Benckiser said, "Events such as connect D aim to promote awareness of the profession of industrial design and will help to highlight the impact of industrial design on economic, social, cultural and environmental quality of life. It also provides a platform to aspiring designers to showcase their creativity and work."
Added Mr. Anil Sondur - Vice President, Tata Elxsi, "We believe connect D is a great opportunity to bring together creativity, innovation and design. As a leading design company, we understand our role in fostering new talent and provide a platform to design students to showcase their abilities. "
The event also featured an immersive design workshop, product demos and interaction with Tata Elxsi design team. These sessions enabled the students to interact with the senior Tata Elxsi design team members and expose them to understand the various nuances of design across industries and service areas.
The winners of the second edition of the IGNITE Design Contest were also felicitated at the event. The winning entries were from Fijoy Francis - NTTF, Bangalore and Arjun Rajkumar S, - NID, Ahmedabad.
Fijoy Francis won for his entry 'Smart TV for the Indian Youth: Redefining the in-television' under the category 'Re-defining a Smart TV'.
While Arjun Raj Kumar S. won for his entry 'ORB - LPG gas knob automation for Indian Kitchen' under the category 'Age-friendly Kitchen Appliances for the elderly'.
This year's theme for IGNITE contest 'Design enriching everyday life' has been aligned to the theme set by ICSID (International council of societies of industrial design) which is 'Industrial Design Is Open'
They were awarded with cash prizes worth Rs. 30,000, a certificate, and a chance to pursue a live project for three months with Tata Elxsi along with the opportunity to present their idea / concept to the panelists and audience at the connect D 2013.
About World Industrial Design Day
World Industrial Design Day is an international day of observance in recognition of the profession of industrial design. It is a new global initiative which aims to provide professional industrial designers and design enthusiasts with an opportunity to promote a global understanding of design and all that it encompasses.
Started by The International Council of Societies of Industrial Designers (ICSID) which was formally founded on June 29, 1957, World Industrial Design Day was first declared on June 29, 2007 on the occasion of ICSID's 50th anniversary.
About Tata Elxsi
Tata Elxsi is a design company that blends technology, creativity and engineering to help customers transform ideas into world-class products and solutions.
A part of the $ 100 billion Tata group, Tata Elxsi addresses the communications, consumer products, defence, healthcare, media & entertainment, semiconductor and transportation sectors. This is supported by a talent pool of over 3500 employees and a network of design studios, development centers and offices worldwide. Key services include embedded product design, industrial design, animation & visual effects and systems integration.
The Industrial Design (ID) division helps customers develop winning brands and products by using design as a strategic tool for business success.
ID's expertise extends across research & strategy, branding & graphic design, product design, packaging design, UI design, retail design & signage, transportation design, design engineering and manufacturing support. An in-depth understanding of consumers and rapidly changing market dynamics, backed by a multi-disciplinary design team, enables ID to service a broad spectrum of industries.
ID has supported the launch of multiple brands and products across the world. It has to its credit several international awards and patents for design and innovation.
For further queries contact:
Tata Elxsi
Kalyani Kasara
Telephone: 080 - 2297 9275
Email: kalyanikasara@tataelxsi.co.in

Rediffusion / Edelman
Harry Pinto / Lina Gokarn
Mobile no: +91 9731901188 / +91 9920321565
Email: Harry.Pinto@edelman.com /lina.gokarn@edelman.com