Tata Elxsi supports establishment of a pre-engineering delivery center for rolling stock design. The center addresses strategic activities such as project pre-engineering phases, bid engineering activities, preliminary design and drafting of specifications (Phase S) for mechanical and electrical system and validation engineering projects.
Services
Passenger Experience
Design & Visualization
Production Support
Passenger Experience
Mobility projects all over the world give more emphasis on infrastructure while aspects like improving service quality, accessibility, customer perception are often missed out or designed as after thoughts. Tata Elxsi helps in designing Brand Strategy and Passenger / Service experience across all customer facing elements in rail industry. The brand strategy and positioning with a new identity is developed by Tata Elxsi. Our design team has played significant roles in completing Government projects of Lucknow Metro, Bengaluru Metro, Nagpur Metro, Kochi Metro and Mumbai Monorail. Our engineers win the International "IF Design Awards – 2017" for "Service Design Discipline"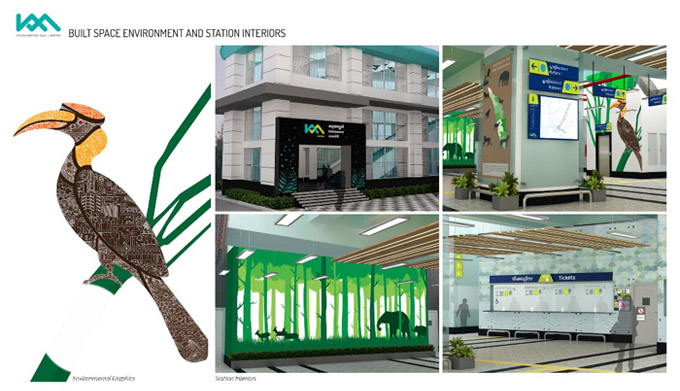 Reimagining tomorrow's rail travel experience, Tata Elxsi assists in the evaluation and assessment of design implementation for Brand and Customer Experience solutions.
Our service offerings include:
Brand Research, Identity & Strategy
Rolling stock – Exterior & Interior design
Station Architecture & Interiors
Wayfinding & Signage
Passenger Experience design
Passenger App design
Environment graphics
Design & Visualization
Tata Elxsi has global award winning team for delivering disciplined service design and best user experience. Our team conducts in-depth consumer and competitor benchmarking studies and evaluate novel designs objectively & subjectively. We have Centers of excellence (CoE) in areas of styling / aesthetic design, Class A surfacing in BIW (Body in white) design and UI design.
We have completed several projects on styling of passenger CAD 2D & 3D design, Car-body design, Bogies, interiors etc. for several OEMs and Tier 1s.
We create photo-real graphics content which helps OEMs to enable visual communication across TV, outdoor, web and direct mail to integrate with other marketing activities.
Our key differentiators include:
One of the largest design firms in Asia with presence in US, Europe & Japan
Comply with IEC/EN standards
Ability to provide complete product development support
In-depth understanding of global trends, consumer needs and technological developments
Large engineering teams backed by industry consultants
In-house state-of-the-art prototyping facility and vendor network to build full scale mock-ups and prototypes
CAD/ CAM/ CAE team to support design validation
Production Support
Ensuring that the manufactured product is true to its design, Tata Elxsi ensures that the product is true to its design and there has been no deviation or compromises. Be it vendor networking, component qualification or mold management our expertise has helped clients to deliver world-class products that meet all technical specifications.
Our service offerings include:
Vendor networking
Assembly & mold management
Sourcing consulting