Attention
This website is best viewed in portrait mode.
4 Key Takeaways from The LSX World Congress 2023: Building the Future of Healthcare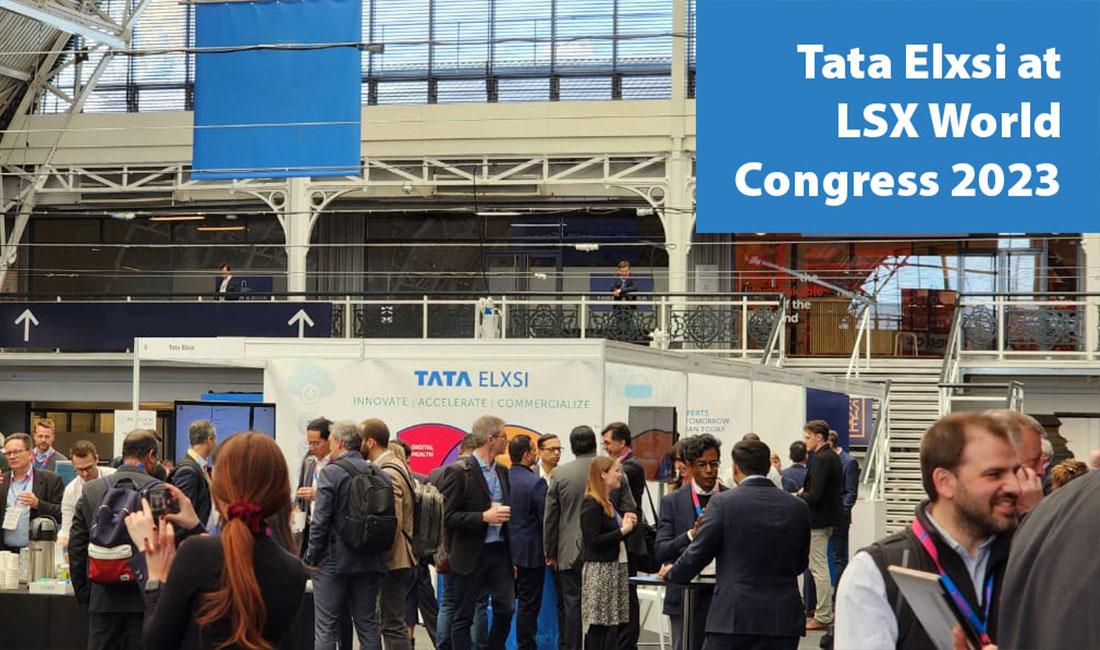 On May 3rd and 4th 2023, Tata Elxsi attended the LSX World Congress in London. This event brought together global experts in the fields of Medtech, Healthtech, and Biotech to discuss the latest trends in the industry, showcase industry expertise and build synergies to create a healthier future for all stakeholders.
We built valuable connections during the two-day event and demonstrated our expertise in the futuristic fields of Digital Health, Product Design and Engineering, as well as Extended Reality in healthcare.
The event was an eye-opener in many ways. In the hopes of what we can look forward to this year and beyond, here are 4 key takeaways from the event:
Outcome-Oriented Healthcare Innovation: Recognizing the need to drive innovation which results in commercialization, companies are prioritizing the needs of patients and physicians at the centre of innovation. Thus, Healthcare companies are increasingly viewing every innovation, from the conceptualization stage, with the major objective of creating better patient and economic outcomes.


Regulatory Compliance — Navigating Globally Evolving Landscapes: The rise in medical and healthcare digital innovations, prevailing macroeconomic situations, and market conditions post the pandemic, have resulted in the regulatory landscape being equally, if not more, complicated. Healthcare companies continue to look for collaborators to navigate complex regulatory landscapes, build commercialization models, notified body submissions, and reduce overhead costs and timelines.


The Need for Collaboration: MedTech and Pharmaceutical companies are reaffirming the need to collaborate on digital innovation with technology partners, domain experts, and resource partners across a variety of functions and commercial models. Efforts are being made to plug technological and design gaps, and reduce administrative costs and overheads, to help enable quick deployment of solutions.


Demand for Developed Ecosystem Partners on the Rise: With the increasing number of businesses present at various stages of the care continuum, brands in Healthcare are looking to tap into a more matured ecosystem of partnerships. This is being done to enable quick and sustainable solution deployment through faster and easier integration of systems and platforms. In such a scenario, partners who can provide companies with access to a comprehensive ecosystem, offering end-to-end services and networks will effectively stand to gain a higher advantage.
The event had a good mix of companies across the size and scale spectrum — from university start-ups seeking to push the boundaries of MedTech innovation in sensors, implants, and point-of-care devices to legacy multinational companies who are looking to cross new frontiers in patient engagement, and process optimization while managing and upgrading their existing arsenal of products and solutions.
The LSX World Congress was a successful opportunity for us to showcase and understand how technological innovation and design expertise is driving higher value for patients, doctors, healthcare systems, medtech, and healthtech companies.
Tata Elxsi seeks to create smarter and more intuitive healthcare services that will benefit patients and businesses alike.
Connect with us to build a better future for the field of healthcare and life sciences.
---
About the Author:

Dr. Anshul Gupta, Manager — Strategy and Business Partnerships, Healthcare and Lifesciences, Tata Elxsi
Dr. Anshul brings a holistic perspective derived from his experience with patient care and processes management to strategically and operationally define the vision of the Healthcare & Life Sciences Business.
Dr. Anshul takes a special interest in leveraging the Digital Transformation undergoing in the Healthcare industry to improve Health and Economic outcomes for all stakeholders. Dr. Anshul is part of Tata Administrative Services. He is a doctor by training and holds an MBA degree from IIM Ahmedabad.