Attention
This website is best viewed in portrait mode.
5 Problems in Healthcare: Is Digital Health the answer?
With the pandemic as a catalyst, the healthcare industry has undergone major changes to address patient needs. Alongside restrictions to physical consultations, various other limitations in the healthcare industry have come to light. Telehealth has the ability to transform healthcare as we know it today while addressing each of these problems in the most efficient manner.
Below discussed are some of the major problems in healthcare today:
Rising healthcare costs: Rising healthcare costs have been a continuous problem in the industry. According to the Peterson and Kaiser Foundations' study, the U.S. spent more than $3.8 trillion on healthcare in 2019 and was expected to exceed $4 trillion in 2020. On a per-capita basis, the US spends nearly 42% more than Switzerland, the country with the second-highest per capita spending on healthcare, as per Health System Tracker.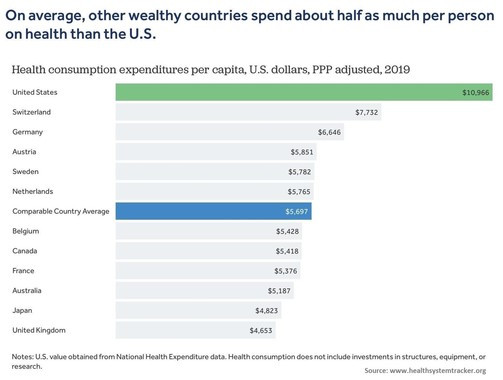 These costs are driven by several factors such as an aging population that is dependent on medical services, increasing administrative and service costs, and various stakeholders (medical device manufacturers, pharmaceutical companies), etc. Therefore, it becomes imperative to manage the rising costs to optimize healthcare service delivery.
Lack of personalized healthcare: Patient data management has become a complex task due to the increased patient volume, variety of services provided, the limited number of healthcare workers, and the variety of facilities available. Considering the mass of patients that require services and the limited number of healthcare workers, providing highly customized patient care is extremely challenging. Therefore, the key to providing personalized patient care is effective patient data management.
On-prem or on-premises data management can be very costly in terms of the resources required to be maintained by the healthcare providers. On-prem data centers require the maintenance of data sets, real estate to build the data center in the hospital, etc. which can greatly add to the healthcare providers' expenses. Apart from adding to costs, on-prem data management practices also hinder IoT implementation such as adopting Remote Patient Monitoring (RPM).
RPM is the latest trend in the healthcare industry, and can strongly facilitate personalized care. However, traditional patient data management practices will not be able to efficiently sustain the large volumes of data that will be required for RPM. Traditional data management practices also hinder the possibility of collaboration between doctors and specialists, which is vital to delivering personalized healthcare services. All this can be made possible with help of application modernization services.
Data privacy, security, and regulatory compliance: With the mountains of data that are accessible to healthcare providers, data privacy and regulatory compliance have become a priority. Healthcare providers are finding it challenging to manage the increasing volume of patient data while ensuring data security and maintaining patient privacy with respect to sensitive information. In fact, the year 2020 saw more than 29 million healthcare records breached as per the HIPAA Journal.
These data threats could be in the form of data breaches, ransom wares, DDoS attacks, insider threats, business email compromise, and fraud scams. Any compromise on patient data privacy and security can put the personal data of millions at risk which can further lead to legal complications, financial burdens on the provider and can even hinder future healthcare research.
To help ensure that patient data is kept secure and private, regulations such as the HIPAA, California's Consumer Privacy Act, Europe's GDPR, etc. act as a motive for digital health providers to protect clinical data.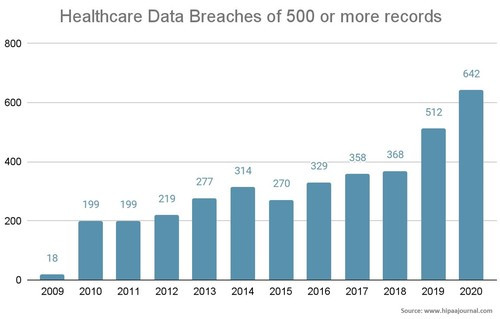 Investing in new technology: Many healthcare providers are hesitant to transition towards these new technologies because of the lack of trust in AI and novel technologies among both patients as well as healthcare providers. The risk-averse nature of healthcare providers when making investments, the high investment involved, and compliance with complicated regulations as a result of going digital, etc. act as further barriers to the transition. As a result, while the industry is gradually adopting and implementing digital technologies, the overall industry-wide transformation efforts are highly fragmented.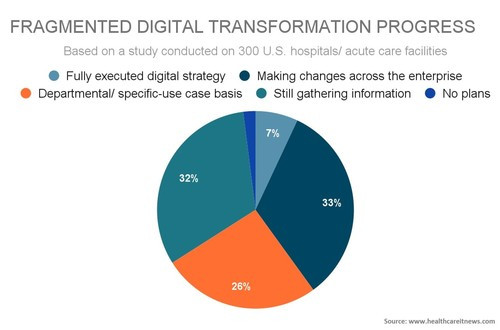 Additionally, some investments call for a complete replacement of existing infrastructure, leading to administrative challenges and even becoming a financial burden on providers.
Funding newer innovations requires a concrete and cost-effective solution. In this light, it has been found that the most promising technologies which will drive the future of healthcare are AI/ Machine learning, Cloud computing, and Data Analytics and management.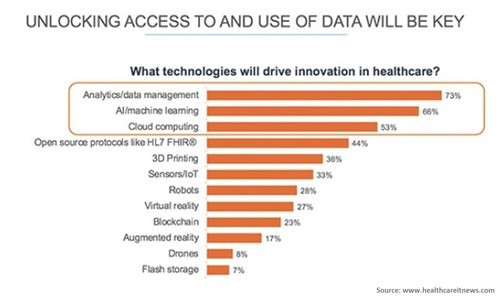 Interoperability and integration: Interoperability is the capacity of information systems, applications, or devices to connect, send or receive data. As one of the key functionalities of a digitized healthcare system, interoperability stands as one of the more crucial elements to this transformation. The lack of adoption of digital health on a wide scale can partially be attributed to the lack of interoperability in the technologies developed in the past. To truly establish a digitized healthcare system, technology has to be highly interoperable.
Additionally, with rising costs, healthcare providers are looking to adopt technology that is easily integrable with their existing hospital IT infrastructure, for a more efficient transition and to optimize costs.
What is digital health?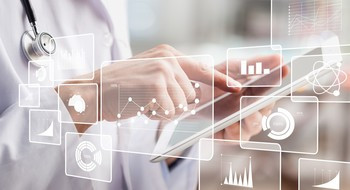 Digital health or virtual health refers to the technological innovations in healthcare that are developed to enhance the ability to accurately diagnose and treat diseases and improve the delivery of healthcare to the patient. Digital health is a broad term that includes wearables and connected health, telehealth, and telemedicine, mobile health, and personalized medicine.
Due to its vast potential, healthcare providers all over the world are transitioning towards digital health technology to address key challenges in the industry and improve the quality of healthcare. By integrating digital health platforms into their service framework, companies can employ facilities such as doctor-patient video conferencing, telehealth services, diagnostic lab integration, remote patient monitoring, e-pharmacy, and many more possibilities of virtual health. This multifaceted service platform is the answer to the key challenges the industry needs to address.
Below discussed are some of the examples of how transitioning to digital health or telehealth solutions can address major healthcare problems:
Efficient cloud-based data management: With the digitalization of healthcare services, data management can be optimized for improved data collection, storage, accessibility, privacy, and timely deployment.
Healthcare providers are rapidly adopting cloud-based data management technologies to further optimize and personalize healthcare service delivery. There has been rapid growth in the healthcare cloud computing market, with a forecasted growth from USD 28.1 billion in 2020 to USD 64.7 billion by 2025 (CAGR of 18.1%). This can be attributed to lowered costs, ease of interoperability, patient-ownership of data, possibilities of high-powered data analytics, and telemedicine capabilities.
Healthcare researchers have estimated that nearly 70% of routine appointments do not require face-to-face interactions with a doctor. The industry is slowly learning that telemedicine is a strong candidate for future cloud use.
Easy integration with existing IT infrastructure: A truly customizable digital health platform with a flexible architecture has the potential to easily integrate with the healthcare providers' existing IT infrastructure thus minimizing the investment required for adopting and transitioning towards virtual healthcare services. The variety of benefits offered by these platforms which allow the streamlining of workflow and reduction of administrative costs, justify the return from these investments which acts as an impetus for healthcare providers to transition towards adopting innovative solutions.
Optimized healthcare costs: With digital health comes the possibility of deploying platforms with the required healthcare service feature-set to optimize operational costs and deliver personalized healthcare. Streamlined operations, optimized data management systems (which prevent additional costs arising from data loss), and virtualized doctor-patient consultations, create possibilities to further optimize costs. As per an article by Julius Baer, the savings potential from the implementation of digital health far exceeds the total addressable market, with up to USD 650 billion in savings globally. Additionally, digitizing services would create more streams of revenue and broaden consumer reach by removing geographic restrictions as a barrier to availing healthcare services. The transparency and ease of sharing information would facilitate cost decisions among various stakeholders leading to optimized costs for consumers.
Compliance with regulatory standards for data privacy and security: In a highly regulated healthcare industry, telehealth solution providers need to comply with several global and region-specific guidelines while developing digital health platforms. These regulations, while complex, are crucial to maintaining privacy and patient data security. Therefore, the telehealth platforms that follow the strict regulatory guidelines allow the hospitals and healthcare providers to focus entirely on providing quality healthcare services to their patients instead of being constantly concerned about regulatory, operational, and administrative burdens.
Customized healthcare services: With the transition to digital health services, healthcare providers will have more opportunities to further improve the quality of healthcare delivery and deliver customized solutions as per patients' specific needs. Virtual healthcare allows for flexibility in delivering services and reduces the administrative burden for the provider.
Novel biomarkers such as those which are easily collected through mobile applications and wearable devices among other tools, facilitate existing approaches to deliver the most effective care at a lower overall cost to achieve a better clinical outcome. With the growing trend of wearable fitness and health devices among consumers, the scope for data collection is further broadened.
About Tata Elxsi Digital Health Platform
Tata Elxsi's Digital Health Platform (DHP) is a "Digital Front Door'' to all essential telehealth services. It is a highly customizable platform with configurable features and support for a variety of third-party tools. It allows for a seamless user experience by virtualizing major patient touchpoints across the patient journey. It is easily integrable and interoperable with any standard hospital infrastructure and workflow along with interfacing with patient side devices and applications for better clinical outcomes.