Attention
This website is best viewed in portrait mode.
5 Trends in Healthcare Software Testing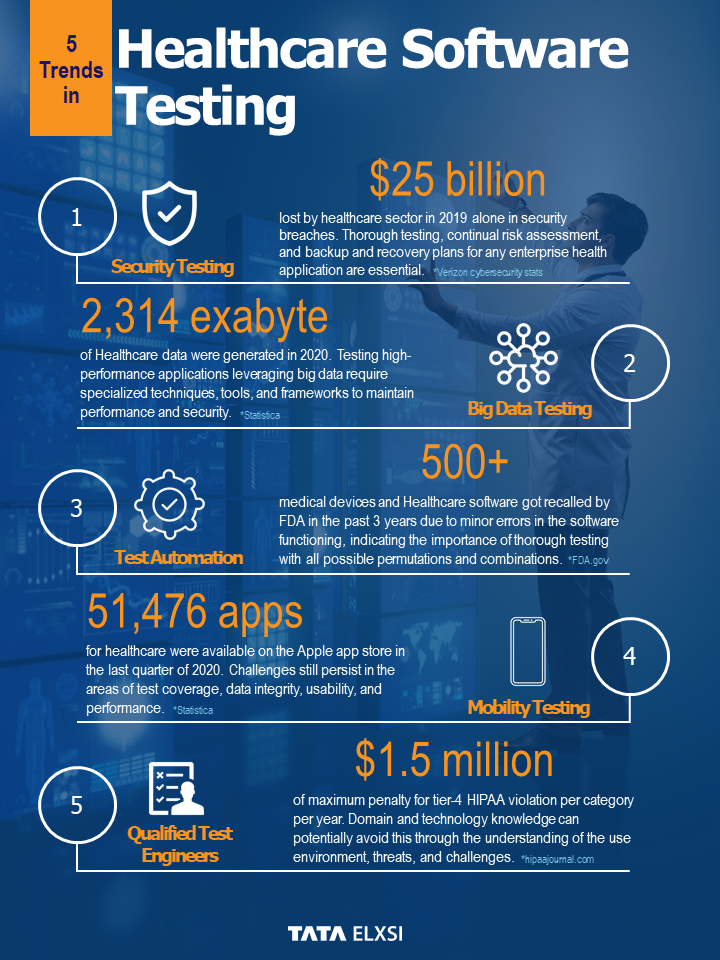 The Healthcare software market is growing at a significant rate as more and more services and operations are being virtualized. Being one of the highest regulated industries, healthcare software testing needs to be comprehensive and thorough to ensure a secure and seamless user experience.
The top 5 trends in healthcare software testing are:
Security testing: According to a Ponemon Institute study, the average cost of a breach for a healthcare organization is approximately US$8 million, and trending upwards. Most of the latest Healthcare software integrates with various information systems to access patient data to provide better outcomes. Hence, extensive security testing has to be the key priority in the testing strategy for safeguarding the security and privacy of sensitive healthcare data of patients.
Test Automation with Agile, DevOps testing methodologies: The Healthcare IT market is expected to reach US$166 billion by 2024. The ever-rising need to get the solutions faster to market necessitates the healthcare IT teams to adopt the Agile and DevOps methodology and use Test automation to perform repetitive tasks, more precise testing, provide continuous feedback loops, and ensure test coverage.
Big data testing: According to Statista, 2,314 exabytes of Healthcare data were generated in 2020. Big data testing deals with both structured and unstructured data and huge data volumes and helps validate data, and provide insights to make better marketing strategies and business decisions
Mobile and Compatibility testing: With easy access, low maintenance cost, freedom from paper-based operations, and the transparency in sharing vital treatment details, the mobile healthcare applications market is growing at 24.9% CAGR, according to Business Insider. However, for solutions to run efficiently and conveniently, rigorous testing processes are required to test across all the operating systems, browser combinations, and complex form factors for various devices.
Industry experienced test engineers: Several complex safety and privacy regulations in Healthcare necessitates a lot of experience and skills in testing. Thus having test engineers with excellent domain knowledge and understanding of HIPAA, HL7, etc. guidelines and critical workflows is important.