Attention
This website is best viewed in portrait mode.
EdTech: Driving Personalized and Customized Learning Experiences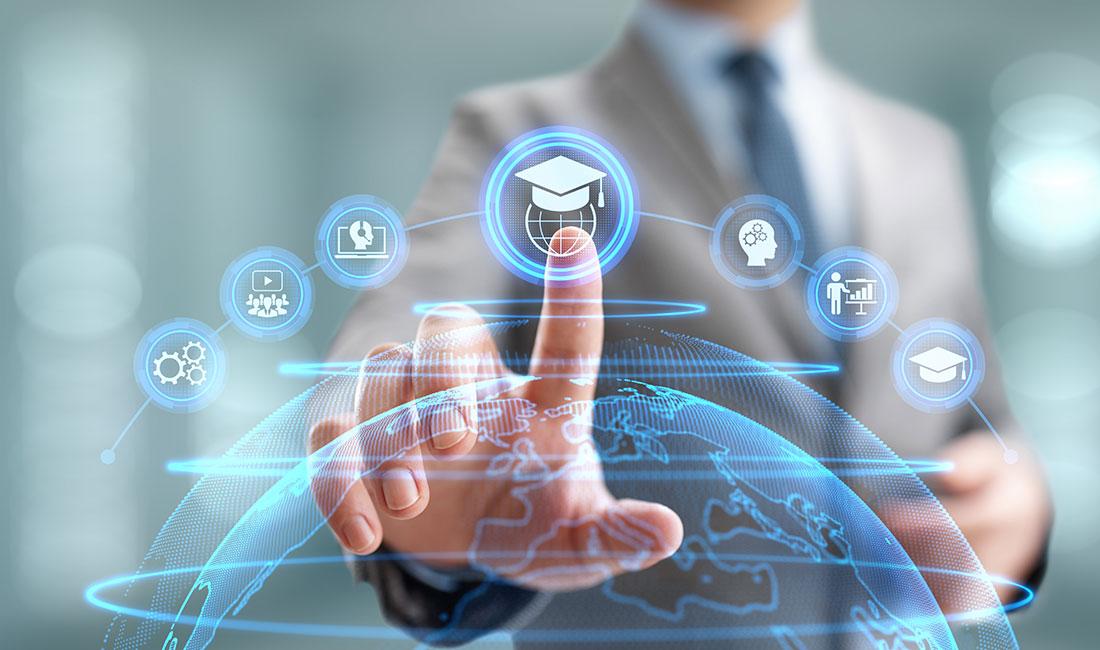 Written by Aditya S Chikodi
(General Manager & Head, Innovation, Design and Visualisation, Tata Elxsi)
In the context of EdTech sector, in my last article, I had alluded to the 4Es (Edtech, Edu-Content, E-Learning and Entrepreneurship) that will drive growth in the overall education sector. Each one of these "E"s is equally important for the required innovation in technology, content, delivery, and business models to drive digital transformation in education. The expected impact is thus – an informed, learned, efficient and productive youth.
In this article, I will highlight the adoption of EdTech in Education and Corporate Training / L & D, some key challenges, and the importance of content and design in addition to technology to deliver compelling learning experiences.
EdTech in Education
The use of digital assets is enhancing the current education system, leading to a different learning environment, and changes in teacher-student connect.
Edutainment is playing an important role in the following segments:
Pre-school/Childcare
K-12 Education
Higher Education
Vocational & Skill Development
On-campus, face-to-face education system which emphasizes on assignments, homework, and exams, has proven successful for the longest time. Unlike this traditional system, digital tools, if rightly packaged can provide personalised and customised learning, that stimulates knowledge and comprehension. Not just that, it also allows experimentation through various means, and enables individuals to interact with the world issues through their learning and experience. Edutainment as a medium of learning can enhance the creativity and cognitive development of kids and adults alike, when planned and executed in an effective manner.
EdTech in Corporate Training / L & D
EdTech is not just limited to the education sector. With fast paced adoption of digital technologies in the recent times, the corporate learning and development landscape is also changing. Corporates are embracing digital platforms and innovative means to support their employees, across safety and health training, service and troubleshooting, Standard Operating Procedures to name a few. Organizations are exploring intuitive means to communicate and enhance learning experiences.
This holds true for various learning technologies and trends such as microlearning, personalization, competency-based learning, gamification and adaptive learning. They began in education, and have found way in corporate L&D and Training.
So, are we all set for this Digital transformation?
We are yet to explore the desired potential; however, we are getting there.
The most important tenet of any learning is accessibility and end user engagement. Online and digital medium offers personalised, inclusive, interactive experience and opens up new avenues for students and corporates.
So, has this transition been smooth? Well not necessarily.
While, there has been a shift from the existing learning methods to digital mode, it hasn't been seamless in most cases. Students and corporates have faced their fair share of problems. Such as:
Need for self-discipline
Lack of social interaction
Time Management
Short attention span
Technological issues
Having addressed some of the infrastructure issues in urban settings, institutes and corporates have successfully adapted to digital delivery, which got accelerated by the pandemic. Unfortunately rural areas are still lagging.
However, in both the sectors the digital skills of teachers and trainers have to be addressed. Hence, skill improvements and necessary infrastructure are imperative for educators to explore the full potential of technology enhanced delivery. Schools and corporates therefore need to bridge the gap to ensure availability of resources, and monitor overall engagement.
But is this enough? Not necessarily.
Infrastructure vis-à-vis connectivity addresses accessibility, it doesn't guarantee engagement. Design and Content does.
Importance of Design and Content to deliver engaging User Experiences
As digital learning is here to stay, there has to be constant innovation in the way content is presented. This is where design plays a key role to ensure that the content is engaging and captures viewers' attention irrespective of the medium. From what is presented, to how it is presented, to how long it is presented – all these elements have an impact on the quality of digital learning.
EdTech firms employ various experts such as pedagogical experts, instructional designers, script and storyboarding leads, 2D & 3D content developers, animators , artists alike to prepare engaging subject matter. This creative team is designing and developing content taking into account aspects such as personalization, collaboration and asynchronous learning, gamification, AI and insights, interactivity, AR to name a few. These teams provide the required impetus to make EdTech work, by leveraging technology aptly for delivery as well as presentation. While using creativity in building the product and curating a stimulating experience, the course and training content has to be suited to these new standards. It takes into account cognitive, strategic, and practical processes by which experiences can be built. Hence, users would associate the activity with the subject and training content, making them feel included, and boosting their morale to learn.
In Conclusion
Design coupled with appropriate content, and its mode of delivery will play a crucial role to provide a good learning experience. The future of EdTech definitely looks promising, it all depends on the sector's ability to quickly adapt to the changing times and offer personalized solutions in diverse categories. The mobilisation of digital media for learning, education and training will be one of the key factors to shape learning in future and will continue to make it inclusive, personalised and customised.
So 'what next' do you expect will make its way in EdTech in both education and corporate training in the coming years?