Attention
This website is best viewed in portrait mode.
Future of AdTech: Trends that Will Revolutionize Advertising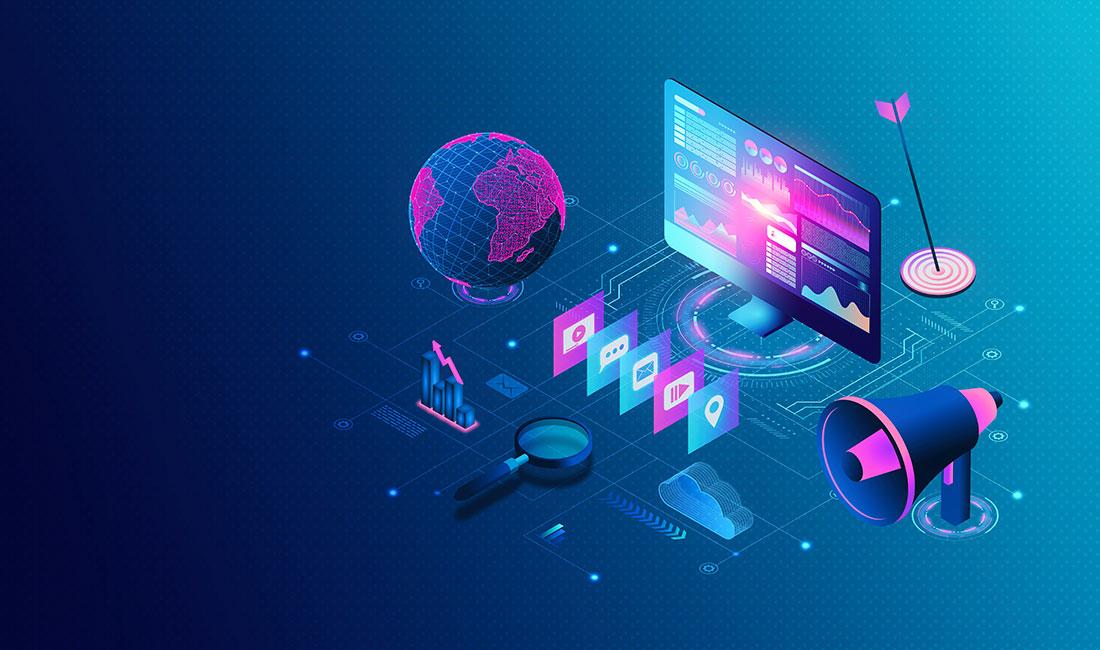 AdTech Market: An Overview
AdTech helps agencies, brands, publishers, and platforms effectively target, deliver, and measure their digital advertising campaigns. AdTech software platforms assist brands and agencies in acquiring advertising space. They also help publishers with the pricing and sale of their ad inventory.
By 2024, the global spend on digital advertising is set to be 876 Billion USD. With brands shelling out this large amount of money, AdTech will help buyers to optimize their budgets and enable sellers to maximize their revenue streams. The goal is to get better ad placements, deliver the right content to the right audience and reduce wasteful spending. AdTech also provides comprehensive behavioral data that can be used to target potential audiences and measure campaign success. With the surge in data-driven insights from device interactions, AdTech has become more popular as companies discover how cost-effective these solutions are.
Key Trends in AdTech
The AdTech industry continues to evolve rapidly and adapt to the changes in technology and consumer behavior. Here are some of the key trends that will define this field in the future.
Contextual Advertising: With increased competition and availability of content, customers demand relevancy to the advertisement they watch. In contextual advertising, the ads are targeted based on the contextual

environment

of the webpage that is being viewed. The global contextual advertising market will have a fast-paced CAGR of approximately 18%

from 2022 to 2031




Addressable TV Advertising: This game-changing trend is a form of advertising which enables precise segmenting and targeting of ads to relevant customers, going one step further from linear TV advertising. It enables greater reach, increases brand awareness, and gives advertisers the opportunity to collect accurate metrics on engagement and conversions. A recent survey among 350 advertising executives showcased that more than 80% of them were extremely satisfied with their addressable TV initiatives. Further, with innovations such as Web 3.0 and the possibility of users having shared experiences across multiple platforms, the reach of personalized ads can increase manifold.


Gamification of Ads: The integration of game elements into advertising is a rising trend with promising potential in the AdTech industry. With gamification, consumers can receive rewards, such as discounts, by participating in short games instead of just passively watching an advertisement. This approach is expected to enhance user engagement and conversion rates by fostering relationships with the audience and influencing their decision-making process in a cost-effective manner.


5G in Next-Gen Entertainment Experiences: 5G, augmented and virtual reality will transform media and entertainment. Through the type of latency and bandwidth which it can bring to the market, 5G can enable greater use cases of hologram advertisement displays or holographic-based marketing. Hyper-personalization through media design is another capability that can be enhanced through 5G. When coupled with technologies such as Artificial Intelligence (AI) and Machine Learning (ML) it can help media planners and advertisers to show targeted ads to the right kind of segment and maximize reach.


Programmatic Advertising: Programmatic advertising refers to the automated process of purchasing advertising space, as opposed to the traditional manual methods used in digital advertising. This technology employs algorithms and data insights to display ads to the appropriate users, at the optimal time and price, rather than relying on manual selection. By improving the inventory fill rate for publishers, programmatic media buying ensures that ad space is utilized more effectively.


Digital Ad Delivery: OTT and CTV (Connected TV) advertising are becoming increasingly popular due to their lower entry threshold compared to traditional television ads. They offer brands a powerful way to target specific audiences across different devices and platforms and then display ads in relevant placements allowing for a more personalized user experience. Statista estimates the number of consumers who use OTT and CTV ads will reach nearly 4 billion USD by 2026. Types of Digital Ad delivery includes:



Playable Ads: This advertising format combines interactivity and gamification which sets it apart from traditional ads. Playable ads engage users in real-time, maximizing ROI while allowing potential users to experience the app in a limited time frame, making them an ideal tool for capturing high-quality users. These ads generate higher engagement and app installations.
Interactive Video Ads: Interactive video ads have become a boon for brands in the advertising industry. Brands using interactive ads have seen viewing time increase by 47%. The unique proposition of allowing users to actively participate and engage with ads provides a great opportunity to increase conversion rates and improve brand awareness.
Rich banners Ads: Usage of audio, video, games, pictures, and other interactive elements in Ads will encourage users to engage with the content. This in turn helps in improving the brand's visibility and creates a memorable experience in the minds of users. Rich banners are cost effective, customizable and can be tweaked in real-time.



Single Currency Ad Delivery for Linear and Digital: By reassembling the audience and running campaigns across multiple platforms, it is possible to generate more revenue by leveraging the combined inventory, while also reducing overall costs and achieving broadcast-quality content on digital platforms. This also helps advertisers, agencies, and brands in ease of buying the inventory along with meeting the campaign objective across the platforms. This trend in advertising can address several key challenges for advertisers and media houses. It will help media planners, who have a fragmented stack of activities across various workflows to manage discrete ad sales and ad operation workflows, through a single platform and thus optimize their campaigns. Additionally, advertisers can amplify their brand and reach their target audience with advertising spaces across linear and digital TV segments.


Big Screen/Connected TV (CTV) Ads: CTV ads reach groups of viewers that traditional advertising cannot. It allows for ads to be placed on TV or any other devices connected to the internet. Today the majority of brands and marketers prefer CTV ads due to their inherent properties of cost-effectiveness, enhanced measurement, greater reach, more engagement, and better targeting. In fact, recent IAB reports show that more than 50% of advertisers, agencies, and publishers consider CTV as a key to programmatic growth. IAB Tech Lab expanded measurement with OM SDK to CTV with the objective of boosting interoperability. In 2023, there will be an onset of attribution platforms that account for CTV audiences and a rapid adoption of the OM SDK standards among publishers.


Customer Data Platforms: Customer data platforms (CDPs) are increasingly being used in the advertising industry to help marketers and advertisers collect, integrate, and analyze customer data from multiple sources. Customer data platforms help with audience segmentation, omnichannel marketing, real-time personalization, campaign measurement and optimization, better ad performance, and compliance for managing and securing customer data.
The Way Ahead
With advancements in AI/ML, AR/VR, and immersive ad experience, the future of AdTech is filled with opportunities. By leveraging these technologies with the right set of tools and data-driven strategies, the possibilities are endless. It is thus imperative for companies to adopt cutting-edge technologies to stay competitive and align themselves with the needs of their target audience. Going forward, the changing AdTech landscape will continue to shape the way we interact and consume advertising.
We at Tata Elxsi ensure profitability by performance across Ad Platforms, Ad Processes, and Ad Operations for publishers, advertisers, and ad technology companies across both linear and digital advertising.