Attention
This website is best viewed in portrait mode.
How Robotic Process Automation can Revolutionize Healthcare?
Robotic Process Automation (RPA) is the conventional route to business process automation nowadays. It is a software program designed to operate as a human worker while performing mundane, repetitive tasks, thus saving the organization considerable time and resources across verticals.
Increasingly, RPA's influence spans domains as varied as automobiles and finance. And yet, several industries remain immune to its charms, most prominently healthcare.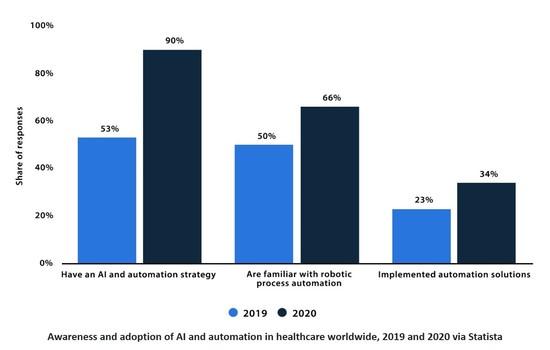 There are several reasons for the slow adoption. As per a recent survey of 34 large healthcare organizations, the majority of the respondents cited 'resource crunches' (44%) and 'knowledge gaps' (44%) as the primary reasons for the slow adoption of the novel technology. Another factor is the heavy investment involved.
Instead, companies have implemented automation solutions in more internal domains, which are dotted with superfluous tasks that can be reassigned through automation.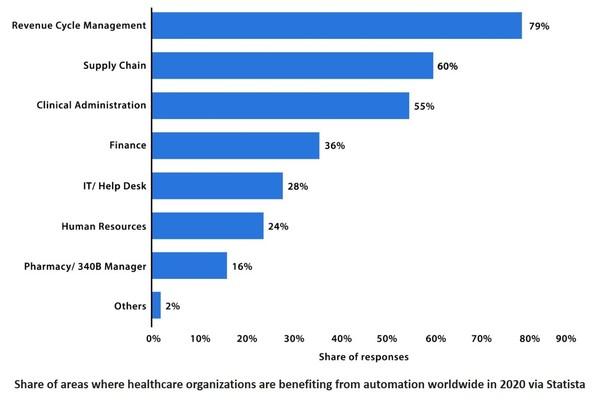 Its use in healthcare, while still limited, is steadily growing. A Markets & Markets projection estimates its CAGR will grow at an impressive 32.6% over the 2019-2025 period.
If the healthcare organization is prepared to incorporate automation into its core medical operations, RPA has much to offer.
1. MedTech: A significant part of the research and product development effort that goes into creating medical technology is still performed manually. As Deloitte noted in an insightful report, "By employing digital technologies including robotic process automation (RPA). Medtech companies can improve product life cycle efficiency and quality, and generate savings of 40% to 75% in labor hours, depending on the operation being automated."
This can take on several forms, such as:
pinpointing the optimal clinical study population
tracking product development lifecycles
writing clinical protocols
2. Pharmaceuticals: Pharmaceutical development continues to be a labor-intensive exercise. With growing regulatory scrutiny, the sector is also now grappling with a huge compliance burden. Both have one thing in common: a large volume of repetitive tasks. Enter RPA, which can cut the time spent on regulatory submissions by up to 65%, according to E&Y. Pharmacovigilance is another such domain, where top companies can save up to 45% on time. Implemented properly, RPA could well prove a game-changer for drug safety.

3. There is growing awareness about tech privacy, and in no domain is privacy a bigger factor than healthcare. Medical technology may raise several related questions, especially in developed nations: How is my medical data being secured? Is the retrieval and transfer process secure?
A well-designed and standardized automation process can assuage these doubts. With RPA, all access to patient data must be authorized. Human interaction with the system is greatly reduced and with it the risk of data leakages. Further, data need not be manually copied when changing systems, eliminating transcribing errors.
4. RPA can assist doctors with the treatment and care process. Health plans have to be customized to the patient's unique physiology and needs, keeping in mind both dietary and medicinal requirements. An automation program can swiftly pull up this information, allowing payers to design the best health plan they can.
5. Personal health assistants: Patients can have a conversation with a chatbot, programmed to simulate a doctor, which furnishes the information that they need to decide their next course of action.
Additionally, RPA has administrative use cases, that are:
Cost reduction - The cost of purchase is the primary expense associated with an RPA system. Maintenance costs are low, in contrast to the recurring and constant expense on human workers for the same tasks.
Employee management - Some tasks will always be a constant across sectors – salary payments, leave tracking, time-of-arrival logging, financial auditing, equipment and accessory auditing, and the like. An RPA program will help hospitals streamline these processes and conduct them smoothly.
In the age of Covid-19, RPA is helping hospitals organize their oxygen supply, test patients, thereby protecting nurses and doctors, and even labeling kits accurately.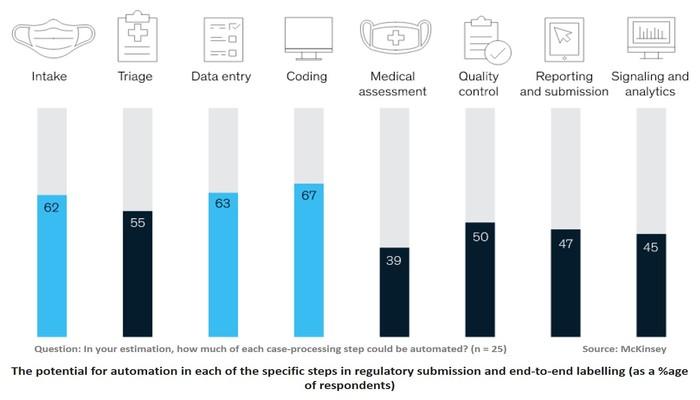 At this point, we should probably stop and remind ourselves that RPA, for all its potential, is designed for rule-based, repetitive tasks. It has its limitations. Unlike AI or ML, the program isn't taught to learn and think independently; it just does what it's told to. So its success or failure depends on subjective decisions made by key stakeholders during the assessment phase. To get the best out of it, firms should entrust their operation to skilled personnel who are fully aware of its strengths and limitations.
It is often argued that automation will reduce jobs and put people out of work, but in fact, automation in healthcare holds out a very different possibility. Liberated from repetitive, mind-numbing chores, medical workers might be able to spend more time performing the tasks they were trained for. It should be regarded as an exercise in work redistribution, not a reduction.
Additionally, as technologies like RPA develop, they will increase the scope for allied business domains. For example: how to manage the intricate lifecycle processes of these systems. Or coping with the regulatory ecosystem that surrounds medical software, notably
As illustrated above, RPA has helped the healthcare sector cope with the extra demands of the ongoing pandemic. Connected health and data interoperability are no longer merely business options; they may prove critical during future crises. A systematic modernization plan has become more imperative for the healthcare sector than ever before.
And RPA should be the axis around which that plan is centered.
Authored by: Mangesh Deshpande and Karthikeya Ramesh
Note: The opinions that may be presented in the article are that of the authors