Attention
This website is best viewed in portrait mode.
Streamlining Complaint Management to Maximize Product Quality and Patient Safety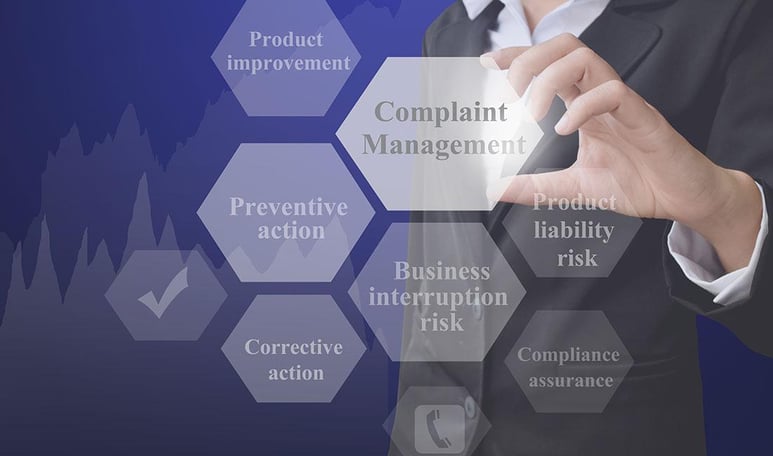 In the highly regulated healthcare and life sciences industry, ensuring the quality of products is of the utmost importance for manufacturers. This is especially critical because quality issues can pose serious risks to patient safety and public health. As a result, manufacturers of pharmaceuticals, biopharmaceuticals, and medical devices must maintain strict quality standards to safeguard their reputation, maintain regulatory compliance, and avoid penalties. To do so, it is essential for these manufacturers to track, analyze, and act on complaints and feedback related to their products. A good complaint management system helps a company in:
Identifying single incidents of product complaints
Identifying any trend in a complaint or defect in a particular product
Drafting field alert reports
Implementing recall when required
Highlighting issues in internal quality checks
Affirming if a CAPA measure is effective
Effective complaint management begins with providing customers with multiple channels to report their observations and experiences. This can include a toll-free number, email address, fax number, etc. Once this information is received, it needs to be converted into usable data. A safety contact center can help with this process, as shown in the process flow below. Establishing a safety contact center allows for efficient handling of complaints and can be crucial to maintaining product quality.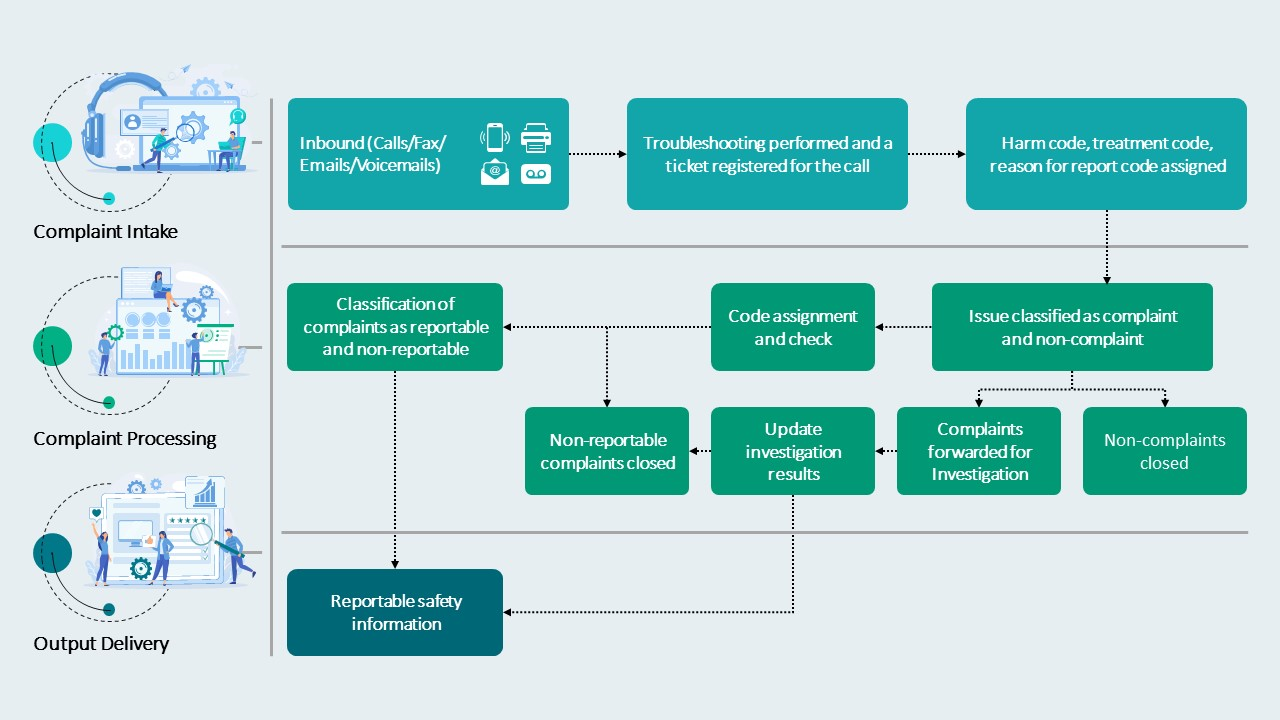 Safety Contact Centre Processes Flow

Complaint handling within the safety contact center can be summarized in the following steps:

Complaint Intake
The contact center may receive complaints through incoming live calls, voicemail recordings, emails, or faxes. Post-troubleshooting, these complaints are registered in the database, and any additional information is gathered through follow-up calls. Preliminary codes are assigned to indicate the type of complaint, such as whether patient harm was involved. This initial troubleshooting and categorization help streamline the complaint-handling process.
Complaint Processing
All registered complaints are analyzed and classified as either valid complaints or non-complaints. Non-complaint tickets are closed at this stage. For valid complaints, a code is assigned to all codable components in the database. Investigation forms are then initiated for further analysis. This helps to accurately track and address all valid complaints in a timely and efficient manner.
Complaint Investigation
Upon receipt of the investigation form, the QA starts the investigation. Investigations can be classified into:
Documentation-based
Laboratory analysis
During the documentation-based investigation, complaint files and batch records are reviewed to determine if the complaint has occurred previously in the same lot or if any non-conformance was found during production. Both the complaint and retained samples are examined in the laboratory analysis phase. If the customer's defective sample is not available, the investigation is conducted using the retained sample, which is representative of the manufactured lot. For packaging and labeling-related complaints, the complaint log is reviewed for other complaints with the same lot number or from a similar time period, and the complaint is verified against the retained final product. The results of the investigation are then provided to the complaint processing team.
Complaint Reporting
Any report of adverse events on pharmaceutical and biopharmaceutical products is forwarded to the pharmacovigilance department. These reports are classified as serious or non-serious, with serious reports that are fatal or life-threatening being expedited for submission to regulatory authorities. All reports, including serious ones, also undergo periodic evaluation for signal detection and risk-benefit ratio assessment.
Medical device complaint files are also assessed for reportability. A Medical Device Report (MDR) must be submitted to the relevant regulatory authority within the specified timeline if:
The device may have caused or contributed to a death or serious injury
The device has malfunctioned and would be likely to cause or contribute to a death or serious injury if the malfunction were to recur
Despite various regulatory requirements for maintaining complaint files, end-to-end complaint management is a challenging process for most manufacturers and a major contributor to regulatory warnings and penalties. Major hurdles in achieving smooth complaint lifecycle management include:
Lack of trained and qualified professionals
Effective and timely information transfer between stakeholders from different departments
Closure of complaints and submission of complaint files within regulatory timelines
Compliance with regulatory requirements across geographies
The key to achieving end-to-end efficiency in complaint management is through collaboration and adapting to continuous improvement in the chain of processes, upgrading to the latest operational models, and simplifying laborious or repetitive steps with automation. Outsourcing complaint management to a partner can help companies streamline their processes, reduce costs, and ensure compliance with stringent regulatory requirements. An experienced outsourcing partner can provide a dedicated team of experts, advanced technology and tools, and proven methodologies to handle all aspects of complaint management efficiently and effectively. By partnering with an experienced partner, companies can focus on their core competencies while still meeting all their quality and regulatory obligations.
At Tata Elxsi, we are committed to helping our customers achieve regulatory compliance and drive process excellence. Our team of skilled and qualified resources is equipped with advanced technology and tools to provide sustainable and cost-efficient complaint-handling solutions. We also offer design-led innovation to help our customers stay ahead of the curve and continuously improve their processes. With our expertise and resources to support your compliance efforts, our customers can confidently navigate the challenges of complaint management.
Click here for more information on Tata Elxsi services for Pharma & Biotechnology.