Tata Elxsi plays a pivotal role in enabling intelligent solutions to major global operators, communications, automotive, telehealth and IoT centric companies. Bringing in completely new ways in which data is seen, analyzed and put into action, we implement and act on industry-specific insights that are truly transformational. Our best-in-class algorithmic capability, with over two decades of experience in engineering, places us in a unique position to provide our customers with insights and knowledge that can drive businesses like never before.
A creative combination of social, cloud, mobility and analytics enables our advanced solutions to extract meaningful insights in real time, convert them into intelligent & automated actions and drive transformational decision making.
Artificial Intelligence Centre of excellence:
Tata Elxsi's Artificial Intelligence Centre of Excellence (AI CoE) was established to address the growing needs for intelligent systems. The CoE is focused on providing solutions beyond deducing insights and bringing together data science with implementation technologies.
Tata Elxsi's cloud based integrated data analytics frameworks, with patent pending technologies, enable customers to quickly implement and configure the landscape to obtain actionable insights and better results.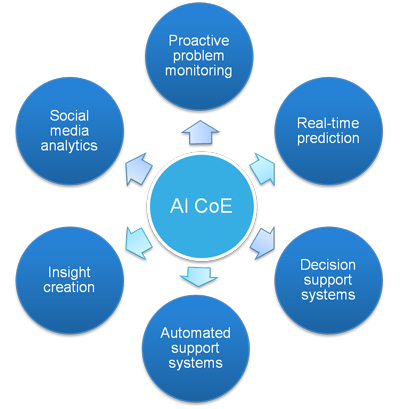 Markets addressed: