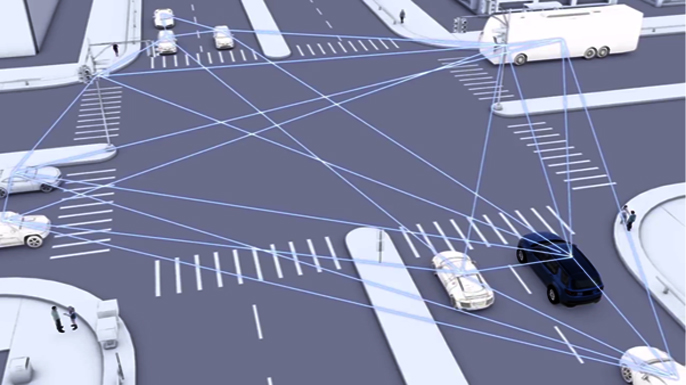 The automotive industry is making rapid strides to improve the overall safety aspects and user experience for the driver as well as the passengers of the vehicle. From connected infotainment to ADAS, the vehicles are evolving to communicate directly with each other (V2V) and also with the Road side Infrastructure (V2I) while navigating their path. This vehicular communication is termed as V2X (V2V & V2I). Automotive test engineers face significant challenges most notably in the areas of interoperability and cyber security, due to increasing integration of V2X, ADAS and automated systems.
Validation of the Connected Vehicles/V2X systems is a highly challenging exercise. Due to the critical nature of the safety applications and intersection of technologies involved in V2X systems, they require extensive testing prior to its adoption into vehicles. The plethora of regional/country specific standards that need to be complied with only adds to this complexity.
Challenges of V2X scenario validation using drive testing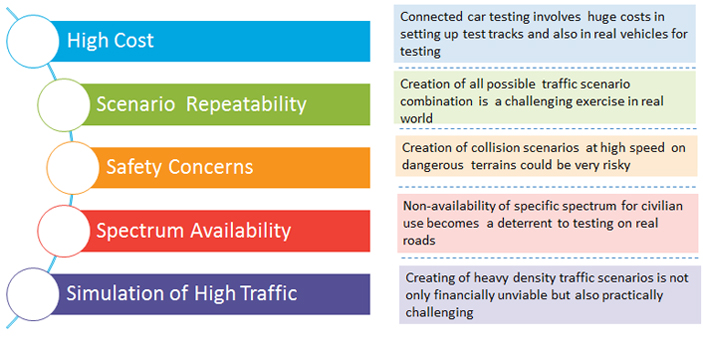 Lack of integrated test environments for V2X safety applications forces OEMs/Suppliers to use Test tracks or Software simulators, which are incapable of representing real world conditions. A V2X test environment must consider all possible real road scenarios, mobility aspects and varied wireless channel and atmospheric conditions to enable a robust V2X deployment.
Spirent, a leading Test & measurement OEM, has collaborated with Tata Elxsi to create a unique V2X Emulator. Tata Elxsi's patent pending V2X scenario emulator provides a robust, flexible and full-fledged test environment, for testing and performance benchmarking of V2X applications, in various stages of the development cycle, such as from early stage research up to pre-production.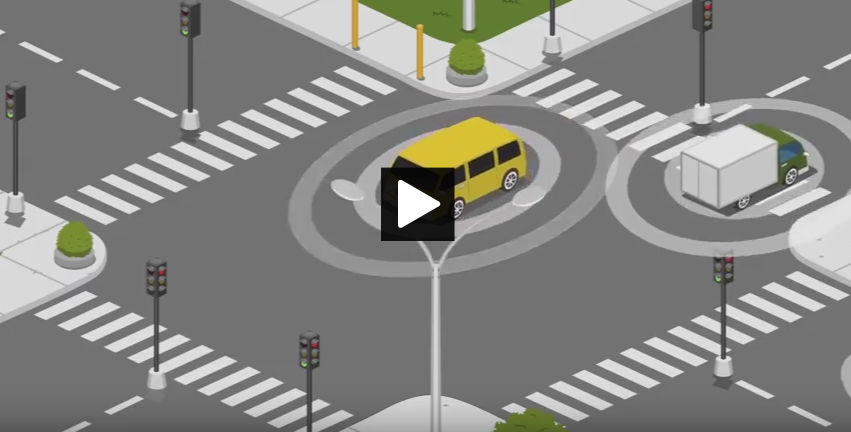 It is a fully integrated test bed, with the ability to bring real-world traffic scenarios into the lab, thereby significantly reducing costs and time associated with extensive field testing for functionality, interoperability, safety, quality of service, type approval and so on. This will prove to be an indispensable solution for OEMs, Tier-1s and certification labs investing in V2X solutions.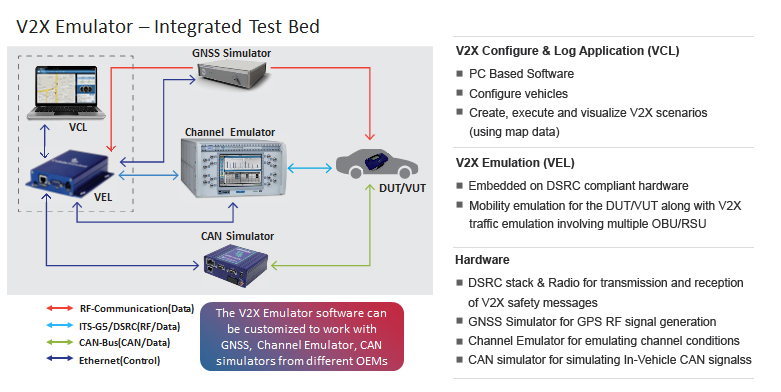 Key Features of V2X Emulator
| | |
| --- | --- |
| Real Time Emulation | Real Time scenario emulation on embedded platform, capable of emulating 25 OBUs using a single DSRC hardware platform |
| Real Road Topologies | Integrated with Google Maps, enables emulation of road traffic conditions |
| Real GPS Emulation | Integration with GNSS simulator helps emulate real GPS signals for the Device under Test (DUT) |
| Multiple Standards Supported | The V2X emulator supports both ITS-G5 and WAVE standards |
| Wireless Channel Integration Emulation | Integration with wireless channel emulator enables modelling channel impairments such as Doppler, Multipath fading etc. |
| In vehicle CAN Network Emulation | Integration with CAN Simulator emulates in-vehicle CAN network for the DUT |
| HILS Integration | The solution is portable and can be integrated with HILS systems |
| Replay Scenarios | The playback feature enables replaying scenarios for comprehensive testing |
| User Friendly GUI | Complex scenarios can be created through an intuitive UI without the need to write complex test scripts |
In addition to the V2X emulator, Tata Elxsi also brings more than a decade of experience in automotive & communication engineering, to offer the following services in the area of V2X:
V2X application development
V2X algorithm development/ benchmarking/testing
Conformance test suites/test scenario development
V2X testing as a service
V2X middleware software enhancements
UX design