With an increase in the service offerings, the Broadcast industry is undergoing a major transformation. There is a rapid evolution from agile to adopt into DevOps – ensuring quick delivery of innovative products as a competitive differentiation. The massive shift required involves the transformation in the development cycle and IT Ops, and a radical shift from traditional waterfall & agile process to a more continuous flow from Software development into the IT Operations.
Tata Elxsi, a expert DevOps consultant and early implementer with 2 decades of experience in the Broadcast Industry brings in consultancy, tool frameworks & services for accelerating time to market, delivering agility and ensuring service quality.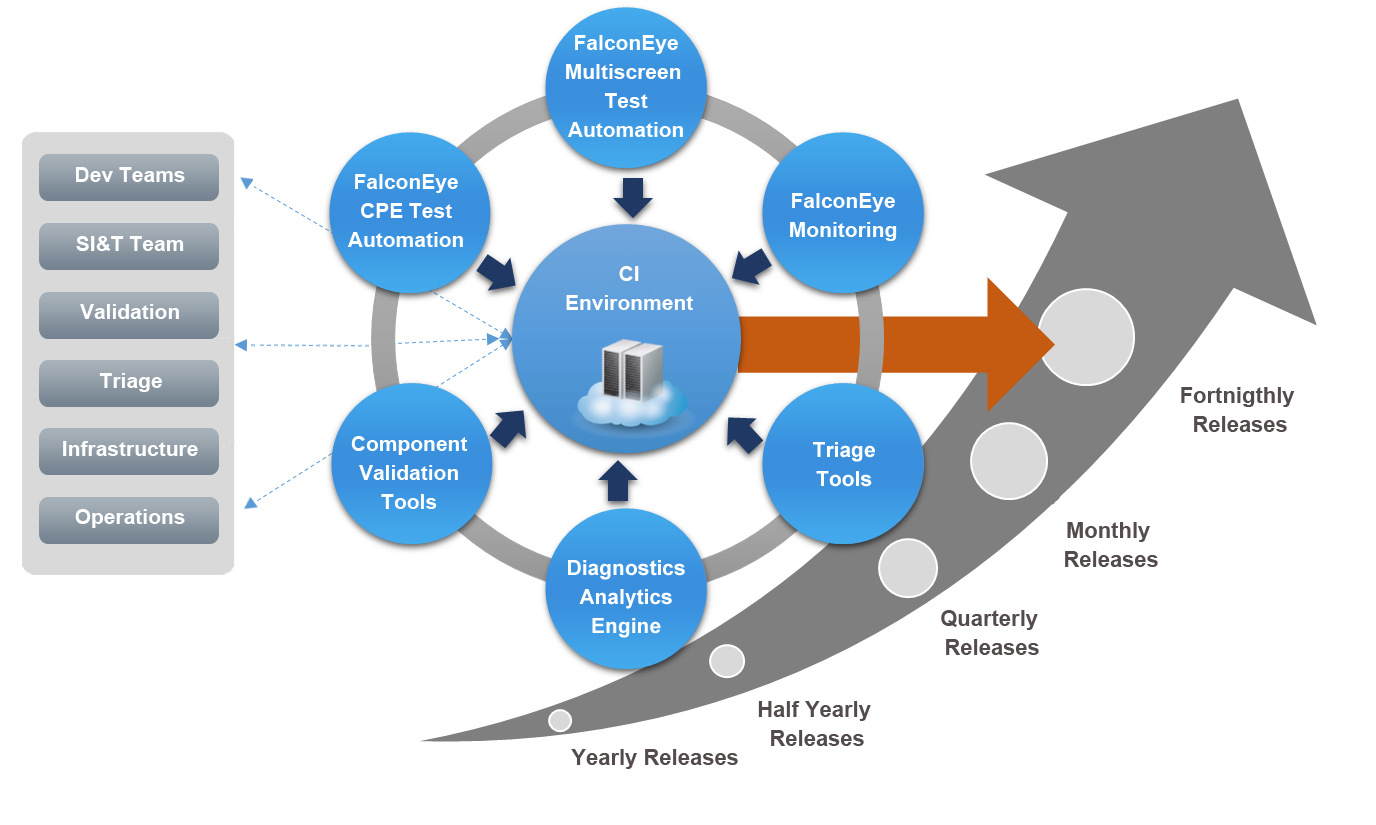 Why Tata Elxsi:
6 customers already on board
DevOps CoE
Ready cloud deployed accelerators
Flexible deployment models – Private cloud, Public cloud
Service virtualization & infrastructure monitoring
As an imperative partner to leading MSOs deploying next generation platforms, Tata Elxsi emphasizes on 3 key aspects to transform rollouts to a DevOps way:
Trunk Based Development: Leveraging of operator's CI environment by program stakeholders (internal & external) can accelerate system integration, QA and triage cycle. Tata Elxsi supports setting up of a common build management system and test environment, organizing all-hands workshop & streamlining system integration process.
Near Production Unified Test Environment: Often program stakeholders get access to near production environment late in the development cycle, resulting in delay of overall program and leakage of defects into field. Having a near production test environment accessible to all ensures significant efficiency in time-to-market and quality.
Incremental Staged Verification: Inspite of significant automation coverage CI environments fail to deliver agility that matches that of a DevOps rollout. Having an easy to configure QA process based on build maturity is the key to fast-track QA. Tata Elxsi's incremental staged verification environment helps stakeholders transform QA.
Adopting DevOps for RDK Rollout
Over the last 7 years, Tata Elxsi has supported several operators to adopt DevOps approach especially for RDK deployments. For more info, read 7 Lessons Learned in 7+ Years of RDK Deployments