Attention
This website is best viewed in portrait mode.
Bowler Defender on podium in first ever Baja Aragon event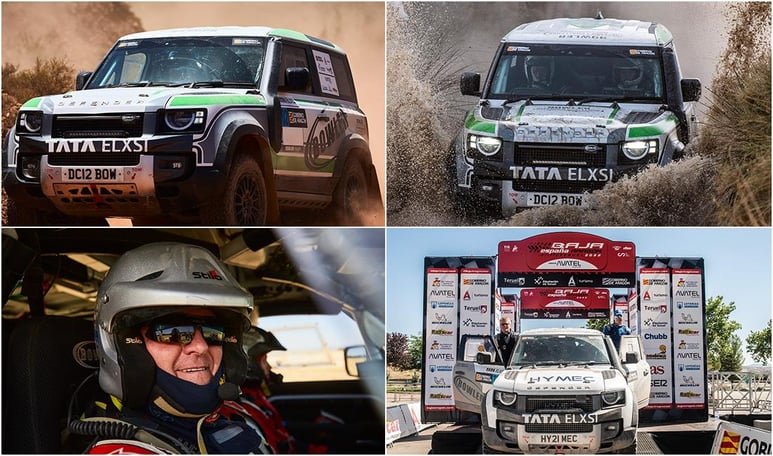 Bowler enter the challenging Baja Aragon for continued competitive development of Tata Elxsi Bowler Defender Challenge car
Trio of cars entered into 944km FIA-regulated Baja event
Tata Elxsi Bowler Defender Challenge competitor Frazer Williams, partnered by Spencer Williams, takes third in class on debut outing for the latest generation competition Defender
Event provides successful learnings for future ongoing development of both car and championship
Frazer and Spencer Williams celebrated a debut podium in the first ever Baja Aragon outing for the Tata Elxsi Bowler Defender Challenge car. The Williams brothers scored third in class competing as one of a trio of cars entered into the event as an exploration of the capabilities of the latest generation Defender in competition trim.
Baja Aragon introduced the Tata Elxsi Bowler Defender Challenge team to long distance endurance events, covering 944km in just two days. The itinerary included 665km of gravel/dirt special stages and delivered a simulation of the distances, endurance and pressure of a Dakar-style race. The three cars were crewed by the experienced pairings of Dave Marsh/Ferran Alcayna, John Cockburn/Paul Mansfield and 2022 Tata Elxsi Bowler Defender Challenge competitor Frazer Williams and his co-driver Spencer Williams. The Bowler team identified Baja Aragon as part of the ongoing development programme of the car's competition capability due to the challenging nature of the special stages, high heat conditions and the long length of the stages.
The first day of competition comprised of two special stages with just a single 30-minute service interval. All three crews completed the morning stage on a competitive pace, with the only real issue being a cracked windscreen in the Williams/Williams car. Effective teamwork by the pit crews turned all three cars around within their allotted thirty-minute service schedule and back out to push on throughout the afternoon's 222km stage. All three cars showed impressive pace and finished the day in contention to place well in class.
Day two saw the team set to continue the strong showing and began with all three cars running high in class. An incident for Marsh and Alcayna retired the pair, leaving Cockburn/Mansfield and Williams/Williams to chase down the class leaders. Williams eventually made the best of the day's stages to take third in class with Cockburn finishing just a minute behind after 944km and two days of competitive driving.
The Bowler participation in the Baja Aragon entry was supported at the event by both Jaguar Land Rover Spain and Land Rover Experience Spain. Compared to the UK rounds of the Bowler Defender Challenge the weekend provided an intense trial of durability and endurance – from the cars, the crews and the support team. The three-way partnership offered the perfect opportunity to test the cars, facilitated and supported with local knowledge and expertise, with the objective of exploring the capability of the car in completely different terrain and conditions.
Incredible knowledge and experience was added to the campaign by Land Rover Experience Spain team members Moi Torrallardona i Jou and Ferran Ancayna. Moi's impressive competition CV includes over three decades of top-level competition and features Dakar, Ecorace and BajaSpain wins alongside multiple Camel Trophy, G4 Challenge, Silk Road and Moroccan rally entries. Bringing his skill and experience to consult with the team for the weekend allowed Bowler a unique insight into the challenges of successfully completing the race. Equally impressive is the CV of Ferran Alcayna, who took the co-driver seat in Bowler Head of Motosport Dave Marsh's car. Alcayna also holds multiple Dakar podiums, including a win, alongside a Morocco Desert Challenge win and top-tier entries around the world, including Patagonia, Chile, the Orient and Argentina. His latest Dakar entry was as co-driver to ex-MotoGP rider Carlos Checa, placing an impressive 42nd car overall. Whilst the Marsh/Alcayna effort ended prematurely the learnings for the team were invaluable, as both Moi and Ferran were able to deliver a completely independent yet incredibly experienced insight into the car and the potential for future development.
Bowler Motors General Manager Calum McKechnie experienced the whole event as part of the Bowler Baja Aragon team and was impressed and proud with the outcome.
"We came here as an extended element of the development of the existing Tata Elxsi Bowler Defender Challenge car, and it has been an incredibly positive and successful weekend, beyond even our aggressive expectations. The conditions are so completely different to those in the UK championship and it's a real testament to the car and the team as to how well we have performed. The vehicle performance, as a standard production car, surprised and impressed many experienced competitors and commentators. As we continue to develop both the car and the Championship it is vital that we explore the viability of our car in different competition scenarios. The Baja Aragon is an extremely challenging and professional event, with competitors and conditions that give real insight into how our car can perform in Dakar-type situations. The opportunity to work with Jaguar Land Rover Spain and the Land Rover Experience Spain team has been amazing, and we have really benefitted from their insight and support at every step. Congratulations to everyone involved. It was great to see Frazer and Spencer, one of our Tata Elxsi Bowler Defender Challenge competitor teams, on an international podium. Well done!"
The next round of the Tata Elxsi Bowler Defender Challenge will be held at the Track Rod Rally, Yorkshire, UK, on thee 23rd/24th September 2022.
About Tata Elxsi
Incorporated in 1989, Tata Elxsi is amongst the world's leading providers of design and technology services across industries including Automotive, Media, Communications, Healthcare and Transportation
Tata Elxsi works with leading OEMs and suppliers in the automotive and transportation industries for R&D, design, and product engineering services from architecture to launch and beyond. It brings together domain experience across Autonomous, Electric, Connected vehicle technologies, Software-defined vehicles (SDV ) and is supported by a worldwide network of design studios, development centres and offices as well as a global pool of over 10,000 engineers and specialists.
For more information, please visit www.tataelxsi.com & tataelxsi.com/bowler
About Bowler
Bowler, found in 1985, is based in Belper, Derbyshire and pioneered the production of dedicated off-road competition cars in the UK.
It has achieved international success in rally raid events, having previously participated in the Dakar Rally, British Hill Climb Championship and French Baja with their Tomcat, Wildcat & Nemesis models, all of which were based on the heritage Defender 90 and 110.
Bowler provides its customers with competition racing events, to provide them with the driving skills and technical competition knowledge necessary to undertake international rally raid events.
Bowler has become synonymous with conversions and modifications of Defender models, designed to enhance power, handling, braking and comfort. These can be tailored to suit individual requirements and desires, including bespoke engineering requirements.
Since its inception Bowler has had a close affiliation with Land Rover, which was formalised with a brand partnership in 2012 that led to the creation of the popular Defender Challenge by Bowler rally series in 2014 - 2016.
The business was acquired by Jaguar Land Rover Group in December 2019 and forms part of Special Vehicle Operations. For more visit bowlermotors.com