Attention
This website is best viewed in portrait mode.
Could India become an electric micromobility powerhouse?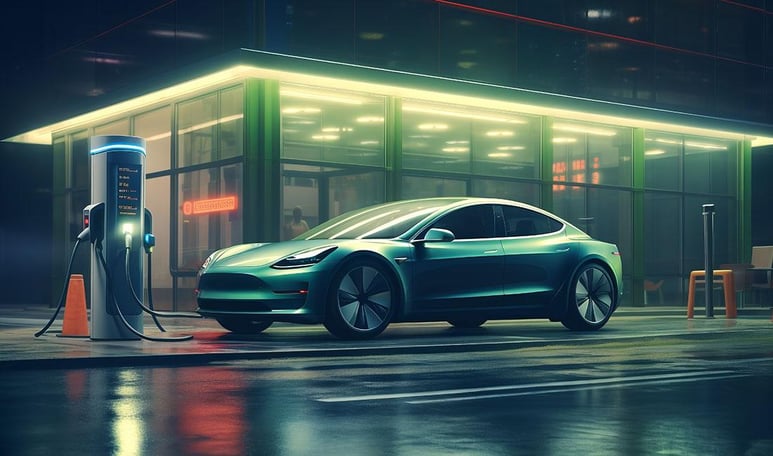 India has ambitions to become a major global player in electric micromobility, but domestic challenges need to be addressed first. By Stewart Burnett
India is pushing towards electrification. A favourable legislative environment emerged in 2013 with the National Electric Mobility Mission Plan, articulating a target of six to seven million annual hybrid and electric vehicle (EV) sales from 2020 onwards.
Additional legislation, such as the 2019 Faster Adoption and Manufacturing of Hybrid and Electric Vehicles in India (FAME) subsidy scheme, allocated Rs 100bn (US$1.2bn) to incentivise consumers to buy EVs through reduced upfront costs.
The vehicles that propel electrification in India will be scooters, motorcycles and rickshaws. Indeed, India is the world's second- largest market for two-wheelers, with 13.5 million units sold in 2022, according to Society of Indian Automobile Manufacturers data. It is also the largest for three-wheelers, recording almost 490,000 sales in 2022. Combined, these vehicles comprise three- quarters of India's total road traffic.
The government is targeting 30% EV market share by 2030. Shamal VP, Electrification Practice Head at automotive design and technology services provider Tata Elxsi, believes this is certainly achievable, but the country must dedicate significant resources towards transforming its charging as well as renewable energy infrastructure, and in-house manufacturing capabilities.
Meanwhile, several micromobility OEMs—including Ola Electric, TVS Motors, and Honda—believe India could become a major global exporter and are vying for incentives. Can it all be managed at once?
One of India's biggest strengths is appetite for growth
Small vehicles, high potential
In 2022, India crossed a significant milestone: recording annual EV sales north of one million (1.24 million total) and comprising 4.7% of all new vehicle sales. Of this, 779,158 were two-wheelers and 407,381 were three-wheelers—representing more than 95% of total EV sales. In contrast, only 53,843 passenger EV sales were recorded.
"This is a very cost-conscious market—both ownership and operating costs will have to be comparable with conventional ICE vehicles," Shamal tells Automotive World. While the upfront cost of an entry-level Tata Tiago passenger EV may cost Rs 8,90,000 (US$10,690), the entry price for an Ola S1X scooter is Rs 90,000 (US$1,081). Annual income per capita in India was US$2,610 as of April 2023, according to the International Monetary Fund.
"One of India's biggest strengths is appetite for growth," says Gaurav Batra, Portfolio Leader at EY. "The government has been on-point in terms of nudging the right segments to facilitate cost-parity in the early stages of EV adoption." However, government measures have reduced the level of incentives under FAME for electric two-wheelers from 40% of showroom prices to only 15%, as of 1 June 2023.
To charge or to swap
Government incentives are now pivoting towards facilitating success in other ways, including addressing the country's limited charging infrastructure. March 2023 government data estimates that only 6,500 public charge points were installed nationwide— mostly in urban areas. "Distribution is unfortunately not uniform at all right now," says Shamal. "And EV sales are outpacing charger deployment."
At present, the vehicle to charger ratio is 17 to one. "Five to one is where we need to be," Batra emphasises. Furthermore, charging costs for rickshaws can prove prohibitively expensive (between Rs 3,000 and Rs 4,000 per month). Most chargers are also slow, which can lower utilisation levels, and because most rickshaws are used as taxis, further hampering drivers' income.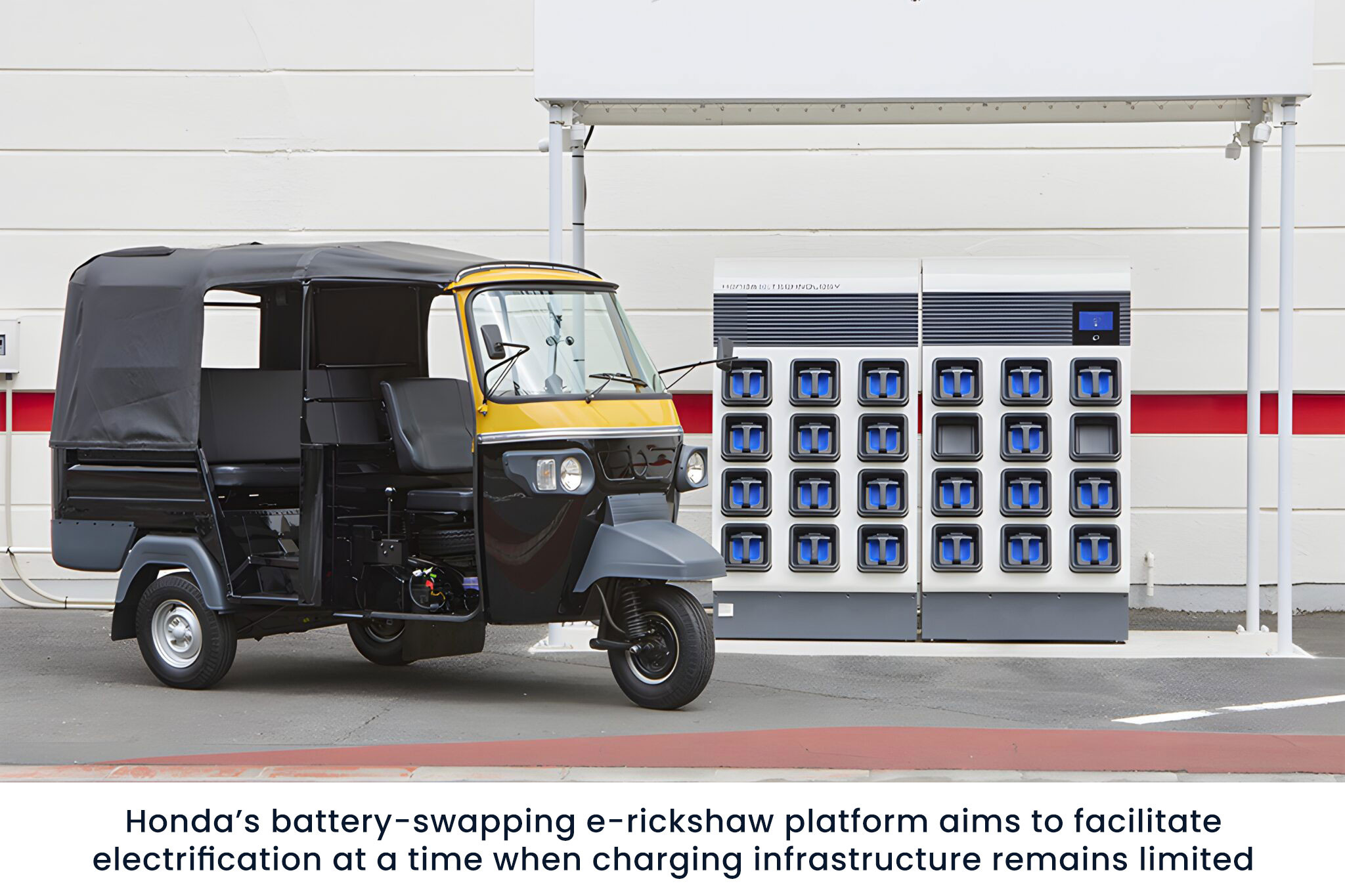 While there has been some activity among charging operators to improve availability, Batra believes that battery swapping may prove a more optimal solution. "The reality is that these batteries are portable," he remarks. In late 2022, Honda announced the launch of its battery swapping platform for commercial three-wheelers. Each vehicle comes with four swappable Mobile Power Pack e batteries, which weigh 10kg and are adapted to withstand India's climate.
Battery swapping firm Gogoro India has estimated that it would require an investment in excess of US$100bn and 450,000 swapping stations nationwide to adequately support the existing needs of the micromobility market. A battery swapping policy was introduced in India in April 2022 but has been held up without official explanation and currently awaits redrafting.
Power in manufacturing
While battery swapping legislation remains a work in progress, decisive action is being taken to support production. "The government is now looking towards transitioning our manufacturing ecosystem," explains Batra. "We have the talent and labour market ready to go—but we need to reorient for electrification."
In February 2023, two-wheeler manufacturer Ola Electric signed a memorandum of understanding with the Tamil Nadu state government to build what it claims to be the "world's largest" manufacturing plant to meet both domestic and overseas demand. As of 2022, India is the world's fourth-largest automotive manufacturer and surpassed Japan in 2023 to become the third-largest vehicle market.
Historically, the country has been a major player in Asia, delivering to countries like Thailand and Indonesia. However, exports are becoming increasingly global. As of 2023, micromobility OEM Bajaj Auto's top four export markets (accounting for 53% overall) were Nigeria, the Philippines, Colombia, and Uganda.
We have the talent and labour market ready to go—but we need to reorient for electrification.
"India is strongly positioned to become a global manufacturing hub for micromobility," Batra states. However, tempered expectations may be required. The country's three-wheeler exports fell 27% between 2021 and 2022, while domestic sales continued to surge. Frost and Sullivan projects that EV market share in the micromobility segment will surpass 50% by 2030.
"We need to focus on deriving solutions, which are cost effective and can be matured within a very short time," Shamal concludes. To ensure that the government realises its 2030 targets, it may need to focus on leveraging the strengths and also address the domestic challenges before branching out.