Attention
This website is best viewed in portrait mode.
How Tata Elxsi is disrupting transportation media and healthcare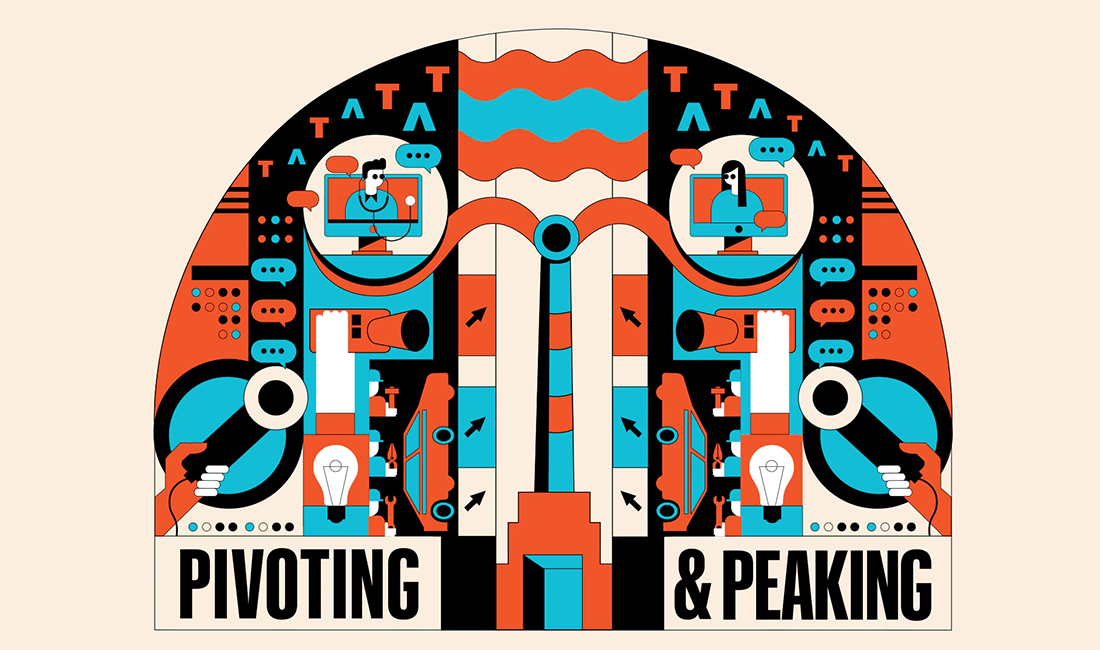 With the disruption currently underway in key verticals like transportation, media and communications, healthcare and medical devices, Tata Elxsi's growth is only set to intensify in the coming years
By: Krishna Gopalan
Manoj Raghavan recalls at least two occasions when he had to take the wheel after a long overseas flight into Bengaluru. Before you start to wonder why he would do that in the early hours after an arduous travel schedule, it was simply because the driver was dangerously close to nodding off to sleep.
There is possibly nothing remarkably unusual about this except that our conversation with Raghavan is on driverless cars. And as CEO & Managing Director of Tata Elxsi, a name in global design and technology services, he is completely involved in what could be a defining moment in the automobile industry. "Imagine you are sitting in a vehicle that is zipping away at 100 km an hour without a driver. It is only natural for your heart to be pounding," he says with a laugh. The inevitable question that will cross your mind would be if your car is awake. "And if you are dealing with tough weather conditions like rain, what assurance can a passenger have sitting alone in the car?"
As you sit back to paint the world a decade or two from now, where technology will dictate almost everything we do, the possibilities are endless. Autonomous driving, entertainment, healthcare, using the mobile phone or just any of the mundane activities we are involved in are just a few things that come to mind. Tata Elxsi already has a play in most of these areas and looks well-positioned to be in a lot more. "There is some very interesting stuff that we are working on," says Raghavan, without giving away much. This is a business where customer confidentiality is paramount and one has to pick those little nuggets to understand the potential of the company's business. For Tata Elxsi, it is a classic confluence between design, technology and delivery, and in a world as unpredictable as ours, that is quite fascinating.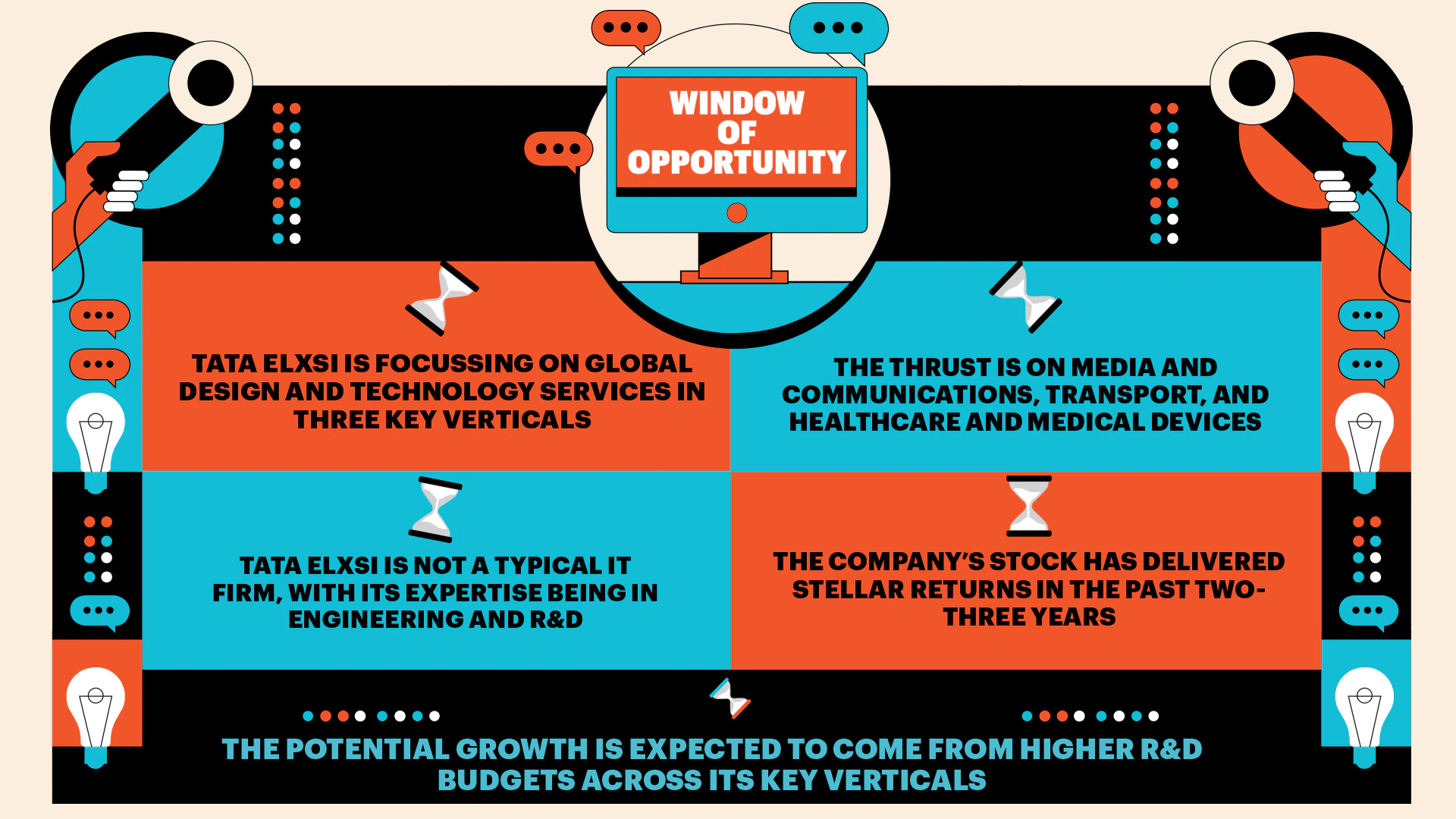 DIAL D FOR DISRUPTION
While these are exciting times for Tata Elxsi—that provides design and technology services to businesses across industries—it is also critical to have a strategy that helps the company to pull out quickly if the need be. As Nitin Pai, Tata Elxsi's CMO and Chief Strategy Officer says, "As a company, we have to be prepared for disruption and should also be able to disrupt."
Take the case of OTT (over-the-top or providing content over the internet at the viewer's convenience), with the company getting started on this as far back as 2013. The trend the company saw was interesting in more ways than one. Initially, it worked with set-top box (STB) manufacturers in their embedded hardware. It helped viewers save shows that they missed, with the idea of watching them later—think of STBs that allowed you to record a show or series. "It was still cumbersome. Around that time, IPTV (internet protocol television or the delivery of video content over the internet) started coming in," says Raghavan. As it turned out, this was the most interesting period for IPTV, with a plethora of smartphones and tablets being launched around that time. "It was right for disruption with many things coming together," he adds. To that extent, OTT taking off was hardly a surprise to Tata Elxsi. The inefficiency in recording a programme to watch it later was not feasible. "Now, content is delivered from the cloud and you can watch it anytime," says Pai, adding that the company was ready for this transformation—it was already working with names such as Airtel and ZEE5 then.
We are not a typical IT firm. We are a focussed player in the ER&D space with the good part being that we don't try to hit every nail with a hammer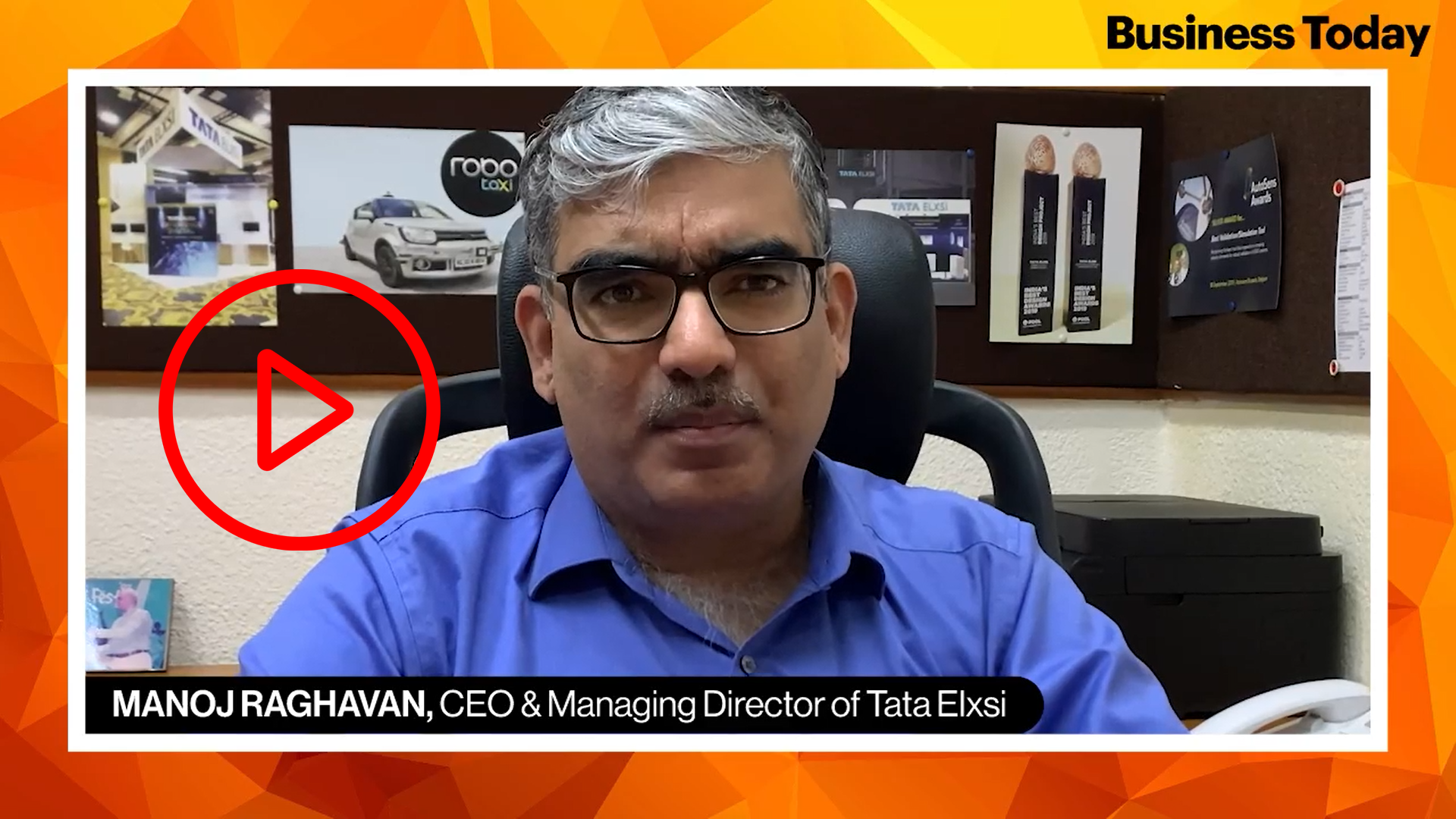 "We are not a typical IT company. We are a focussed player in the ER&D (engineering, research and development) space with the good part being that we don't try to hit every nail with a hammer," says Raghavan. The tack is to instead focus on a few verticals—transport, media and communications, healthcare and medical devices—and attain expertise in each. "The first 10 minutes of a conversation with a customer is enough for him to be convinced about our depth or domain understanding and R&D capabilities, and that is our differentiator," Raghavan claims. Referring to Tata Elxsi's design capabilities, he says that the company was always clear about "being digital". There is merit in what he says when one tops that up with a growth strategy that is completely organic as opposed to the trend where peers have chosen to acquire design capabilities. This growth story also has the classic left and right brain approach, with a workforce not just led by engineers. "We have designers, ethnographers and those with a background in psychology too," says the CEO & MD proudly. The diversity is apparent on the campus in Bengaluru's Whitefield, where we are having this conversation. It is as easy to spot a youngster in jeans and sneakers as it is to see a formally dressed employee. The Bengaluru-based company employs more than 11,500 people across 35 locations globally.
Tata Elxsi's growth, both in terms of revenue and profit, has been impressive over time. So has the stock price (see graphic On a Winning Streak). Dipan Mehta, director of financial services holding company Elixir Capital, who has been invested in the Tata Elxsi stock for a decade, says it is one of his best bets, yielding a return of almost 50x. "We have seen the company hitting a purple patch in the last two to three years and that is also a factor of being in the right place at the right time. The demand for its offerings has taken off thanks to disruption in specific industries where it has a large presence and is also very strong." The reference, is of course, to transportation, media and communications, where Mehta points out that the high levels of digitisation, product development and design requirements are in sync with the company's core strengths. "That has translated into an unusually high share in these verticals."

Others look at the company's unique business model a little differently. According to Apurva Prasad, Institutional Research Analyst at HDFC Securities, Tata Elxsi is a pure-play niche specialist in ER&D services and is around one-tenth the size of the largest companies in the space. "Yet, it [Tata Elxsi] is positioned in the top quadrant in automotive, communication and broadcast (OTT) engineering services globally. Besides, its engineering services are supplemented by its design segment, which allows it to target upstream as well as create new vertical opportunities," he points out. In the ER&D space, the company competes with both domestic and international players, among which are ALTEN, Bertrandt, Cyient, EDAG, KPIT and L&T Technology Services.
On the verticals it operates in, Prasad sees a strategic advantage in each. "In automotive, the company offers customised R&D across the product's lifecycle to both manufacturers and component suppliers. Besides, new architecture and platform strategies are being developed to manage advanced driver assistance systems (ADAS), in-vehicle infotainment and information systems (dashboard display), battery, and energy levels." Given that the top 10 auto companies account for 60 per cent of the overall ER&D spend, this is a significant growth opportunity, especially when coupled with the demand for advanced sensor systems in autonomous cars. In the media and communications space, the company's expertise with broadcasters, multi-system operators, semiconductors, and STB manufacturers comes in handy. "Its partnership with Google Widevine (struck two years ago, where Tata Elxsi will deliver secure content protection for broadcast, media, consumer electronics and automotive applications) opens up avenues for operators, OTT, content providers and access to the network that includes Netflix, HBO, Disney, Hulu, Amazon Prime, Jio and Warner Bros.," says Prasad. Widevine is Google's content protection system for premium media.
We understand the product, its evolution and the people. That leads to stickiness with the customer, whose key objective is quality delivered on time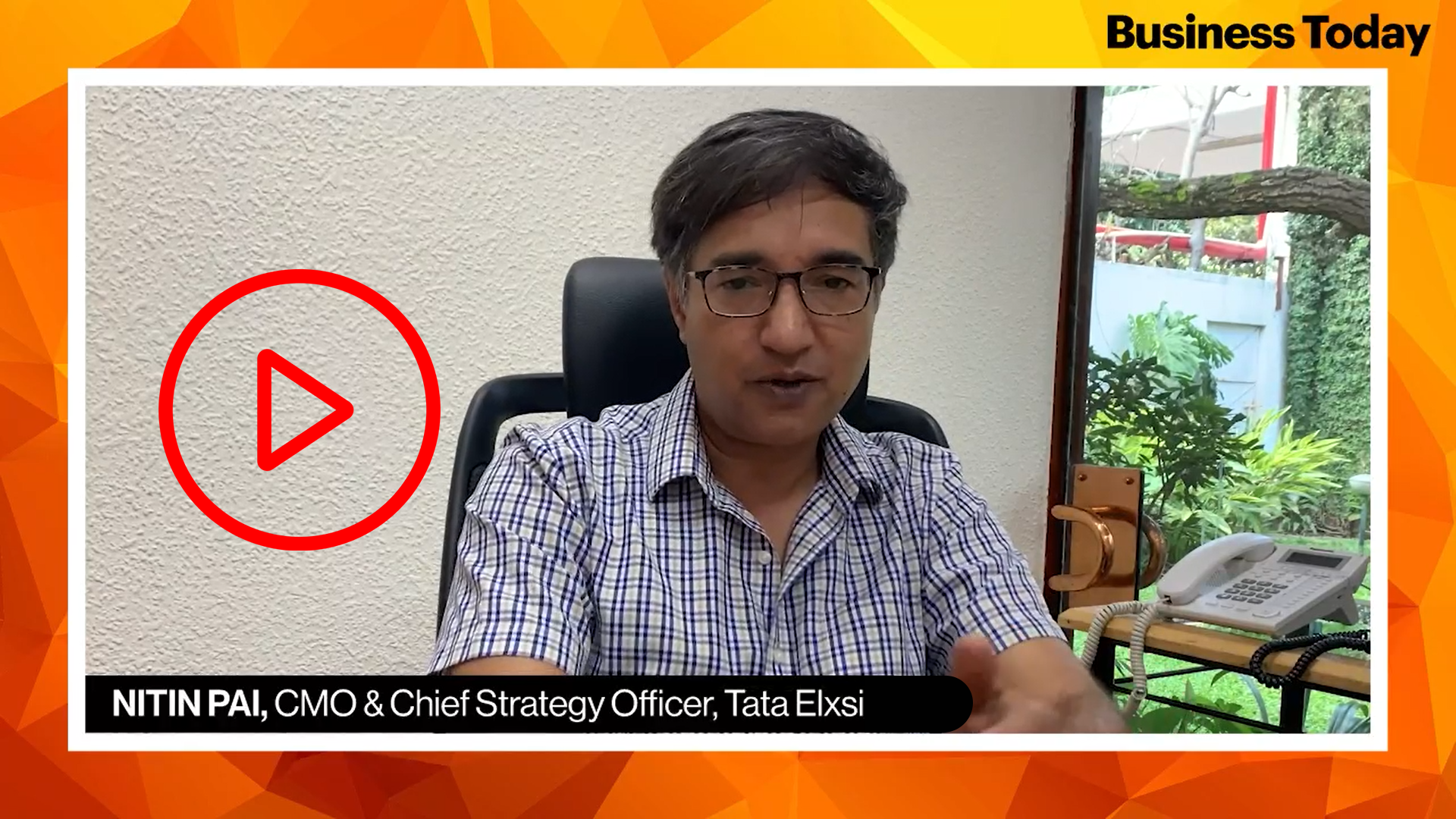 CHANGING TACK
Tata Elxsi came into being in the late 1980s and for the next two decades, it focussed its attention on what Raghavan describes as "tough engineering problems". It is what excited the workforce but there was little to speak of, be it on revenue or profitability.
"The decision to verticalise the business was a big moment. Till then, we did a lot of good projects but lost money," he says. Starting from 2010, the company saw an opportunity in the way the transportation, media and communications businesses were transforming globally. "If you had a car then, you still listened to music on a CD. Suddenly, we saw the likes of infotainment, airbags and power steering coming along," he recalls. From an industry that was traditionally more dependant on machines, it started moving towards software. And if current conditions are any indicator, this trend looks set to continue. Tata Elxsi's work in this vertical has made headway across its key customers, with one of the top three luxury carmakers in the world—that the company declined to name, citing confidentiality clauses—signing on to work with them.
Likewise, media went through a phase of analogue television, before that made way for satellite, DTH and now OTT. "We are at the forefront of some of the technologies such as AR, VR and metaverse," says Raghavan. Taking a moment to again emphasise on the difference between an IT company and Tata Elxsi, he says "we help in launching products". Much of an IT company's time is spent on bidding for projects and that often involves price wars, with every player wanting a chunk of the pie. Product R&D is about lower success rates and working with customers for 10 years, if not more. "We understand the product, its evolution and the people. That leads to high levels of stickiness with the customer, whose primary objective is quality delivered on time. Our incremental premium is that assurance apart from possessing the ability to anticipate a situation." Pai says an 80 per cent utilisation rate for his company is "very, very good" but for an IT major, it has to be upwards of 90 per cent. Plus, the company ends up investing a lot of money in training—which is expensive and requires a lot of time. That means, to understand the business of Tata Elxsi well, one needs to take a more long-term view with parameters such as market share and margins. At least 95 per cent of the business comes from existing customers as the new ones take time to develop a sense of confidence to commit budgets, a process that typically takes a few quarters.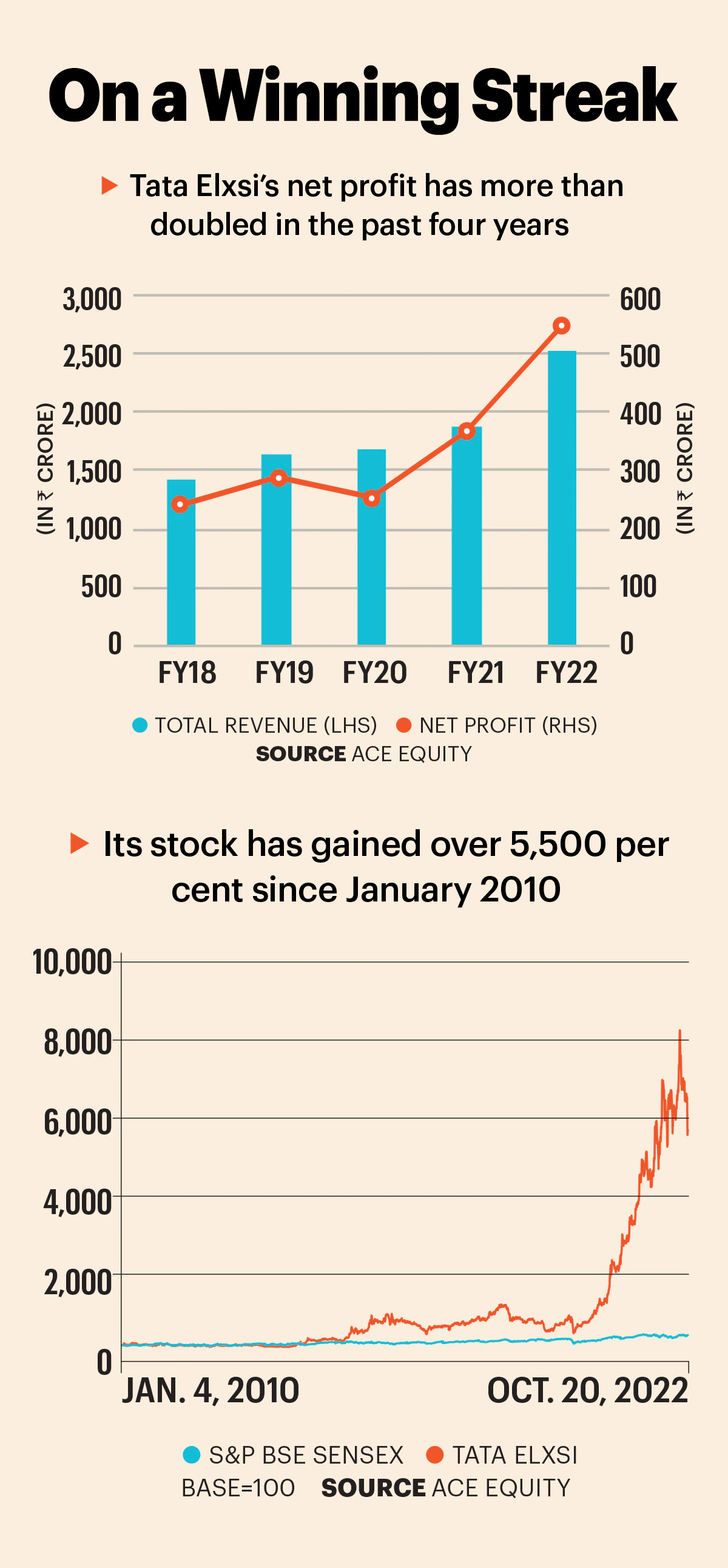 Not everything always works to plan owing to the time involved, and there are instances where some factors are not always within the company's control. For example, 3D television was a big story at one point. "The technology needed did not expand, nor was content able to build up a great story. This business is about living with volatility and we are always building the now and that often makes demand prediction a challenge," says Pai. For that matter, the autonomous car story is one that has been in the works for a while, with no surety on how it will eventually play out. Raghavan is blunt when he speaks of never getting to a 100 per cent accuracy in his business. "We put in a lot of effort behind WiMax but the world moved to 4G. That is the nature of technological disruption and you have to be ready for it."
Investing well ahead of time is a key part of the company's way of going about its business. Raghavan explains that its capabilities of today lay the base for a better tomorrow. "Our intention is to collaborate with the customers and not compete with them. The idea is to bring in solutions in a proactive manner." Prasad of HDFC Securities says Tata Elxsi's growth is expected to be a function of the large and growing R&D pool with a significant total addressable market. In the case of automotive R&D, he says the global market size is at $160 billion, with another $35 billion in automotive software development, and medical devices at $48 billion.
[Tata Elxsi] is positioned in the top quadrant in automotive, communication and broadcast (OTT) engineering services globally
APURVA PRASAD
Institutional Research Analyst
HDFC Securities
On healthcare, a big component is outcome-based medicines, something that is already a big trend in the West. The normal process is to give a patient a list of medicines if she is in the midst of a serious health issue. That is not just expensive, but comes without any assurance of a cure. With an outcome-based approach, timely interventions are possible. "The post-operative care can be done remotely using connected monitoring devices. It is a huge opportunity in a market like the US where medical costs are high with not everyone being covered [under medical insurance]," explains Raghavan. Prasad says that the healthcare vertical has grown ahead of peers such as L&T Technology Services, Cyient and ALTEN. "Telemed is expected to be a big driver and Elxsi's strong credentials in video delivery are complementary," he says, adding that the company's high margins so far have been on account of "lowest cost of delivery, highest offshore and lowest attrition".
WHAT LIES AHEAD
While the company saw its revenues go up in Q2FY23, it was accompanied by higher expenses, leading to a 6 per cent dip in net profit. This led to its stock price taking a hit. "It [the share price] has rallied a bit ahead of itself, and from time to time it does get overvalued. Over the next two to three quarters, it will move sideways or see a slightly declining movement as earnings catch up and there is a slight compression of its P/E multiple, which is exceptionally high," says Elixir's Mehta. On the competitive landscape, he says Tata Elxsi has the benefit of its pedigree, an early-mover advantage, and the ability to showcase its projects. "In this kind of a business, competition will come and go but everything really comes down to client satisfaction. We are speaking of developing design, which is critical to the success of the customer. They will not want to experiment with new players, who may not have the same level of talent and capabilities," he explains, attributing Tata Elxsi's high operating margins to this stickiness.
We have seen Tata Elxsi hitting a purple patch in the last two to three years and that is also a factor of being in the right place at the right time
DIPAN MEHTA
Director
Elixir Capital
The current business environment is what makes the company's business model interesting for several reasons. Pai believes there is a confluence that exists, where the transformation companies are undergoing with respect to customer experience, business models or just efficiency will be determined by design. "For that, you need a lot of people to execute what traditionally does not exist. That kind of skill set and scale can come only out of India," he says. The importance of good product engineering, for instance, will become apparent once more and more industries adopt a model wherein customers pay for only the services they want. "Else, it [ER&D] would have been just IT," says Pai, adding the transformation will be driven by the product. By the looks of it, Tata Elxsi has found a sweet spot and one that could determine a robust growth path for a while to come. And if autonomous cars become road-worthy in India, Raghavan may not have to make the arduous drive back home after a long flight.