Attention
This website is best viewed in portrait mode.
ISRO awards Gaganyaan Mission mandate to Tata Elxsi to deliver Crew Module Recovery Models (CMRM)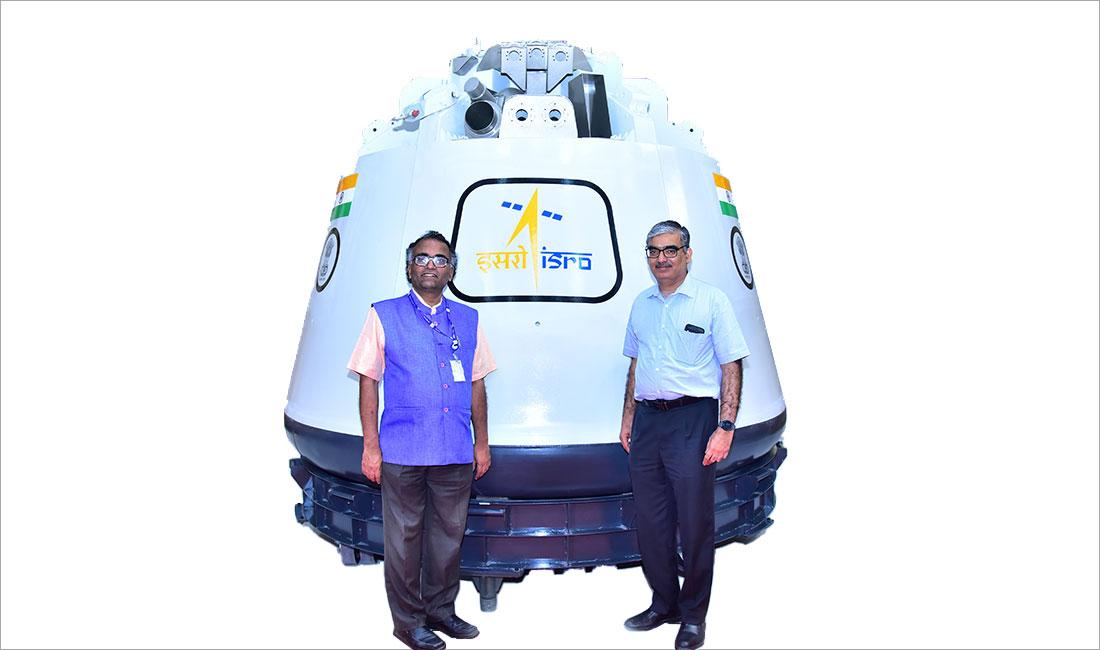 Tata Elxsi helps in the design and development of Mechanical Systems and Structures
Bangalore, June 7, 2023: Tata Elxsi, a leading global design company that blends technology, creativity, and engineering has partnered with the prestigious Indian Space Research Organization (ISRO) to enable the upcoming Gaganyaan Mission. Through the association, Tata Elxsi has designed and developed Crew Module Recovery Models (CMRM) for recovery team training of the space Mission.
ISRO's Gaganyaan project envisions a demonstration of human spaceflight capability by launching the crew into a 400-kilometer orbit for a three-day Mission and safely bringing them to Earth by landing in Indian sea waters. One of the key requirements of this project is the safe recovery of the crew, which must be carried out with minimum lapse of time. This is where the crew recovery models come into use. For recovery team training, CMRMs designed and fabricated by Tata Elxsi, that simulated the Mass, Centre of gravity, Outer Dimensions, interfaces and Externals of the actual Crew Module.
Tata Elxsi effectively executed activities right from developing the design configuration in accordance with the initial requirements provided by ISRO, to carrying out structural analysis for various load cases, material procurement and testing, fabrication, carrying out load tests, and transportation of the CMRM and the Ground Support Fixture (GSF).
The project marked Tata Elxsi's foray into the mechanical design for space, as this is the first time ISRO has outsourced the mechanical design and development work for a critical system to an external partner. Tata Elxsi has also emerged as the preferred partner for similar ISRO projects.
Manoj Raghavan, CEO & Managing Director, Tata Elxsi, said, "It is a matter of great pride for Tata Elxsi to play a role in the Gaganyaan Mission. This collaboration will help push the boundaries of technology, and provide us a unique opportunity to advance our capabilities while strengthening India's space mission. Our design, technology, and regulatory capabilities over the years have been a testament to our success which has led us to this milestone."
Dr. Umamaheshwaran, Director-HSFC, ISRO said, "Tata Elxsi has carried out the design and delivered hardware meeting highly challenging delivery schedule of 6 months, demonstrating the excellent program management skills. This has enabled timely commissioning recovery training exercise to meet Gaganyaan mission requirements. ISRO would definitely like to partner in future for different projects."
Currently, two Recovery-Models (CMRM and GSF) have been delivered to Naval training teams at Kochi and Visakhapatnam to train the recovery teams.
---
About Tata Elxsi
Tata Elxsi is amongst the world's leading providers of design and technology services across industries including Automotive, Broadcast, Communications, Healthcare, and Transportation.
Tata Elxsi is helping customers reimagine their products and services through design thinking and the application of digital technologies such as IoT (Internet of Things), Cloud, Mobility, Virtual Reality, and Artificial Intelligence. For more information, visit www.tataelxsi.com.
About ISRO and HSFC
Indian Space Research Organisation (ISRO) is the space agency of India. The organisation is involved in science, engineering and technology to harvest the benefits of outer space for India and the mankind. ISRO is a major constituent of the Department of Space (DOS), Government of India. The department executes the Indian Space Programme primarily through various Centres or units within ISRO.
The Gaganyaan programme is a point of inflexion in the growth profile of India's space endeavour, marking a seminal foray into the new age of human space exploration. The new Centre, HSFC, was created in ISRO for the execution of Gaganyaan programme and to take up sustained activities in human space flight arena. As the lead Centre for the Human space activities, HSFC will undertake multi-disciplinary R&D activities in new domains of human science and technology, while conforming to high standards of reliability and human safety.
Media Contacts:
Tata Elxsi
Hari Balan
Corporate Communications
Telephone: +91 80 2297 9123
[email protected]