Attention
This website is best viewed in portrait mode.
Manoj Raghavan, CEO & Managing Director, Tata Elxsi, talks about quarter results, growth drivers...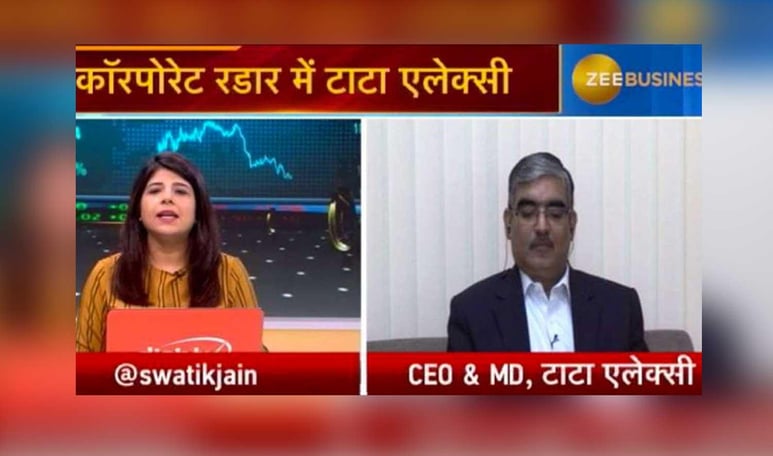 Manoj Raghavan - CEO & MD of Tata Elxsi
Manoj Raghavan, CEO & Managing Director, Tata Elxsi, talks about quarter results, growth drivers, revenue from the automotive segment and RoboTaxi system among others during an interview with Swati Khandelwal, Zee Business. Excerpts:
Tell us about the parameters that allowed you to post such excellent results?
The performance was extremely satisfactory. We have been growing regularly over the last two quarters if you look at it. If you look from a PPT perspective, then we have moved from 18% to 22.2% and that is good growth. But, if you look at our commentary to the market that it has always been that we would be in the 22-24% PPT margins. So, we have maintained that. If you have a look at the last quarter, we had a one-time expense and if you remove that then we were always in the 22-24% bracket. Having said that, what is important in this quarter is that we have added a number of fresher hiring that we did in the last to last year. On top of it, we had a salary hike for the financial year. So, in spite of that, we have been able to show great performance. It is definitely due to a lot of good deals that we won in the previous quarter, and we executed them well and deliver value to our customers. In fact, all key verticals in which we operate whether it is transportation business, media-communication business and medical-healthcare business then all of them have shown positive growth. So, definitely, it is a lot of hard work put in by the team. You should also understand that it is a seasonally weak quarter. So, it really shows a good growth momentum that we have been able to deliver.
There was a 4% increase in Tata Elxsi's margin. Do you think that it will continue in the next quarter or it will be better?
Environment is looking very positive and we don't give growth estimates and so on. But, we will be between 22-24% margin. We continue with those projections. So, we would like to deliver another quarter of growth in Q4. Essentially, we would definitely look at the next two-quarters Q4 and Q1 and hope to keep the growth momentum up.
More than 50% of your revenue comes from the auto vertical. Can you tell us the kind of turnaround that has happened in the sector and the incremental contracts will be a part of the business growth on a QoQ basis from here?
About 48% of our revenue comes from the automotive vertical. If you look, even in India, the automotive vertical has been pity slow and we have been observing this since January and there has been a slowdown from January to June in the industry. There is not so that there are no deals but there are delays in decision making. If you look at the services that we provide primarily in the R&D space, not the IT one, and a lot of changes is happening in the automotive industry and a lot of investments is going into an electric vehicle. The entire sharing economy coming in, then you have connected cars and autonomous cars. There are so many changes happening in and even the car companies are figuring out where do they put their money. So, you can see joint ventures (JVs) is happening. People are coming together to share R&D expenses. Thus, there are a number of changes that are happening and you would see in the next 3-5 years in which the traditional automotive industry that we know now will no longer be the same. There will be a lot of new services on that we have to work on. And any of these disruptions in the market is very positive for Tata Elxsi. Yes, there is a slowness in the automotive industry that we have observed it in the last 6 months but would like to say that lot of decisions which were delayed has been taken in this quarter and the previous quarter. Some of the deals that we won and ramped-up has resulted in the performance that we have shown. So, we would continue to see this growth in the automotive industry, however, I am cautiously optimistic about it. The good things that have happened in the automotive industry including the disruptions, is positive for Tata Elxsi.
What about the contracts and what is your expectations from new geography and verticals/ Also talk about the expected deal size and deal pipeline of the future?
Deal pipeline is pity robust if you look at the verticals in which we operate three verticals and they are automotive and transportation, the medical healthcare and media and broadcast. And, each of these three verticals there has been a lot of disruptions - technology-related disruptions are happening - and as I have said earlier those disruptions are positive for us. If you look at the markets, we operate in major markets like US, Europe, Japan and the Asia-Pacific market. We have also got into China and Korea as well as in South Africa and the Middle East. So, we have very good coverage of the market and I think this is very positive for us.
Currency is an important part of the business and would like to know its impact on revenue and what is your outlook for currency play?
Currency fluctuations are a part of the business but what we do is that we always cover our risk and take forward and options. If you look at the current quarter then there has been a 70-72% volume growth and the remaining has been currency led. So, currency fluctuations are part and parcel off course with the BREXIT situation there will be momentum in GBP, which we are closely watching. Whatever tensions we have in the middle east the US, Iran and so on also have an impact on USD fluctuations. So, we are constantly watching that, however, from the performance perspective, we look at the operational performance. In the case of currency and all, we would like to be neutral and take those covers options and forwards, so that it doesn't really impact our overall performance.
Tata Elxsi has displayed the RoboTaxi system at Consumer Electric Show (CES) in Las Vegas along with your partner AEye. Let us know about the technology that has been used in it and your plans to work on such projects further?
We have an autonomous platform called Autonomaim, which has been implemented in-house. We have on our campus we have a couple of cars on which we have implemented it and we have a platform in which the car can run autonomously. We have also licensed it to a few OEMs around the world. Now, AEye is a company that makes a particular sensor with a lot of capabilities of 1km-range and a lot of other things around that. So what we have done is that we have incorporated this new sensor into our overall Autonomaim platform. Then, we used it to demonstrate the capability of both our Autonomaim platform as well as the AI sensor. So, it is a joint demonstration that we have done and this was a very powerful sensor, but, it is still in the early stage and is not ready for deployment and lot of fine-tuning needs to be done in that particular sensor. But at CES, we wanted to show to everybody with respect to what kind of sensor you use our Autonomaim is capable of receiving inputs from different sensors and driving the car autonomously. Thus, it is a good success for us.
What are your budget expectations for the sector as a whole?
I think, first thing the government has done is the reduction of corporate tax, which has really helped companies like us who are in the higher tax bracket. This is a positive move from the government, however, from the budget perspective, companies like us are looking forward to seeing what happens to the SEZ scheme, whether the government will continue with it or not as it will help us in our future planning. So, we are eagerly looking to hear about the SEZ scheme.