Attention
This website is best viewed in portrait mode.
Need for Intelligent Battery Management Systems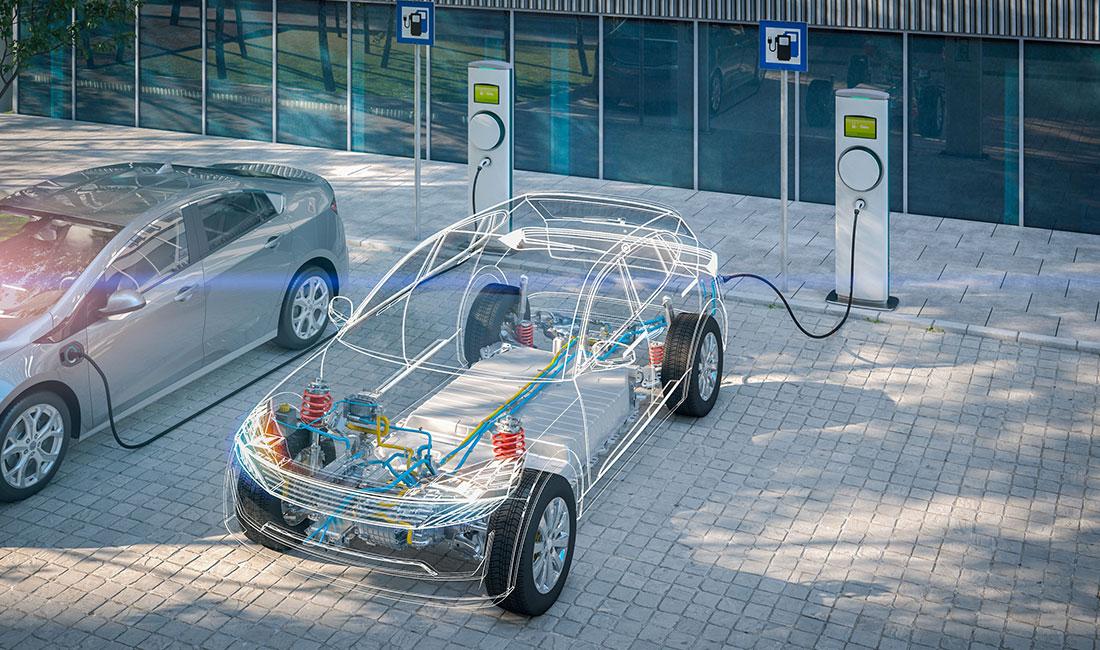 Battery Management System – It's use, need and benefits
Battery Management System (BMS) is an electronic system that monitors, balances, and protects the battery pack in an electric vehicle. It's a crucial part of any electric vehicle, and without it, your battery pack would be vulnerable to damage that reduces its lifespan. Due to its unstable nature, Lithium-ion cells pose a safety threat to users. The BMS, which manages the functioning of a rechargeable battery (whether a cell or battery pack), thus becomes a crucial factor in ensuring electric vehicle safety. BMS primarily oversees the operation of the traction battery and protects it from overcharging, over-discharging as well as excessive current during charging and discharging. There is a need for thermal management of these battery packs affects safety and useful life of the battery, which is also provided by BMS. It protects both user and battery by ensuring that the cell operates within its safe operating parameters. It also monitors the State of Charge (SoC), State of Health (SOH), and State of Power (SoP) of the battery to ensure it is operated in an effective and safe way. BMS also balances the cells to ensure same voltage is maintained across cells, which maximizes the usable battery capacity. BMS also collects a lot of data from the battery pack, to be used for analytics-based features.
Evolution of BMS Features & Trends
Most fuel gauging circuits employ coulometric counting to determine dynamic capacity, in layman's terms, it keeps a tally of current in and current out. It's an easy principle, but not as easy to execute accurately and consistently. The holy grail is to enable something called life usage forecasting. Much research has been undertaken to achieve increasingly sophisticated forecasting, which is important for large battery installations. Often, BMS integrates the primary protector as well as the fuel gauging features. It has become a true system application capable of interactive control with the host.
Today, there are four major trends in battery technology.
The sophistication of BMS software: The trend is towards better estimation of battery state and the management of battery life and performance. BMS models have been enhanced via accurate real-world performance data. Multi-physics battery models that self-optimize and AI-enabled models to self-update and parameterize are used for the same.
Higher-voltage vehicle architectures: 400V architectures for energy-dense, cost-effective applications. 800V initial adoption in high-performance sectors. 1200V system for off-highway vehicles. Faster charging with higher currents and a need for BMS to be scalable.
Advancements in battery monitoring: Smart embedded sensing enables monitoring and controls individual cells. It also isolates one cell or draws power from certain cells and helps in self-healing and extending the life of cells.
Cloud-enabled BMS: This is Digital Twin based battery monitoring and state estimation. Over-the-air data transfers help tune BMS based on updated system understanding. Big data analytics helps improve battery life and performance. Detailed battery data helps to improve second-life use and uptake.
Digital Twin (DT) framework for Intelligent BMS & Features
Framework of DT for Intelligent BMS includes an on-board BMS and its off-board counterpart. The on-board system consists of a battery pack, BMS, and associated sensors. The off-board system is a cloud platform where digital twin of the battery, cloud BMS functions, data utilization, and other value-added services are hosted. The on-board system will also have access to big data, including data from other vehicles, map information, weather information, traffic information, and charging infrastructure information. Once deployed the DT will get refined, based on the data from real batteries and accuracy will improve over time. Cloud BMS will use information from both digital twin and physical entity of both battery states. It will control the operation of a physical battery.
Some features of the digital twin framework for intelligent battery management systems are:
Safety
Battery Anomaly Detection
Cell Temperature Estimation
Prognostics & Diagnostics
Safety & Control
Performance
Driver Characterization
SoC and SoP Estimation
Energy Optimisation
Advanced Battery Thermal Management
User Experience
Trip Recommendations
Smart Range Prediction
SoH Estimation
Remaining useful life prediction
Key Challenges Faced
As the number of wires and connectors between cell monitors increases, there are two major challenges. Firstly, the layout changes such as split packs increase wire length, cost, and weight. The second is that there is an increase in failures such as wire breaks and poor connector contact.
The Coulomb counting is the easiest approach to estimate the state of charge (SOC) of a battery, However, the Coulomb counting method suffers from the following sources of errors:
Initial SOC error: It is based on integration current, so any errors in the initial SOC assumption will remain as a bias.
Current measurement error: Current sensors are corrupted by measurement noise, but simple, inexpensive current sensors are likely to be noisier and possibly biased.
Current integration error: The Coulomb counting method employs a simple, rectangular approximation for current integration. Such an approximation results in errors. As the load changes rapidly, the errors increase with the sampling interval.
Uncertainty in the knowledge of battery capacity: The Coulomb counting method assumes perfect knowledge of the battery capacity, which is known to vary with temperature, usage patterns, and age of the battery (Time).
Timing oscillator error. The timing oscillator provides the clock for SOC update, that is, the measure of time comes from the timing oscillator. Any error or drift in the timing oscillator will influence the measured Coulombs.
Another challenge faced is the Real-Time State of Health Estimation. Present BMS technology is inadequate to accurately predict the state of health (SOH) of a battery. There are only a handful of choices. Either to prematurely replace the battery or to wait until an explicit failure event occurs. Both choices have undesirable consequences: premature replacement will result in increased cost to the user and unsustainable and excessive waste to the environment, whereas waiting out will negatively impact the safety and quality of experience to the user.
Solutions in BMS
Open circuit voltage modeling demonstrates how careful modeling and optimization can result in parameters that are applicable to a wide range of temperatures. The need for careful modeling is demonstrated using scaling, a crucial strategy that, when ignored, results in up to 90% higher SOC errors.
Battery Impedance Estimation is another criterion required for effective battery management.
Battery Capacity Estimation is another solution that uses accurate knowledge of battery capacity, which is crucial for all aspects of a battery management system. Adaptive strategies for universal battery management uses newer versions of batteries that come in slightly different chemical compositions.
Lastly, Optimal charging strategies refer to battery chargers that have two competing objectives; one seeks to charge fast and the other attempts to minimize capacity fade and temperature rise due to charging.
Conclusion
Electric Vehicles have become a foundation to the new mobility paradigm world over. Established players and new entrants are investing to bring latest products to the market. India along with developed economies are also at the forefront of this resolution.
The market for Battery Management Systems (BMS) is expected to grow as demand for electric vehicles rises. In the future, electric vehicle batteries will be simplified, making them easier to charge and use. The news of EV's catching fire doesn't go well with a common user who thinks of buying an EV. The relevance of BMS is here which safeguards not only a battery, but the entire vehicle and protects occupants from a thermal fire. It also allows users lot of convenience features backed by cloud to provide real time information about a battery in the best possible manner. This is done while ensuring safety and security which are of the highest priority from a user's perspective. Even though there are still some unresolved challenges in BMS, the advantages that it provides to an EV system and users are far more. BMS is gradually and steadily improving, this will save energy and accelerate performance.
Author:
Anush G Nair
Technology Manager, Electrification Practice
Tata Elxsi
Anush G. Nair has more than 20 years of industrial experience. He holds B.Tech in Electrical Engineering and M.Tech in Computer Science. At present, he is working as a Technology Manager in the Electrification Practice Group at Tata Elxsi. Present areas of interest are Electric Vehicle Architecture, Traction, Energy Storage Systems, and Digital Twin and their applications in Electrification.