Attention
This website is best viewed in portrait mode.
OSN's Smart Move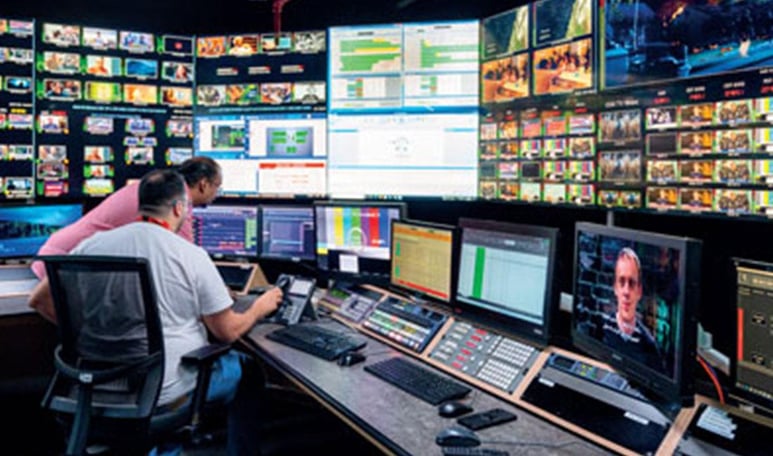 OSN has unleashed a new entertainment experience with the roll-out of OSNtv, a smart box that seamlessly integrates the pay-TV operator's channels with a viewer's favourite apps as well as other exclusive content. In an exclusive interview with Vijaya Cherian, Devrim Melek, Senior Vice President – Strategy, and Melvin Saldanha, Director of Technology, talk about why the box is a game-changer
OSN has enjoyed victories on multiple fronts in the last year under the leadership of CEO Joe Kawkabani, who took charge in April 2022. One big addition, alongside retaining premium content agreements such as those with HBO and investing in original productions, is the technical triumph of the OSNtv box. The hybrid set-top box (STB), which moves away from the traditional STB concept, is an all-in-one smart device that integrates the functionality of the smart TV with that of a traditional box. Essentially, with a single remote one can control both pay TV and OTT, providing the full experience on a single platform. OSN worked closely with Tata Elxsi, Skyworth, Amlogic and Synamedia to develop this hybrid box.
"The OSNtv box today is an enabler of several experiences for the end user, but more importantly it has the ability to evolve as our design and technologies evolve," explains Melvin Saldanha, Director of Technology at OSN. "Previously, our linear channels were only delivered through satellite. If you wanted to step into the on-demand world or access a video/music app or YouTube, you would have to switch to a different platform. OSNtv now brings these two worlds together. It supports satellite TV channels (linearTV/pay TV) along with OTT (non-linear/video-on-demand) content and any number of apps, all in a single box. We called it a bridge box then, as it interfaced with the traditional CAS-based linear offering while also embracing the new world of streaming channels over IP and on-demand video using DRM and adaptive bitrate (ABR) tech. This is a product that puts content first, regardless of which channel and platform it is hosted on."
Devrim Melek, Senior Vice President – Strategy at OSN, elaborates further on the immense flexibility and personalisation the box affords each viewer. "The platform gives the viewer the opportunity to make the product their own, in that they can pick what they want to bring to their box.
It's a new environment with a unique user experience. It's also a different way of positioning ourselves, because with this box, people have the option to do away with the dish if they want to."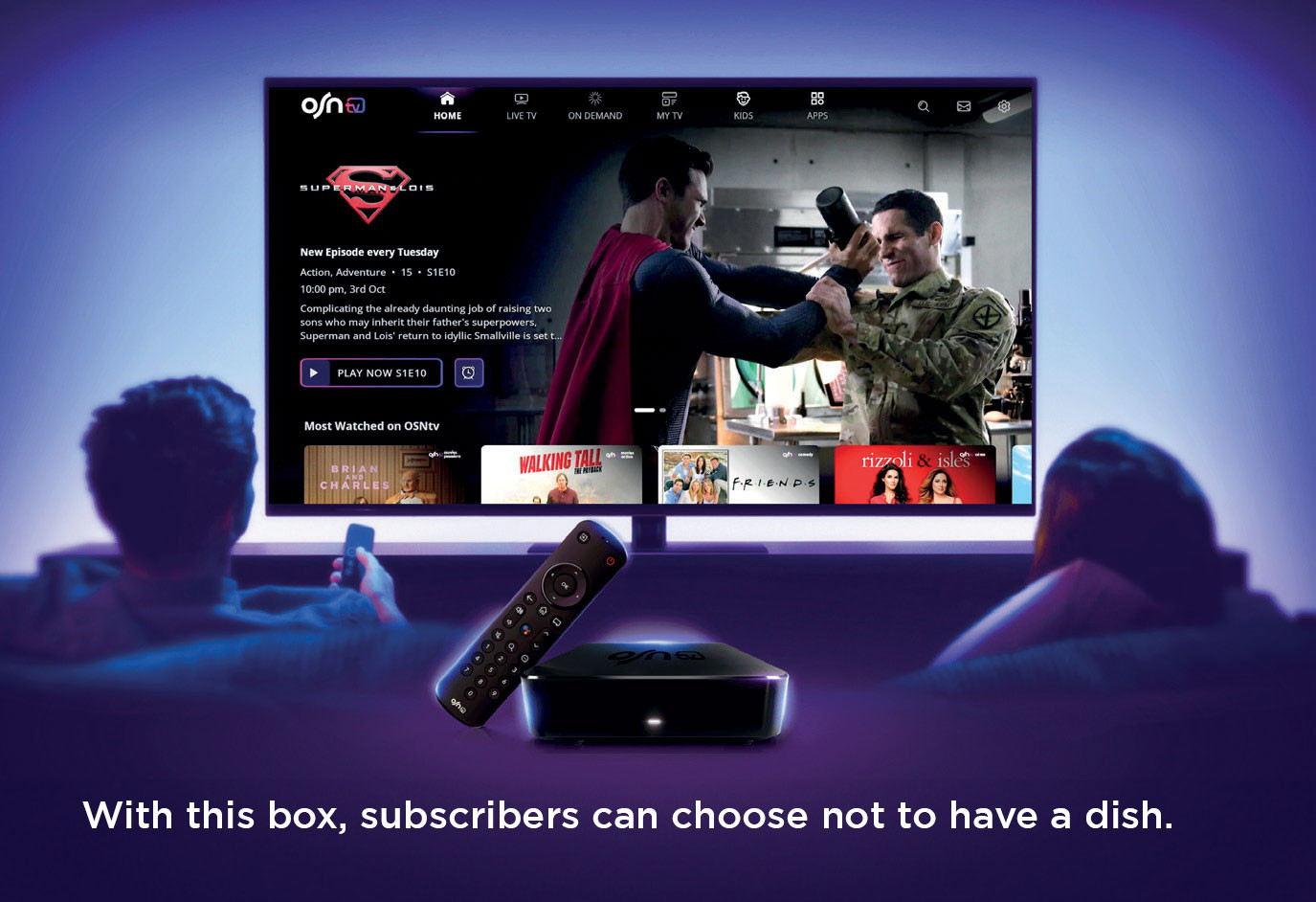 Although it is deceptively modest looking, with no card slots or frills to fiddle with, there is plenty of magic within the box. The cards themselves are now secure micros and part of the PCB board, leaving it less vulnerable to hackers.
The plan to develop this hybrid box started back in 2021, but the actual project didn't begin until March 2022, Saldanha explains. Although there were a lot of initial debates on whether to take the RDK or Android route, the team eventually opted for the latter.
"Android enables faster time to market," clarifies Saldanha. "With a plethora of 7,000-plus apps on the platform, the RDK world offers less feasibility. Android also offered easier access to upgrades, and the UI was highly customisable because we had operator-tier control."
Within a record six months from March 22, the first phase of the box was rolled out, says Saldanha proudly. "Typically, the roll-out period for any set-top box project is nothing less than 12 to 18 months."
An STB typically goes through three product generations and cycles – a pre-product sample, a line production sample and the final production sample – before being deemed fit to enter the market. A six-month timeline for this entire process is therefore near to impossible, but with the help of partners like Tata Elxsi, Skyworth and Amlogic, OSN says it made the deadline successfully.
Since then, OSNtv has been continuously evolving, with new modules and innovations added routinely to improve the viewer entertainment experience. Recognising that 80% of OSN's target audience in core markets prefers hybrid and linear viewing, for instance, OSN further enhanced the OSNtv offering to a fully dishless product with IP functionality in June this year. A new on-demand module was added seamlessly in September, with over-the-air upgrades making it a more robust one-stop shop.
Today, the box serves both worlds – homes that rely on satellite channels and those that rely on the internet. For households without a smart TV, it also serves as one.
"If you look at the product journey, it's as simple as plug and play," explains Melek. "You bring in the device, connect it to the internet and the journey is seamless. A custom operator-tier launcher walks you through scanning your channels and takes you to the welcome screen, where you have a mixture of linear channels and on-demand content/OSN+ content. The user interface can be personalised to a high degree by the viewer. The presentation of content can be personalised, segmented by region; it could be more generalised if that is preferred – all of these capabilities sit within OSN's backend allowing complete flexibility within the editorial team, which controls the content presentation layer."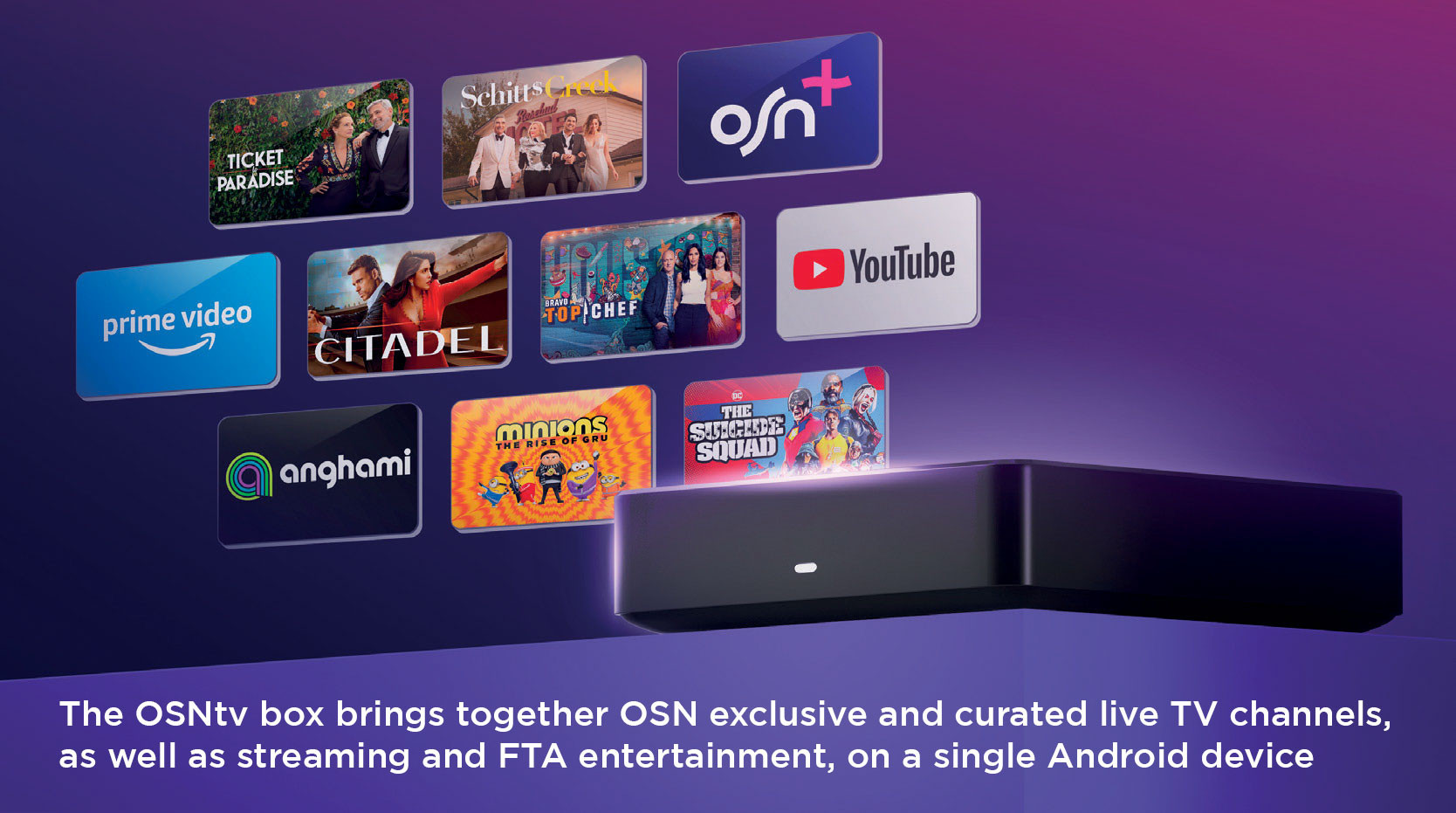 Interestingly, OSNtv's backend components are based on the architecture of its streaming platform OSN+, which was also built quite recently from the ground up. "This box is powered by the backend that we built for OSN+. Our aim is to bring all our worlds together and connect it to one common backend," explains Saldanha.
One of the box's most remarkable features is its ability to collect various kinds of data, thanks to iCX (Intelligent Customer Experience), a software agent that sits on each box. iCX uniquely identifies the subscriber's box and manages over 200+ factors that affect the overall quality of experience while he/she views the content. In addition, a few other SDKs have been implemented: Conviva for real-time matrix and viewer insights, Irdeto App Watch for app monitoring and security, and Clevertap and GA for marketing engagements.
"But we are very careful to adhere strictly to the GDPR data protection regulations," Saldanha notes.
Melek elaborates: "Within the GDPR framework, we have tools "It's a new environment with a unique user experience.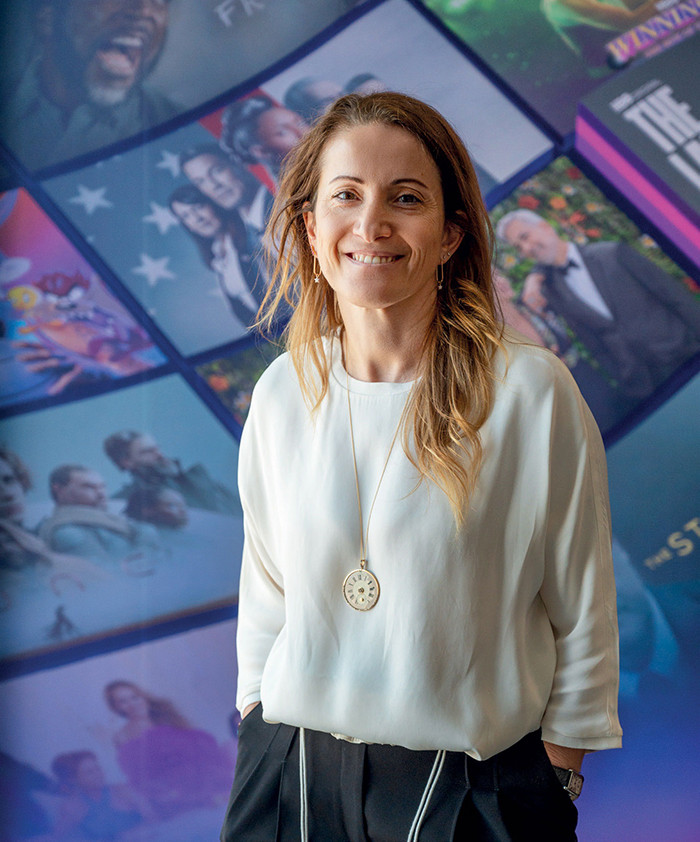 It's also a different way of positioning ourselves, because with this box, people have the option to do away with the dish if they want to" Devrim Melek, Senior Vice President – Strategy, OSN to monitor every movement within the platform, what people have watched, their navigation path, and we get all this data in real time. We have viewer insights of what content has done well, which apps are being used throughout the day, which is the most consumed app environment against a limited channel environment, and so on. We also have engagement tools to talk to consumers either via the app or in-screen messaging, through emails or SMS, so we have tools to do that monitoring as well. We have tools to monitor the 7,000-plus apps. We can check video viewing (buffering, AV sync, subtitles, black screen, screen freeze, only video/audio) etc, start-up time of the STB, even to the extent of battery level of the remote, to name a few."
The box also monitors the quality of the viewing experience, continuously sharing granular data on the overall function to the operator's central controlling station, where data analysis enables problems to be fixed proactively and remotely before they even get reported.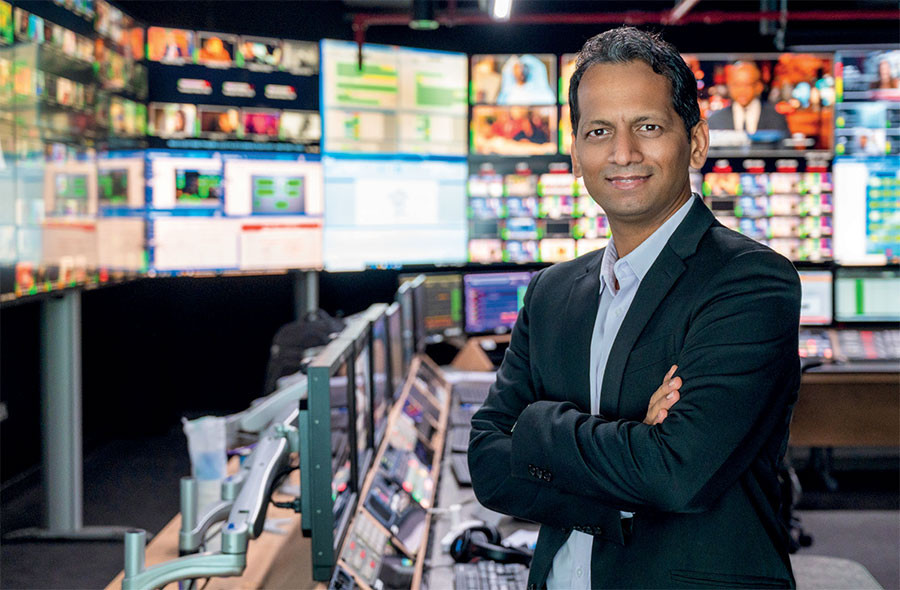 "Our remote monitoring and diagnostic tool helps with this task where, with a customer's consent,
we can troubleshoot their box live. In 90% of the cases, problems can be fixed remotely. This reduces the carbon footprint as well as costs associated with truck rolls (technical visits paid by service personnel in their trucks). In addition, data from multiple locations from a city can be analysed, to look for patterns causing degradation in the quality of the viewing experience and apply proactive fixes before the problem becomes widespread, etc. We have tools that can also block and ban rogue boxes which access content without paying for subscription, thereby plugging revenue leaks for the operator. Isolating compromised boxes can also save the network from threats of cyber-attacks and frauds," says Saldanha.
Melek says "knowing everything that is happening" and garnering this data helps the company make better decisions within different departments. "On every side, whether it's the business or technical side, data or even marketing and communications, we are able to plan better strategies in terms of the box roll-out by understanding our customers' consumption patterns better."
She also explains how different departments have contributed to improving OSN's entertainment experience.
"We have product functions in the company where people look at customer needs and design or translate that into a product idea. Our technology teams put all those dreams we have into reality. Then we have data teams who are working on data and data enrichment, recommendations, etc, and we have the content team that is responsible for curating all the content. We also had a lot of participation from our research and product departments. Even our sales teams were involved, because they're the ones who sell the product, as was our call centre and customer value management department. We were trying to deliver a good experience at every touch point where we had to interact with the customer."
Saldanha adds that as a data-driven company, a lot of OSN's decisions are now made based on how people are consuming content on the box. He applauds Tata Elxsi for its critical role on the project.
"They have been our partner on both the systems integration front end and the development aspect of things. They brought in a lot of knowledge on the Google common broadcast stack, which is the traditional CAS on an Android domain. They've done multiple projects like this, "Our remote monitoring and diagnostic tool helps with this task where, with a customer's consent, we can troubleshoot their box live. In 90% of the cases, problems can be fixed remotely" Melvin Saldanha, Director of Technology, OSN and they brought both expertise and experience to the table. They were flexible, and if we needed to get some end-to-end testing done, they were easily available. They have added a lot of value, and that's why they remain a partner in the development of this box."
One of the technical highlights of this box is its use of HEVC technology. "With this box, we are now transmitting channels at 4mbps," Saldanha explains. "With this we have cut our CDN costs by approximately 35%, because we can deliver services at the same quality as satellite but at a lower bitrate. The box supports all video codecs, namely AV1, HEVC, 4K and all flavours of HDR, HLG as well as Dolby Vision, alongside audio codecs such as Dolby Atmos and Dolby 5.1 standards. So if any piece of content is available in any of these formats, the box can output that. This itself is a big advantage, because most of the TV sets do not support that. So this becomes an aggregator in terms of technology to provide those services to the customer."
Another important addition was the use of AI for compliance and metadata enrichment. "The OSN team takes great pride in being able to localise the metadata. We have a skilled team that is effectively focused on creating rich local metadata for every piece of content on every channel. That's our expertise. We get content from studios, and we use speech-to-text technology that is powered by AI. It assists in compliance and enriching metadata, thereby contributing to enhancing our search and recommendations."
There were many challenges in developing this box, the biggest one being black box/CAS testing. Saldanha explains: "The physical modules were in Shenzhen, China, and it went into lockdown for a month during Covid. This was during the six months of integration timelines we had at hand. So we had to build the whole black box with support from Synamedia, Amlogic and Tata Elxsi in an alternative city and continue with the development. The teams really thought through creative ways and went outside of general practices to ensure the project met its deadline. Once it was tested, it was migrated back to Shenzhen, where the actual production began. That was big."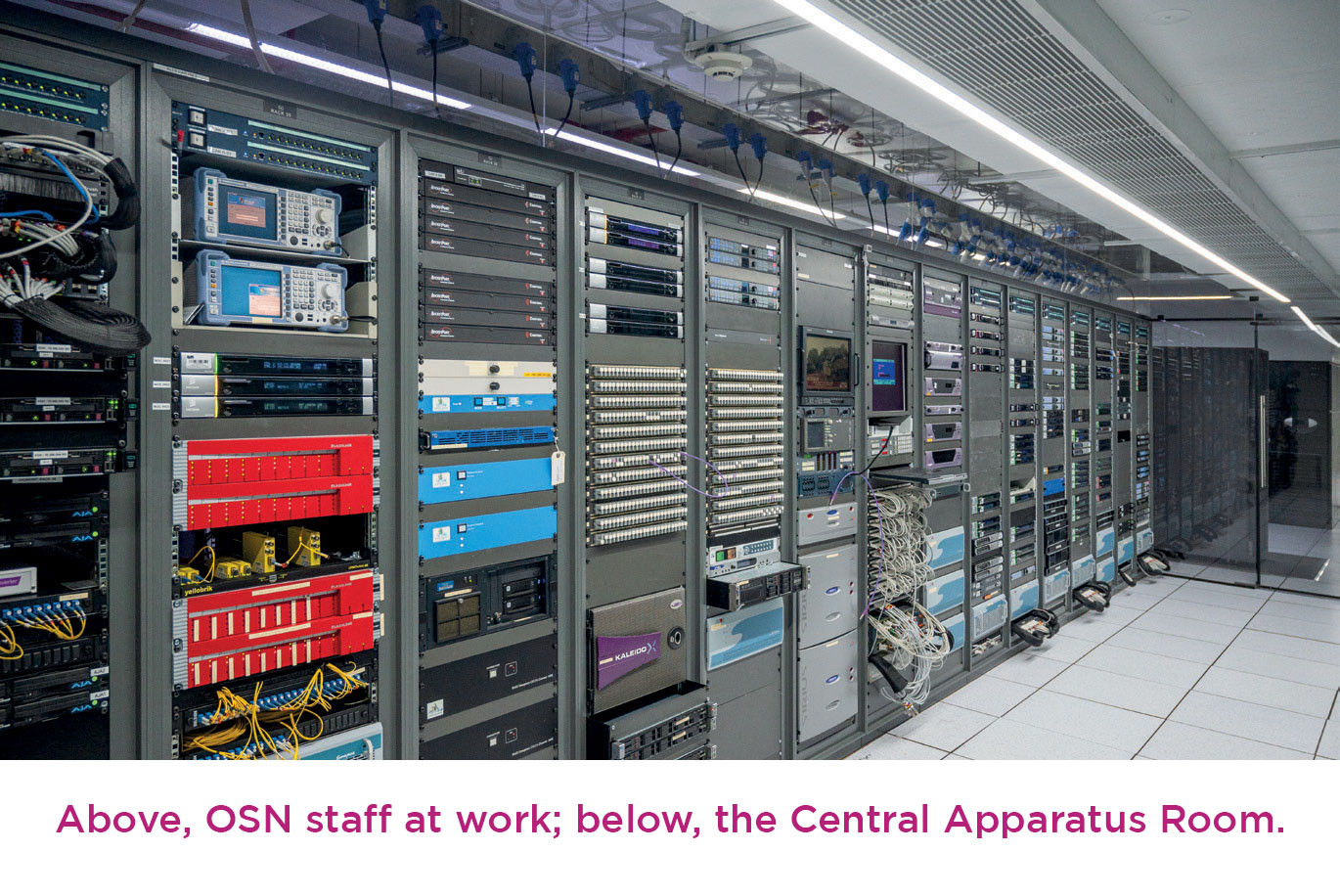 The OSNtv box is a growing and evolving box with the ability to bring lots of new features to the viewer through software and over-the-air (OTA) upgrades. Saldanha clarifies that an OTA update is not the same as an app update, which is driven more through the Android Play store.
"OTA refers to firmware updates that are available from various chip vendors that are released at different intervals of time or collectively as a bundle. These need to be updated on the boxes routinely to remedy the bugs, vulnerabilities or even enhance functionalities. It allows you to update boxes by region, segments, countries and specific IPs. All those tools are a part of the initial set-up.
"These updates are critical, as each region is different. When you do upgrades, you do it by region and sometimes by a specific set of customers, because you want them to test the beta release first. These OTA modules help us to enable that action, where I can go to a pocket segment, do the testing on ground, conduct a few sessions live with customers and then roll it out to the remaining base." With the box significantly enhanced since launch, OSN is ready to roll it out more aggressively to its users within the next year or so. With OSNtv, customers have access to a whole ecosystem of streaming products that suit regional trends. With no installation required and enabling a dishless installation, it has made entertainment more accessible and inclusive, offering a superlative entertainment experience regardless of geographical location or technical expertise. Melek says that migration to the new box is being undertaken in segments, based on usage. She concludes: "We're planning to migrate everyone to the new environment within 18 to 24 months."