Attention
This website is best viewed in portrait mode.
Reimagining the adtech space: Monetisation in times of evolving technologies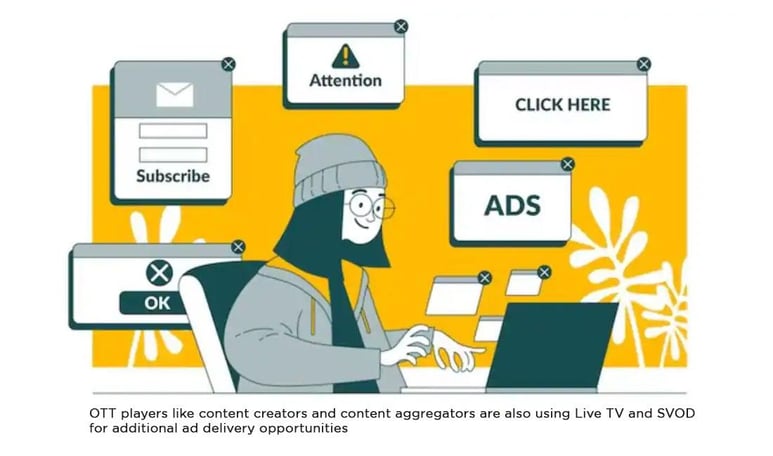 Advertising Video on Demand (AVOD) plays a pivotal role, offering publishers a potent tool for robust monetisation strategies
By Deepika Mishra
The era of video ads has dawned, ushering in a transformative wave within the ever-evolving AdTech landscape. Video takes the center stage, engaging audiences and conveying messages in ways that text and images alone cannot surpass. In this transformation, Advertising Video on Demand (AVOD) plays a pivotal role, offering publishers a potent tool for robust monetisation strategies. AVOD platforms provide advertisers with a priceless opportunity to engage audiences through free, ad-supported content, ensuring both the availability of premium content to consumers and the creation of a sustainable revenue stream for content creators and platforms.
Parallel to this evolution in adtech is Free Ad-Supported Television (FAST), a concept focused on delivering personalised content experiences and additional monetisation avenues especially for SVOD players. For instance, if you're a sports fan, publishers curate sports-related video content into a dedicated channel just for you. This targeted approach not only enhances your viewing experience but also allows advertisers to display relevant ads, making it a win-win for viewers and content providers. FAST is all about bringing the right content to the right people, making it a noteworthy trend in the digital streaming landscape.
In addition to FAST and SVOD, OTT players like content creators and content aggregators are also using Live TV and SVOD for additional ad delivery opportunities.
The need for ad monetisation in video advertising
In the world of video advertising, the significance of effective ad monetisation strategies is paramount. Its need is evident in the adtech industry's quest to sustain and innovate. Advertisers, publishers and content creators rely on effective monetisation strategies to support their operations and continually provide consumers with engaging and valuable content. Projections indicate that global spending on digital advertising will soar to 876 billion USD by 2024, underscoring the industry's remarkable growth. With more money coming in, the adtech industry will help agencies, publishers and broadcasters optimise their budgets to maximise their revenue streams. Advanced solutions will aid in better ad placements, deliver the right content to the target audience, and reduce wasteful spending.
Adtech also provides comprehensive behavioural data that can be used to target potential audiences and measure campaign success. For one, as AI and ML technologies advance, the industry will also continue to evolve. This will pave the way for advertisers and marketers to leverage technologies and deliver more relevant, efficient and data-driven campaigns. In turn, companies will continue to discover cost-effective solutions and data-driven insights, leading to better monetisation of ads.
Asia Pacific: A hub of adtech growth
The Asia Pacific region is expected to witness the fastest growth in the adtech market, driven by the increasing use of smartphones, the rise of social media and e-commerce, and the growing adoption of programmatic advertising. The region's market is expected to grow at a remarkable CAGR of 26.6% from 2021 to 2028, indicating the immense potential of this market. The Asia Pacific market has already reached a level of maturity that the Western market is just beginning to approach. This is why we are actively transitioning towards innovative advertising strategies.
The shape of adtech in 2023: Emerging trends
As we look ahead to 2023 and beyond, several trends are poised to reshape adtech:
>b>Contextual advertising: The core of adtech evolution
Contextual advertising is at the heart of adtech's evolution. It ensures that advertisements seamlessly integrate with the surrounding content, resulting in heightened engagement and effectiveness. For instance, when you enjoy sports content, the athlete's jersey—whether from cricket, soccer, or any sport—becomes merchandise available for purchase. This type of contextual advertising not only enhances your viewing experience but also offers products directly related to your interests, making it more likely for you to explore and engage with these offerings, be it sports jerseys, sports equipment, or other relevant merchandise. Contextual advertising, thus, adds a layer of relevance and personalisation to your video experiences, ultimately benefiting both consumers and advertisers.
Intelligent ads with AI/ML
Technologies like artificial intelligence, machine learning and augmented reality will revolutionise the future trends in the adtech industry. According to industry reports, AI-driven ad campaigns have seen an average conversion rate increase of 30%, showcasing the effectiveness of personalised ads. AR advertisements bring in interactive ads wherein technology adoption like IoT allows matching the ad with customers' actual needs.
The possibilities are endless by leveraging advanced technologies like AI and ML added with the right set of tools and data-driven strategies. For instance, AI and ML can analyse user preferences, enabling ads to adapt and communicate effectively in different languages or regional dialects. Be it audience segmentation, ad placement, or personalising ads, AI/ML can be deployed to gain a significant impact on the way ads are created, targeted, delivered and optimised.
Gamification's role in ad engagement
Gamification is no longer merely a tool; it has evolved into a dynamic strategy in modern advertising and adtech. By infusing elements of gaming into ad experiences, brands can elevate user engagement significantly. For instance, envision an ad that invites users to participate in an interactive treasure hunt related to a product or service, making the brand interaction not just memorable but also enjoyable.
Shoppable ads and Retail Media Network (RMN) Ads
Nearly one-third to almost half of buyers will shift their attention to shoppable ads and retail media network (RMN) ads in 2024. The RMN ads are creating a new revenue stream for ecommerce websites. These ad formats provide a seamless path from ad engagement to purchase, enhancing the overall shopping experience for consumers. Influencers are playing a pivotal role in amplifying the impact of shoppable ads and RMN ads. For instance, fitness influencers are harnessing the power of short-form content like Shorts and Reels to collaborate with sportswear brands, instantly connecting workout enthusiasts with product options. On platforms like Instagram, cooking influencers are whipping up delectable recipes in Reels, featuring kitchen appliances that viewers can easily shop for. Likewise, fashion influencers are curating captivating look-books, turning their style recommendations into direct sales opportunities through these ad formats. Additionally, home decor retailers are teaming up with interior design influencers for RMN ads, transforming home makeover inspiration into tangible purchases for homeowners. These influencer-driven strategies not only facilitate product discovery but also enhance the overall shopping experience, aligning perfectly with the shifting preferences of buyers.
AdTech forecast (2023 – 2030):
Looking ahead to the next decade, enterprises will increasingly rely on advanced technologies such as Client-Side Ad Insertion (CSAI), Server-Side Ad Insertion (SSAI), Programmatic advertising, Native Advertising, 5G Technology, Data Analytics and Big Data, Artificial Intelligence and Machine Learning. These technologies will facilitate insight generation, predict user behaviour and enhance campaign performance, continuing the ongoing technological evolution that drives innovation and efficiency within the adtech industry.
Furthermore, several noteworthy adtech trends, including the ascent of Connected TV (CTV), Privacy-Centric Solutions, Cross-Channel Ad Integration, Video and Interactive Ads, Contextual Advertising, hyper-personalisation, geotargeting, augmented reality (AR), virtual reality (VR), and vernacularisation, will continue to shape the industry's trajectory. Notably, many Ad brands and agencies are exploring investments in metaverse advertising and marketing, indicating a transformative shift in the advertising and adtech sectors.
Author: Specialist OTT and AdTech at Tata Elxsi