Attention
This website is best viewed in portrait mode.
Tata Elxsi Bringing Innovations in Medical Device Market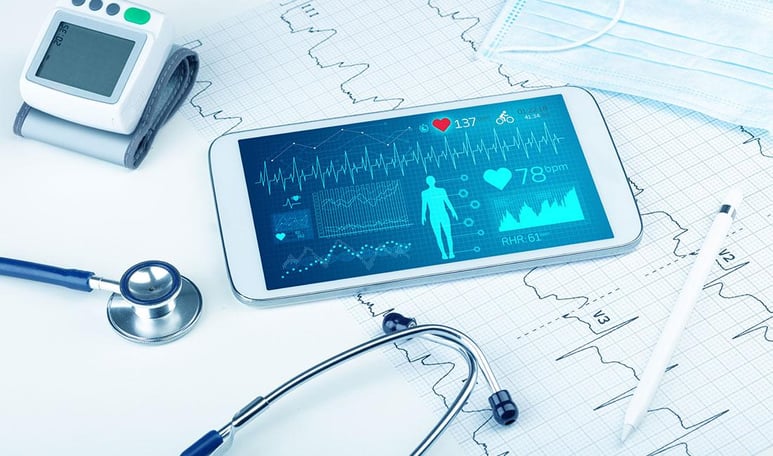 By: Sohini Bagchi
As COVID-19 sweeps across the world, the healthcare sector – more than any other – is striving to adapt to this new world order. While technologies such as Internet of Things (IoT), machine learning and artificial intelligence (AI) tools have been there to improve healthcare, the recent pandemic has spurred greater digital transformation in healthcare system. As a result, the use of medical technological devices has gone up significantly. Research shows that the global market for medical device technologies reached nearly $521.2 billion in 2017 and should reach $674.5 billion by 2022, at a CAGR of 5.3% for the period of 2017-2022. The design and development of medical devices is notably shaping healthcare as well as patient's lives.
In an exclusive interaction with CXOToday, Suhas Tamras – Global Head Medical Devices & Healthcare Practice at Tata Elxsi explains the importance of digital technologies in healthcare and how the company is bringing innovations in medical product design to help healthcare companies achieve the next level of growth.
CXOToday: The medical devices industry is seeing a spike in the adoption of digitalization. What trends do you notice?
Suhas Tamras: Digitalization is disrupting the status quo in the medical device industry. After being a laggard, due to valid security and safety concerns, the industry is witnessing its fair share of growth in digital technology adoption. There are certain apparent market drivers, which are forcing the medical device companies to rethink their business operations. Increasing pricing pressure from the healthcare service providers, ever-changing and stricter requirements of the regional regulatory authorities, operational inefficiencies, and delays in product development are some of the prominent drivers that are directly influencing product makers' bottom-line.
Digital technologies such as sensor innovation, wireless technologies, IoT, additive manufacturing, extended reality, artificial intelligence, big data analytics, etc. promise to address major industry concerns hence we are witnessing disruption across the spectrum, right from R&D, product development, supply chain management to device servicing or maintenance. These changes in the business operations warrant success not only to the manufacturers but benefits the end-consumer in terms of enhanced user experience, improved customer satisfaction, and reduced economic burden.
CXOToday: How are healthcare companies leveraging AI and ML in their day-to-day operations?
Suhas Tamras: The promise of AI to improve outcomes in the healthcare industry is very intriguing. While the AI buzzword has taken over a few aspects of health continuum solving problems that are more generic in nature, some of these aspects are specific to the industry. For example, pharmaceutical companies are using AI to augment lengthy and expensive drug discovery process, and analyze large amount of data to identify personalized medicine/treatment options for improved patient outcomes. Similarly, pharmaceutical and medical device manufacturers are moving towards cognitive computing-based RPA to supplement critical downstream processes to optimize opex. In the case of healthcare service providers, albeit there is much more to overcome to achieve fully AI-dependent care needs, mandatory practices such as Electronic Medical Records (EMR) have already primed the industry for application of Big Data tools for advanced analytics. Furthermore, as healthcare spending is increasing globally, AI can further improve various aspects of hospital operations functions, enhance patient experience and increase patient value. AI and ML aim to bring value and increase the degree of automation and the efficiency of smart decision-making among healthcare companies. In the very dynamic and diverse world of healthcare, where health and health outcomes are important, AI and deep learning intelligence would be revolutionary not just for healthcare companies but for any single patient where saving minutes can mean saving lives.
CXOToday: How will telemedicine play a crucial role in the current, COVID-19 outbreak?
Suhas Tamras: Amid the current COVID-19 pandemic, telemedicine may become an integral part of how patients around the world receive healthcare, particularly during times of social distancing and self-isolation. It is a valuable alternative for anyone who may require medical attention but do not want to, or cannot leave his or her homes. Given this scenario, any suspect experiencing COVID-19-related symptoms can consult through real-time interactive telemedicine platform with a licensed medical practitioner to determine whether testing is necessary.
Many governments are already investing in their telemedicine channels in order to improve COVID-19 impacts and outcomes. For instance, since mid-March 2020, the US federal government has expanded tele-health benefits for Medicare recipients in response to the growing COVID-19 pandemic. Telemedicine as a whole is making a significant positive impact and is indeed breaking the gap between people, physicians, and health systems, facilitating everyone, particularly symptomatic patients, to stay at home and communicate with physicians through virtual channels, significantly reducing the progression of the virus to widespread economies and frontline medical staff.
Conclusively, COVID-19 has compelled telemedicine usage into the minds of many. The repercussions of such medical technology advancements on the fight against the pandemic are expected to be significant for the health industry. Creating and maintaining many such capabilities would perhaps provide greater resilience to any future downturn and provide a platform for the enhancement of patient care.
CXOToday: What is the future of medical devices from a self-diagnostics point of view?
Suhas Tamras: Personalization is a huge trend in all industries. In case of the Medtech industry personalization is targeted towards better user engagement and improved health outcomes. Capitalizing on advancements in sensors, IT giants like Apple, Google, Microsoft, etc. diversified into the wearable health segment. Likewise, specialized Medtech companies invested in digital technologies are shifting from traditional hardware-based care delivery to holistic software-driven care for the users, moving towards a proactive and personalized healthcare system.
In addition, with numerous healthcare IT startups kicking in the marketplace, medical device market arena is getting flooded with point-of-care devices, digital self-diagnosis devices, wearable monitoring and alert systems. This is redirecting the healthcare system towards prevention and timely diagnosis. Instead of expecting patients to show up with a condition that already has signs and symptoms, technology, and data science is helping clinicians recognize a problem before it gets acute. Self-diagnosis is becoming an aspect of medicine focused on providing preventive care and will advance in the coming days, creating new treatments and helping people live longer and healthier lives.
CXOToday: How is Tata Elxsi bringing innovations in product design to help healthcare companies achieve the next level of growth?
Suhas Tamras: Tata Elxsi is an established player in product design and engineering space. Our ability to innovate in the product design space is what sets us apart in the industry. Our award-winning design studio has been continuously piloting design innovation across various industries, including healthcare. Our empathic design approach coupled with our deep domain, technology, and engineering expertise is helping healthcare companies transform product or solution ideas into reality for the digital future.
Tata Elxsi has been instrumental in enabling innovations that have helped companies not only penetrate existing markets but also develop new emerging markets. For example, we are currently engaged with our customers in designing the next generation products in the area of critical care, renal care, patient monitoring and drug delivery. On the digital side, we are working on cloud-based platforms that help in consolidation and providing useful data for analytics. We have started developing accelerator platforms in the area of regulatory intelligence and clinical workflow automation that will significantly improve operational efficiencies for the end users.
CXOToday: What are the key challenges facing healthcare CIOs and how can they tackle those issues?
Suhas Tamras: Many of the healthcare companies have embarked on the digital transformation journey. However, there are some noticeable challenges in becoming a digitally mature enterprise. While the healthcare industry has historically been resistant or slow in adopting the latest technologies, companies are now expected to be more agile and responsive to the ever-changing business goals and advancements in digital technologies. It is important to focus on the desirable future state while making incremental changes to business processes.
As disparate data systems are connected and information flow across all areas of the value chain is streamlined for increased transparency and holistic decision-making, addressing cybersecurity early in the digitization journey is more important than ever. CIOs must consider identifying the right technology and creating a long-term strategy for addressing risks associated with cybersecurity. Furthermore, digitization is a cultural change as the company is transforming business operations functions, and to harness the full potential of the digital possibilities companies would be required to establish a skilled workforce to learn, implement and use digital systems.
CXOToday: Can you tell us about Tata Elxsi's future plans with emerging technologies.
Suhas Tamras: Tata Elxsi has been at the forefront of technology implementation or enablement. We continue to see immense growth in smart connected devices powered by massive and critical IoT, store and forward and real-time telemedicine, mobile health application, extended reality (AR/VR/MR) applications for medical education and factory floor operations optimization, robotic process, clinical decision support system for the healthcare service providers, etc.
As a technology company, we have invested in creating platforms, tools or solutions for IoT, workflow automation; cloud computing, AI, cybersecurity while also developing and expanding internal capabilities to add value to customer's digital programs. For example, our 3rd generation Tether IoT platform is currently being used in various industries owing to its secure, scalable, flexible, multi-tenant architecture. On the other hand, Tata Elxsi has commercialized an enterprise-grade telemedicine platform to connect healthcare providers and patients and enabling the use of AI and IoT technology to enhance doctor or clinician's ability to deliver personalized treatments.