Attention
This website is best viewed in portrait mode.
Tata Elxsi partners VR Motion for virtual reality based safe driver skilling in India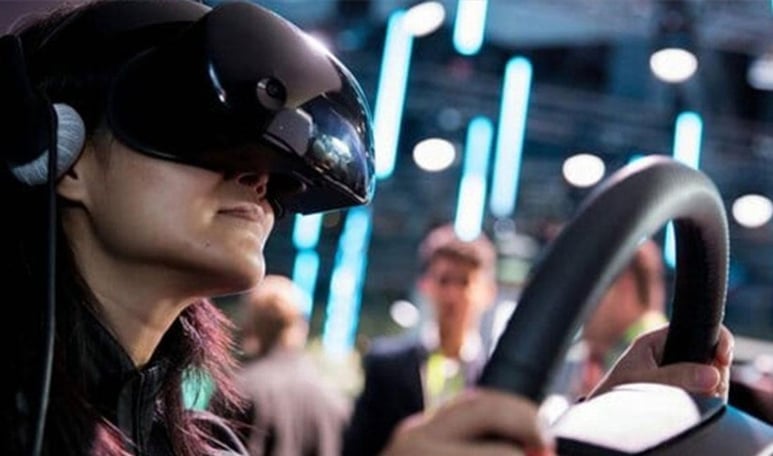 US-based VR Motion, has reached agreement with Tata Elxsi, that names Tata Elxsi as the distributor and promoter of VR Motion's exclusive VR (virtual reality) driver training software throughout India. The agreement will further promote the VR revolution in fleet driver training, using the total immersion of virtual reality.

According to VR Motion its virtual reality driving simulator offers a new level of realism, which will allow Tata and other OEM manufacturers, dealers and other fleet users of all types to practice, learn, and operate multiple specific vehicles, particularly delivery vehicles and other high-risk driving environments. The system uses a multi-axis motion platform and the latest VR hardware, the unique VRMC software immerses both novice and more experienced drivers into specific locations, unique vehicles, distracted driving and accident avoidance.

VR Motion says its solution will help India reduce its high traffic accident fatality rate, which is at least twice as high as the USA, and further support the Indian government who is taking active measure to reduce accidents and fatalities.

Keith Maher, co-founder and CEO, VR Motion, said, "Our purpose at VR Motion is to provide tools that will create better drivers globally and reduce casualties. Tata Elxsi has shown amazing leadership in helping to bring this cutting-edge technology to the drivers of India and we are thrilled to partner with them to support this worthy mission."

Sunil Punjabi, vice-president and head of Systems Integration Services, Tata Elxsi, said: "The collaboration between Tata Elxsi and VR Motion is aimed at addressing the real challenges that vehicle and fleet owners and operators face today. Partnering with VR Motion and promoting the VRMC software with the VR Hardware will help promote a safe driving awareness and reduce fatalities. We look forward to working with VR Motion on a long-term collaborative partnership."



Q&A: Tata Elxsi's Sunil Punjabi

What does the partnership with VR Motion mean for Tata Elxsi?
Partnering with VR Motion Corp and promoting the VRMC software with VR hardware will help promote awareness about safe driving and reduce fatalities in a fast growing market like India. Combined with our experience of partnering with various large automotive OEMs and transportation corporations, we foresee a good need and potential to promote such a solution in the Indian market.

How will Tata Elxsi leverage its capabilities to promote and distribute the VR solution in India?
Tata Elxsi has a wide range of expertise in promoting and deploying VR solutions and also developing solutions for automotive OEMs across the world. With a all-India footprint and offices across major cities, we are well poised to take this to Indian customers immediately. Given our expertise and skill sets and with the infusion of VR Motions solutions, we are in a good position to take these solutions to various transport operators and OEMs to train their drivers using VRMC solutions.

Can you let us know what is the core strength/differentiator of this solution in compared to simulator based training classes?
Traditional simulation systems used for driver training are typically expensive and proprietary, and complex to support and maintain. Moreover, they are quite mechanical and least engaging with the users. VR Motion virtual reality training is an advanced simulation system designed to meet rigorous training needs and it is a very flexible and customisable solution. It simulates various environments and scenarios that drivers tend to face in day-to-day driving scenarios. Moreover, it prepares these users to face real life situations in a well-controlled virtual manner for better understanding and awareness.

How realistic and proven is the usage of VR for training drivers?
The system simulates a wide spectrum of real-world conditions — from rapidly changing weather conditions to blind spots and sensory distractions — in order to increase competency, situational awareness, muscle memory and retention, coordination, and safety of people and equipment. And, added to this, is the capability of replicating the actual seating system of the vehicle along with its native dashboard to enable familiarity for the driver.

The driving conditions in India as well as the infrastructure is diversified depending on which part of the country one goes. How will the training method incorporate this challenge?
The solutions and training methods are completely customisable to suit various geographical driving infrastructure of any given region. The training program can be custom-tuned to fit various geo-physical requirements. This will help all passenger, commercial and heavy vehicle operators to train their drivers more effectively.

How effective/reliable is VR simulation over the tried-and-tested method of physical training?
The immersive virtual reality training utilises CGI and 2-axis motion to accurately reproduce an in-vehicle environment. VR Motion solutions has demonstrated a significant increase in situational awareness, focus and skills among novice drivers. Compared to the physical training, which is a time consuming and expensive exercise, which would need a significant investment in the form of space and physical infrastructure. Virtual training requires much less resources and is equally effective. Further, virtual simulation has long been adopted successfully by many engineering and manufacturing domains and there are very strong and successful used cases to endorse the success of such technology deployments.

Will you look at expanding the partnership beyond just distribution in India?
We will consider expanding to other regions in due time.

VR Motion's capabilities also include re-training people on the usage of autonomous vehicles, do you see demand for this solution in India as well?
Given the fact that the industry today is working towards development and deployment of autonomous vehicle capabilities, we feel there are good opportunities with respect to autonomous driving in the future. VR Motions solutions is a very customisable solution that will fit into this program when the right time comes.