Attention
This website is best viewed in portrait mode.
Tata Elxsi's Nitin Dahiwale on how immersive technology is revolutionising L&D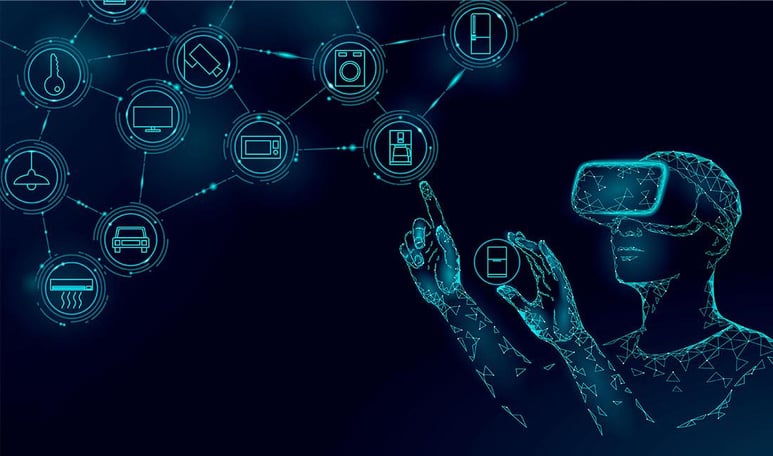 Experiential learning is a powerful and an effective way to bridge the skill gap, identify the changes required and implement those for better organisational performance, says Nitin Kumar Dahiwale – Creative Head Visual & Extended Reality Practice, Tata Elxsi.
Immersive technology has evolved at a fast pace to better impact real-world applications. Now, it is used in various industries, from education and healthcare to retail, real estate and automotive, where means like augmented reality (AR), virtual reality (VR), and mixed reality (MR) is all set to transform training and learning experiences through experiential learning.
Nitin Kumar Dahiwale – Creative Head Visual & Extended Reality Practice, Tata Elxsi - which provides design and technology services across a wide spectrum of industries, says immersive technologies will not only make learning more personalised and inclusive, but they will also help to improve overall knowledge retention through experimentation and simulation.
"As the famous proverb goes 'I hear and I forget. I see and I remember. I do and I understand'... Experiential learning is a powerful and an effective way to bridge the skill gap, identify the changes required and implement those for better organisational performance. Virtual extended reality provides a new level of experiential learning by doing vis-a-vis passive learning," he adds.
As per Dahiwale, some key areas that will see a surge in the adoption of immersive technologies include:
Maintenance, Repair and Overhauling – Streamline inspections, Remote Assistance, On-demand skills development etc.
Engineering Design & Modelling – Remote Collaboration, 3D Product Visualization, Simulations, Styling and improving Perceived Quality
Worker Safety and Training – Experiential Learning Platform
Education and Training – Virtual Training, Practical Learning, Gamification
Virtual Collaboration Centers – Design Review, Visualisation and Collaboration
Medical Training – VR-based therapy, improve Tele-medicine solutions
Media and Entertainment – Interactive Ads, Real-time information on sporting events, AR-VR based events
In an interaction with People Matters, Dahiwale dwells on how immersive technologies will revolutionise learning across various industries.
How are AR & VR revolutionising learning tech?
The world is being technology driven. As a result, in recent times, traditional learning is moving towards being more participatory/experiential (learning by doing). From providing simulated immersive learning experiences, insightful Big Data and Analytics to helping learning and development (L&D) teams and eLearning companies gauge learner engagement rate, or providing qualitative assessments with immediate visual feedback, AR and VR technologies are set to revolutionise the future of eLearning in several ways.
Be it enterprises or the education sector, globally, remote working, collaboration and learning has seen an acceleration, especially in times of pandemic. Enterprises and edtech companies are looking at innovative ways to train and provide intuitive learning experiences.
Immersive technologies like AR/VR have the potential to transport remote employees or students into a simulated, realistic environment and help them stay connected, as well as improvise learning experiences. While VR can immerse workers, consumers or learners in environments that are hard to reproduce otherwise, AR allows learners/users to directly interact with their environments while following instructions or visual aids.
Implementing new technologies will empower learners and educators to explore topics and learn more effectively, bringing complex topics to life in new and unparalleled ways. As a result, educators, enterprises and L&D professionals can use immersive technologies to enhance engagement and improve retention rates.
How will immersive technologies revolutionise learning?
Space for Collaboration
Since the onset of the pandemic, collaboration has become an essential component of learning. Through these technologies, you can remotely create classrooms, attend boardroom meetings, do design reviews etc. Collaboration platforms like AR and VR can help in remote collaborations, improve productivity, enhance customer experiences and get products faster to the market.
In the field of transportation, Tata Elxsi applied these technologies in designing efficient operability of cabins using Human Factors Engineering. We also defined the colour, material and finish in the early stages of design that would otherwise require a full-scale 1:1 mock-up to be developed, thereby saving time and cost substantially.
Safe Learning Environment
AR and VR can help to create simulated realistic worlds in which users can perfect their tasks without the fear of repercussions, providing users with a safe learning environment involving minimum risks. Using AR/VR for learning and training will allow users to experience real-life workplace scenarios in a way that is not dangerous to them nor high risk to the employer.
Not just that, from data and analytics per se, immersive learning solutions can provide rich information which we cannot otherwise get using traditional training methods. They offer details like how much time was taken to complete a task within the experience, decisions made by the user, help track eye movement, measure attention span of the user etc. Accordingly, it can help suggest personalised and customised training modules and experiences.
For example, Tata Elxsi was approached by a leading global steel manufacturer, to help them transform their safety training experiences as employee safety and health is extremely important, particularly in the manufacturing industry, where workers face various risks, including a high-temperature environment, handling of toxic materials, electrical hazards and heavy equipment and materials
We helped the client set up a state-of-the art experiential learning-based Safety Training Centre that aims to train contract workers, suppliers, educate employees on safety procedures, reduce overall training time, and attain a higher retention rate. Interactive assessment modules along with exposure to actual working scenarios using immersive simulations, gave the trainees an opportunity to undergo hands-on learning. Our solution helped the client reduce their overall training time from one and a half days to two and a half hours and achieve their vision of 'zero harm'.
Learning by Doing
Learning by doing increases the likelihood of developing muscle memory while performing certain tasks, allowing users to understand and perfect tasks much faster. Immersive technologies encourage creativity and hands-on learning. Hands-on training combined with immersive technologies have the potential to transform learning experiences.
For a leading manufacturing company, we developed a byte-sized VR-based immersive Training module to provide factory familiarisation and guided CNC Machine Operations for factory workers. It allowed workers to operate the machine real-time which, in turn, increased operator comfort, safety, efficiency and confidence. By introducing connected worker technology resulted in a considerable reduction in the training period and improved cognitive retention.
Personalised Activities vs. Boosted Engagement
Immersive Technologies like AR/VR definitely helps boost engagement. The cases above highlight how they can be beneficial in personalised activities as well as boost engagement.
Having said that, through immersive data visualisation we can create personalised scorecards which can give details of performance, areas of improvement etc. It also allows users to practice activities multiple times, thereby making them adept at it. AR/VR technologies can help build gamified approached solutions to ensure constant engagement among teams and bring competitiveness in them.
With the recent buzz around MetaVerse, will also allow users in this shared virtual world to collaborate, and exchange their thoughts and ideas.
The global AR and VR market is expected to reach $571.42 billion by 2025 from $11.35 billion in 2017. The sector has been growing at a CAGR of 63.3% from 2018 to 2025. India is expected to play a very significant role in immersive technologies including metaverse, according to an industry report.