Attention
This website is best viewed in portrait mode.
Tata Elxsi to develop Automotive Cyber Security Solutions with IISc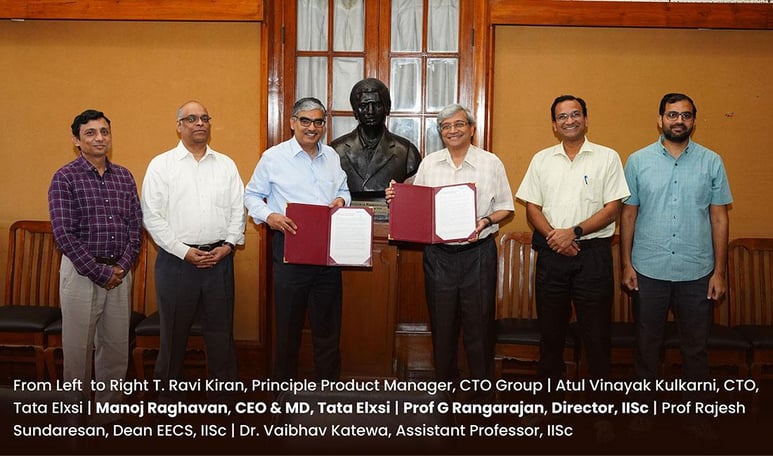 Bangalore, Oct 05, 2023 - Tata Elxsi is among the world's leading design and technology service providers across industries, today announced the joint development of an Automotive Cyber Security Solution together with the Indian Institute of Science (IISc) under the framework of existing Memorandum of Understanding (MoU).
This joint development will leverage Tata Elxsi's well-established, industry-acknowledged artificial intelligence and machine learning skill set and the business foray towards software-defined vehicles (SDV) & EV solutions, coupled with the strength of advanced research at IISc.
The partnership aims to address the challenges in cybersecurity presented by complex in-vehicle networks of sensors and numerous advancements in software that define the modern driving experience. Advances in vehicle-to-vehicle and vehicle-to-anything (V2X) connectivity have presented more opportunities for theft, remote control, tampering, and siphoning of personal information. Meanwhile, IISc researchers are focusing separately on developing automotive vehicle technologies and network security, smart grids, and other critical systems.
This collaboration will also focus on security and threat detection in connected automotive vehicles, using AI & ML-based intrusion detection. The partnership will also work to prevent and detect potential security threats and anomalies with preventive insights on future and potentially more advanced threats in the system.
Speaking on the occasion, Mr. Manoj Raghavan, CEO & MD of Tata Elxsi, said, "Tata Elxsi recognizes that the automotive industry's future depends on secure vehicles and trust. In the Connected vehicles space, we have made substantial investments to improve our solution stacks for Autonomous vehicles via our ADAS programme, SDV architecture, and the like. As vehicles increasingly rely on digital technologies, ensuring cybersecurity is paramount. With IISc's partnership focusing on Cybersecurity solutions and products, we are sure our clients and automakers can build safer, more resilient vehicles while providing peace of mind to end customers."
Tata Elxsi has been actively developing its service and product portfolio for connected vehicles with an unwavering commitment to safety. Tata Elxsi's innovative solutions aim to transform the landscape of automotive cybersecurity with a cutting-edge product created out of this joint development with IISc's ECE department, under whose aegis this collaborative development work will be executed.
"In today's digital and interconnected world, cybersecurity threats are growing with technological advances. At IISc, we are always keen on academia-industry partnerships that can help address such challenges. We are excited to join hands with Tata Elxsi to foster innovations in this important domain of security of connected automotive vehicles," said Prof G Rangarajan, Director, IISc.
Regarding the association, Prof Rajesh Sundaresan, Dean of the Division of Electrical, Electronics and Computer Sciences (EECS), IISc, said, "A modern car easily has upwards of 3000 chips sensing and controlling the car's operation. The design complexity associated with enabling safe in-vehicle networking is enormous. This partnership brings together IISc's strengths in cyber-physical systems security and Tata Elxsi's strengths in design and technology to enable safe, secure, and connected mobility." He emphasized the CSR grant provided earlier by Tata Elxsi for setting up an AI lab at IISc that has dramatically helped students of the institute's MTech (Artificial Intelligence) programme.
Tata Elxsi has already spearheaded some of the best-in-class features for threat detection, threat prevention, and secure updates addressing privacy concerns, consistent with the latest regulatory and compliance requirements driving the security solutions landscape in the domain of the connected vehicle. This partnership will substantially add to their product portfolio.
---
About Tata Elxsi:
Tata Elxsi is amongst the world's leading providers of design and technology services across industries, including Automotive, Broadcast, Communications, Healthcare and Transportation.
Tata Elxsi is helping customers reimagine their products and services through design thinking and application of digital technologies such as IoT (Internet of Things), Cloud, Mobility, Virtual Reality and Artificial Intelligence.
To know more about our SDV & EV offerings, please visit www.tataelxsi.com or contact our sales team at [email protected].
Media Contact
Tata Elxsi
Hari Balan,
Corporate Communications,
Email: [email protected]