Attention
This website is best viewed in portrait mode.
TATA Elxsi to establish EV laboratory at NIT-C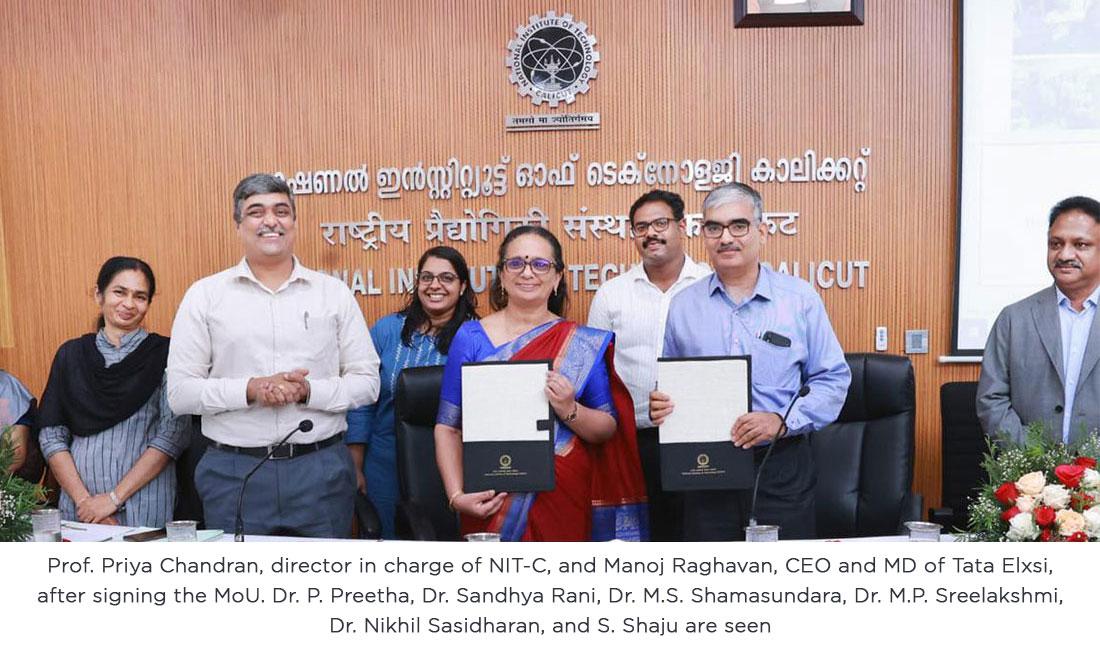 The National Institute of Technology-Calicut (NIT-C) signed a Memorandum of Understanding (MoU) with TATA Elxsi on Wednesday, aimed at fostering collaborative research and innovation in the Electric Vehicle (EV) domain.
Under the terms of the MoU, TATA Elxsi will establish a state-of-the-art laboratory at the NIT-C. The funding for the ambitious project is set at a substantial ₹1 crore, with TATA Elxsi contributing ₹75 lakh and NIT-C providing the remainder, a press release said.
The MoU is anticipated to enhance NIT-C's industry connections and equip students for driving transformation in the EV sector. Prof. Priya Chandran, Director in Charge of NIT-C and Dean (Planning and Development), and Manoj Raghavan, CEO and MD of TATA Elxsi, signed the MoU.
In the previous year, NIT-C had entered into an MoU with Tata Elxsi to collaborate in research related to e-mobility and associated technologies. This MoU sought to encourage the exchange of industry professionals, faculty members, and students of NIT-C through sponsored research projects, internships, industrial training, and the sharing of research and development facilities and equipment, all aimed at promoting academic and industrial research.
Speaking on the occasion, Mr. Raghavan said the EV industry was gaining momentum in the market, with 10% of registered vehicles in Kerala falling within the EV domain. He also acknowledged challenges faced by the industry, including electricity shortages, high prices of electric vehicles, and battery charging issues.
Mr. Raghavan also expressed optimism about the potential for NIT-C to engage in mid-term projects related to EV and drive innovation. TATA Elxsi, engaged in sectors such as healthcare, communication, and software, is keen on further collaborations with NIT-C based on the success of this initiative.
In her address, Prof. Priya Chandran reiterated NIT-C's eagerness to deepen its collaboration with TATA, with an eye for achieving a profound and tangible impact on society.
S. Shaju, vice president and head of the transportation business unit at TATA Elxsi, urged undergraduate, postgraduate, doctoral and postdoctoral students to channel their energies into effecting practical and transformative innovations.