Attention
This website is best viewed in portrait mode.
Publication Name: Tatareview.tataworld.com
Date: March 2020
The design and technology edge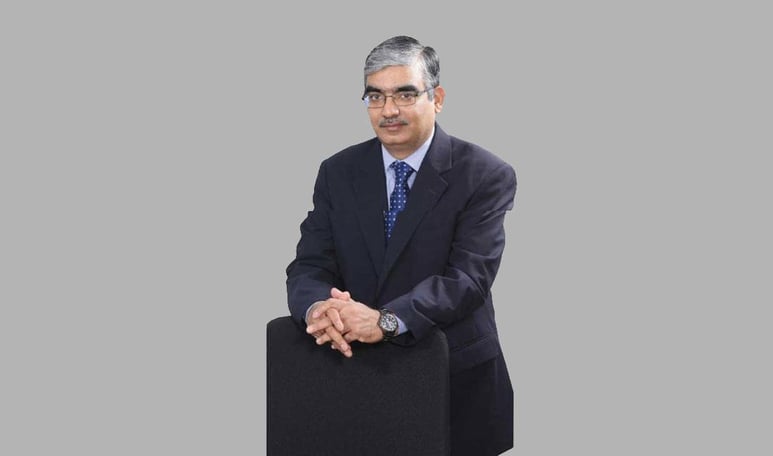 Manoj Raghavan, MD and CEO, Tata Elxsi, on how the company is leveraging design and technology to help clients bring differentiated products to the market

- BY SANGHAMITRA BHOWMIK
A 20-year veteran of the Tata group, the newly appointed MD and CEO of Tata Elxsi, Manoj Raghavan's tryst with the group started as a fresh-faced engineer from IIT Madras. He joined Tata Motors, then TELCO, as a graduate trainee engineer and went back to study after two years, only to return on the sales team of Tata Elxsi. He joined the company in 1997 and worked his way up from the sales team to set up the Tata Elxsi office in Japan.
During this tenure, he served in South Korea, Taiwan, Singapore and Tokyo before moving back to Bengaluru to head the Asia- Pacific region as the executive vice president and head of the Embedded Product Design division. As the new head of the design-engineering solutions company, Mr Raghavan believes they are in a "sweet spot".
You took over as the MD and CEO in October 2019. How has the journey been so far?
Fantastic! I have been meeting key customers across the globe, and they have all been very positive about the experience they continue to have with Tata Elxsi. I have also been travelling to our development centres, meeting employees and talking to them about our mid- to long-term goals and plans. I've also been spending time with investors who are excited by what we do and are keen to know about the company's long-term growth opportunities.
Tata Elxsi's Q3 FY 2019-20 results were quite positive, how do you intend to maintain it?
We did deliver another strong quarter in Q3 this year, and the growth was broad-based across divisions, industry verticals, regions and customer base. That really was a big positive and gives us confidence. The performance was led by strong execution and ramp-ups in large deals that we won in the previous quarters, along with the addition of a few leading customers. If we keep this momentum, we should continue to grow at a reasonable pace.
50% of your revenue comes from the auto segment, how will you cope with the challenges in the sector?
We did see the automotive industry softening from mid-2018 onwards, with an evident slowdown in decision making. We have, however, won a few of those deals in the past two quarters and have started scaling them; this has resulted in 10%+ growth in our auto business for two consecutive quarters now.
The industry is undergoing structural changes and disruptions which, in the long run, are opportunities for Tata Elxsi. For example, the electric car will have far more software components than a conventional car, and that's an opportunity.
I am cautiously optimistic about the short-and mid-term, and I believe it is very early to say whether we can sustain this 10%+ QoQ (quarter on quarter) growth moving forward.
At the beginning of this fiscal year, we enhanced our focus on adjacent verticals of auto such as railway, off-road and commercial vehicle segments where our service offerings and capabilities are readily re-deployable. And in a brief span of two quarters, the non-auto sector contributes to over 4% of our transportation vertical's revenue today.
How does the auto industry slump affect the collaboration with Jaguar Land Rover?
Jaguar Land Rover (JLR) is a key customer, and we have been working with them for almost 19 years even before they became part of the Tata group. As their strategic partner, we deliver design, technology and engineering services — right from advanced R&D to production programmes. Despite the slump, JLR continues to be our largest customer; we are helping them in their transformational journey, and the collaboration is poised to only grow stronger going forward.
In 2018, Tata Elxsi focused on connected vehicles, driverless vehicles and hybrid vehicles. What has your experience been?
Globally, the four megatrends in the auto industry are connected, autonomous, electric and shared mobility; and our technology roadmap aligns with these trends.
If you broadly look at our automotive revenues, the largest piece is infotainment and connected cars. This is followed closely by both autonomous driving (AD) and advanced driver-assistance systems (ADAS) that are a close second in terms of the volume and nature of work. In India although the market for AD has been slow, we see connected and electric picking up traction. The connected vehicle platform that we have developed for Tata Motors, which powers their Nexon EV range of electric cars, is a great example. This unified cloud platform will enable data and analytics synergies for Tata Motors across product development, customer use cases, dealerships, allied business and service networks, thereby enabling innovations in customer experience, offerings, services and business models.
Anything we do for the domestic market is readily deployable globally because it passes the most crucial tests of scale and cost-effectiveness.
Tell us a little about the Robo-Taxi project.
Robo-Taxi is going to play a big part in the future of mobility — shared or otherwise. Implementing level 4 (high) and level 5 (complete) automation in driverless cars is prohibitively costly; the overall cost versus benefits delivered to car owners do not match up. Driverless technologies would be most monetisable when applied to commercial fleets — for both movement of people and goods.We see future cities being served by multimodal transportation systems, with mass transit for the major part and last miles served through Robo-Taxis and pods.
Autonomai, our AI-based advanced autonomous vehicle software platform, has now been licensed to a few customers. Autonomai, overlaid with a user interface application, has been adapted for the Robo-Taxi where users can hail a cab using an app, and the entire journey from booking to payment is digital.
Is Tata Elxsi involved in any other urban transport design projects after the award-winning Kochi Metro rail project?
We have worked and are working on multiple passenger experience design projects in the urban transport segment. Post Kochi metro, we worked on the Kochi Water Metro project; we are working with the railway authorities and leading rolling stock manufacturers on modernising metro and rail infrastructure. We are also helping the Airports Authority of India by setting up the way finding and information design guidelines and implementing them for all new airports and for old projects under renovation.
Tell us about your collaboration with Blackberry for the world's first digital cockpit concept.
Our off-the-shelf connected digital cockpit solution integrates infotainment, instrument cluster, head-up display and automatic driver assistance functionalities in real-time on a single chip. The partnership with Blackberry was primarily to leverage their expertise in security and provide automakers a safe, secure and reliable digital cockpit, without compromising on the flexibility to deliver a unique driving experience.
In collaboration with Blackberry, we built the world's first safety-certified digital cockpit that enables secure apps in cars. The feature will be a key differentiator for automakers, as consumers begin to weigh security and data privacy seriously.
You have recently entered new markets in China, Korea, South Africa and the Middle East. Any projects in the pipeline?
We have been evaluating these markets for a while in terms of our service offerings and investment of dedicated sales teams for these regions. We have a market for our automotive service offerings in China and Korea as both the countries feature in the world's top 5 passenger car manufacturers. Both South Africa and the Middle East are investing heavily in broadcasting, specifically OTT (over-the-top), and we see potential for our media and broadcasting services. Therefore, we have dedicated sales bandwidth for these regions now.
How is Tata Elxsi collaborating under the 'One Tata' concept?
Our unique service combination of technology, design and content can help group companies embrace digital technologies in their products and services. Towards this, one of our senior leaders works exclusively in driving and managing group companies' relationships. We started meeting CXOs across group companies and made them aware of our service offerings and capabilities. This has helped us build multiple engagements and add value.Apart from the work we do for JLR and Tata Motors on advanced research to find futuristic solutions, we also work with other group companies on their branding and marketing initiatives.
We recently, partnered with Tata Sons to deliver the world-class experience design at the Tata Experience Centre in the renovated Bombay House, the group's headquarters. We worked with Tata Steel for their Kalinganagar plant to deliver a visitor experience centre and even helped them design and curate specific content to bring alive the entire steel making process. We have partnered with The Indian Hotels Company Ltd on various brand design and brand identity projects.
We have also created visualisation films for real estate projects and upcoming campuses for Tata Realty, Tata Advanced Systems Ltd, Tata Consultancy Services and Tata Sky among others.
Where do you see Tata Elxsi heading in terms of sectors, technology and people?
All the industries that we address — transportation, media, communications and healthcare — directly impact the consumers and will continue to grow. Our market share in each of these industry verticals is only in the high single digits/low double digits, so there is enough headroom for us to scale. Besides, the increasing rate of disruption in these industries will offer us new and exciting opportunities. The increasing adoption of digital will make products and services more user-centric; here, our design-led engineering capabilities provide us a competitive edge over others. I believe we are in a sweet spot!