'Internet of Things (IoT)' or 'M2M' or 'Web of Things' are some of the terms being used in the industry to represent a trend, which is transforming the communications from Human to human to human to machine and now machine to machine.
These machines or things could be cars, home automation sensors, surveillance cameras mounted in the pole on highways, a container sitting in cargo truck on transit, your future unique identification card, health monitoring devices etc.
Tata Elxsi is uniquely positioned in the Telecom eco system, working with silicon vendors, equipment manufacturers helping them to develop low powered chipsets/ devices. On the other hand, Tata Elxsi works with service providers to deploy, manage and analyse of the traffic generated by clients.
Snapshot of Tata Elxsi capabilities
>
Strong capabilities across Wireless, Wireline communication protocols
Analytics and Network resource management offerings
FPGA/ ASIC/ SoC Design to Application software
Field trial and certification support
Communications elements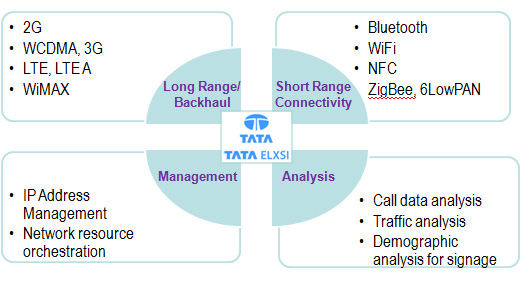 Industries served:
Wireless Broadband
Automotive
Industrial Automation
Short range/ Near Field
Communications
Healthcare
Consumer Electronics
Broadcasting
Defence & Public Safety
Surveillance
Practice Areas
Ares
Description
Infrastructure Development

M2M Modem Hardware Design and development
M2M Application framework development
Development of IP Address Management Appliances for enterprise deployment
Protocols development for low power connectivity solutions
Development of WiMAX Modem as smart meter aggregation terminal

Management & Analytics

Analysis of the internet traffic for business analytics
Development of reusable Network manager framework for M2M communication

Deployment & Testing

Deployment & Testing of modems/ base stations in industrial scenario
Testing of communication and connectivity components for different M2M scenarios such as Automotive, Healthcare