Meet us at CommunicAsia/ BroadcastAsia 2016, Stand no. 1 H3-07.
Develop, Test & Deploy:
We work with leading operators across the world, helping them strategize next-gen quad-play services – right from planning, development, testing to integration and deployment support. This includes next generation IMS/ DOCSIS implementation and new services around IoT, Smart Home and Healthcare among others. Post-deployment, automated cloud based workflow QoS & QoE monitoring solutions like our Audio Video Quality Monitoring tool AVQM have provided cost effective means to deploy large scale monitoring.
Launch, Analyze & Monetize:
With an award winning customer experience design team combined with multi-platform video technology experts under one roof and strong ecosystem partnership with world-leading OTT backend solution providers, we make launching your content services a breeze. Added to this is a fully managed, 24x7 integrated monitoring support and content analytics - that ensure best experience and much higher content monetization.
Transforming to Agile Networks:
We have collaborated with operators and OEMs globally for providing next-gen network solutions with SDN/NFV and vCPE development and deployments. These include the industry's first implementation of a holistic SDN architecture with secure communications and pioneering the end-to-end validation solution for of an NFV architecture of a leading MSO.
We are previewing our latest innovations in Broadcast, Communications, IoT, and Artificial Intelligence during the show. Meet us to explore how our solutions and services can help you redefine the future of Broadcast and Communications.
We look forward to meeting you at CommunicAsia/ BroadcastAsia 2016!
Solutions Preview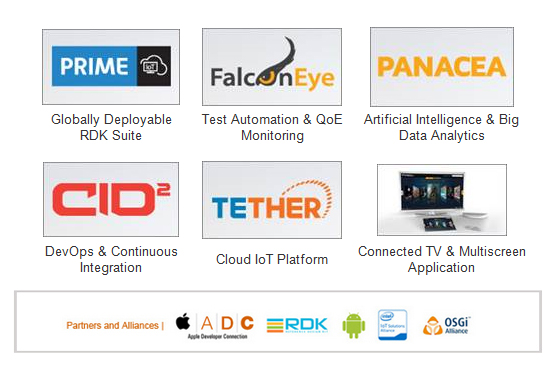 To schedule an appointment click here.