Tata Elxsi is an integrated design & engineering services company & part of the $100 Billion Tata Group. We bring you competence built over 20 years in Automotive Embedded Electronics and Systems development. We are compliant to Automotive SPICE® Organization Maturity Level 5. Our industry experience of working with the best OEMs, Tier1 suppliers, Tool vendors and Chip vendors, makes us the most preferred partner for system & sub-system design throughout the product life cycle.
Driving towards the future - ADAS to Autonomous Car
Enabling driver assistance solutions for customer projects with sensor fusion technologies, ascending towards autonomous driving through extensive R&D initiatives.
Amalgamation of Technologies - Connected Car
Providing scalable infotainment frameworks & V2X solutions by integrating connectivity, multimedia, secured gateways and multimodal user interfaces like touch, voice and gesture.
Unique User Experiences
Designing intuitive, futuristic and advanced user interfaces for electronic cockpits by integrating features that minimize driver distraction.
Adoption of Standardized Software Architecture
Services integration partner for OEMs and suppliers in implementing AUTOSAR compliant solutions and making legacy systems compliant to AUTOSAR.
Our showcases include: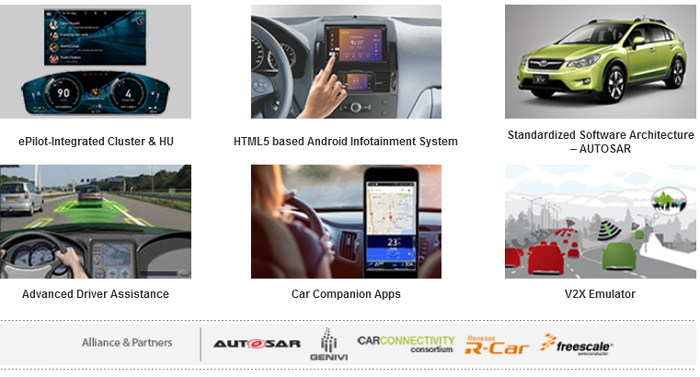 To schedule an appointment mail to Shery Raju