Attention
This website is best viewed in portrait mode.
industries

New Media Design Services
New Media Design Services
Smart | Human-Centric | Futuristic​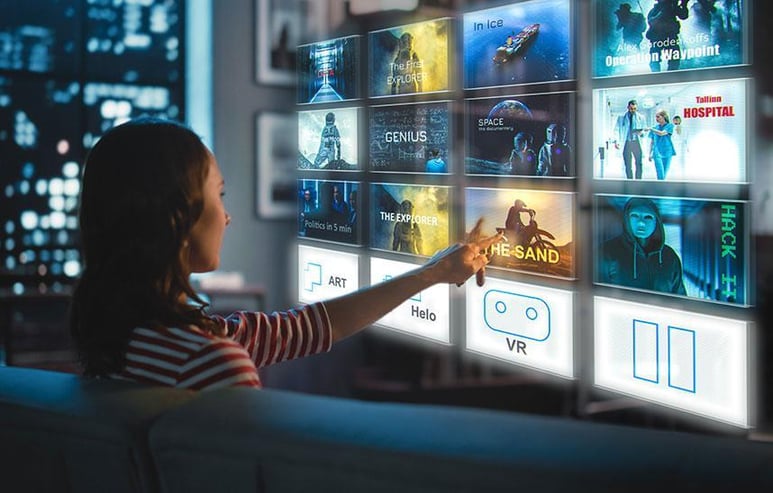 New Media Design Services
Smart | Human-Centric | Futuristic​
Unearthing innovations​

Media and Entertainment is seeing a diversification of revenue streams across connected TV, OTT, and VOD. With traditional media players increasingly entering the digital arena, there is tremendous growth in monetization of digital content through subscription models, paid views, and advertising.
Users today have lot of devices, and prefer to swap from one device to another when watching content. UI/UX designers need to ensure their designs are compatible with multiple devices to enable users enjoy content wherever they want. ​
Content today has much more meaning when users engage with it. To increase engagement and deliver better watching experience, designers need to keep in mind the entire user journey – from onboarding the user, making navigation easy and intuitive, to personalizing content.​
Several media and entertainment companies are also giving serious thought to the metaverse space. As the next iteration of the internet backed by XR, immersive experiences will redefine the way we connect and interact digitally worldwide.
At Tata Elxsi, we are applying user-centered design approach to help customers around the world create new products and personalized experiences including OTT and IPTV solutions, STB devices, Media cloud etc.​

The challenges at large​
Amid increasing diversification of revenue streams for broadcasters, the near-constant entry of new players means that incumbents need to continue launching differentiated offerings to align with customer preferences. In a growing creator-centric economy, traditional marketers and advertisers are compelled to seek new engagement models with a UI/UX focus.
Use of AI in content personalization is the key, but the challenge therein lies in attaining proper data quality and the dynamic nature of consumer behaviour. Media companies will have to create instant feedback and recommendation channels to tackle this dual challenge.​
Event organizers are naturally pushing for the use of XR to attract larger audiences. But the market still has a lack of technological expertise required to implement wide-scale adoption of these digital formats. The uninhibited nature of the metaverse needs stricter standards for censorship. Even the end-user experience today relies on access to specialized headsets, whose ergonomics and UI/UX still has plenty of room to improve.
For media devices, the demand for devices that work across converging media services hinders their growth as manufacturers scramble to combine these features. Despite opportunities in the smart home device market, incumbents are finding it difficult to reduce setup and maintenance costs, and usage complexity. There is no uniform UX implementation amid a lack of standardization and device interconnectivity. A focus on UX innovations and seamless connectivity is the need of the hour.​
Service Framework​
Helping Media & Entertainment clients shift gears to cater to the new age audience needs.​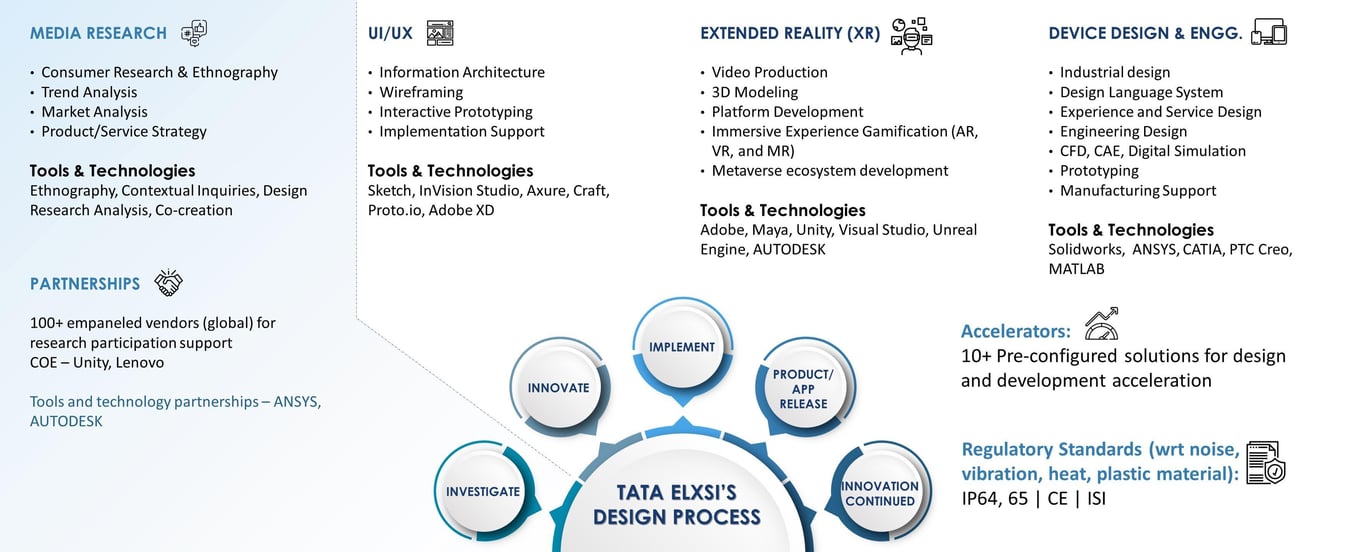 Differentiators​
Access to 100+ empaneled vendors and 3 million participants for research participation support

20+ years of media design expertise with technology know-how​

10+ accelerators that are pre-configured solutions for media design and development

Strong domain, tools and technology knowledge – Sketch, Invision Studio, Solidworks, AUTODESK, Unreal Engine, ANSYS​​
Benefits to the customer​
Hyper-personalization, service customization, and enhanced end-user experiences with new revenue models

Driven by empathy, we deliver optimally designed products and experiences by leveraging our design and development services​

Improved revenue and returns by 10-20%​​
Subscribe
To subscribe to the latest updates & newsletter