Attention
This website is best viewed in portrait mode.
Artificial intelligence for an automotive future
"Artificial Intelligence and Data Analytics Innovations are propelling the carmakers and suppliers into a new league of digitally transformed, data-driven business powerhouses"
A popular buzzword in technology, artificial intelligence (AI) is a term that few can define precisely. With innovations, in-vehicle connectivity, autonomy, and electrification, AI & its applications are marking a watershed moment in future mobility. Vehicles can now better sense the needs of the driver as well as the passengers. They can ensure our safety, assist us in locating a delicious lunch or even direct us to a rest stop or amusement park while on the road.
Based on recent industry estimates, it is predicted that artificial intelligence in the automotive sector is growing at a 36.2 percent compound annual growth rate (CAGR) between 2020 and 2030, with a value of USD 2.49 billion in 2019. Right from basic ones such as annotating and labeling the enormous amounts of vehicle perception data or helping human counterparts with their newest music requests to sophisticated ones, such as facial recognition, threat detection, picture processing, and vehicle localization and mapping, AI is growing its influence across all domains of the automotive ecosystem. In addition, it is interesting to note that over the projected period, Asia Pacific is anticipated to lead the semi-autonomous market. This can be attributed to the presence of the AI hubs in countries such as China, Japan, Singapore, and India; which offers a conducive environment for the semi-autonomous market (Source: Research & Markets, Global Semi-Autonomous Vehicle Market Report 2021-2028. AI, ML & IoT are being used extensively to satisfy transportation industry requirements, be it for User experience, driver and passenger comfort, or developing autonomous and connected vehicles. Multiple applications include driverless vehicles, fleet management, in-vehicle driver assistance, and improved vehicle diagnostics services for aiding vehicle inspection or insurance.
Digital transformation in Automotive using Artificial Intelligence
The automotive ecosystem is undergoing a substantial digital transformation as a result of industry and customer demand for connected, autonomous, and electric vehicles. To capitalize on industry opportunities in the face of these disruptions, businesses must transition from traditional "disconnected" and "analog" manufacturing methods to fully connected, digital methodologies backed by technology expertise and investments in artificial intelligence, machine learning, and big data analytics. Consider the following areas of the automotive industry where Artificial Intelligence has already shown its revolutionary potential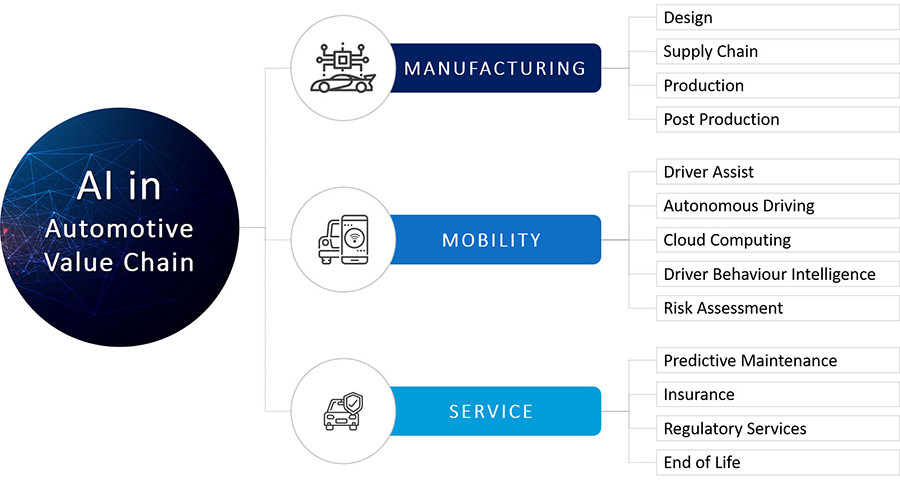 AI-assisted Driving
Data analysis capabilities of AI alert drivers in real-time about potential hazards such as road conditions, lane departure, and accidents with oncoming vehicles in real-time. Real-time image and video identification, object detection, and action detection are critical components of these systems. Developments in self-driving cars are attributed to AI advancements that render them safe for passengers, drivers, and other road users. Governments are mandating ADAS & active safety solutions across the world to bring in check the increase in road fatalities. In this line, the Indian government also has announced plans to enhance safety by mandating these devices for all passenger cars starting in 2022. The incorporation of advanced driver assistance systems is a part of a comprehensive safety package that includes traction control, anti-lock brakes (ABS), lane-keeping assistance, and adaptive cruise control, powered by Artificial Intelligence & Machine learning.
Artificial Intelligence-based image-processing algorithms and perception systems form the backbone of semi/fully autonomous vehicles. The recently concluded 'Tesla AI Day' in September showcased how the AI technology is helping advance Fully Self Driving (FSD) systems. Tesla Engineers introduced Vector Space that captures the three-dimensional view to sense the environment via eight cameras installed on the car itself. The inputs from Vector Space is then passed through AI algorithms called Neural Net Planner, which controls the car's routing, behavior, and trajectory to allow the vehicle to proactively choose the optimal course of action using thousands of simulations per minute, deciphering the behaviors of other public participants including vehicles, pedestrians, and cyclists to take the best course of action on its own.
Tata Elxsi has been an early starter when it comes to self-driving vehicles. We have created a full-stack IP called autonomai, which some of the OEMs have adopted. This has helped to accelerate their program for autonomous vehicles. In self-driving vehicles, key components are perception and navigation. We have built high-performing deep learning models for various perception tasks – both stationary and nonstationary, suiting needs for different terrain, geography, and transport safety rules, making use of AI-based perception models & driver behavior intelligence solutions.
AI-powered Industry 4.0 for Automobile Manufacturing
Vehicle manufacturers benefit from the recent Industry 4.0 revolution with AI-powered solutions and machine learning algorithms in various ways, including the improvement of manufacturing processes, the acceleration of data categorization during risk assessments, and the evaluation of vehicle damage. For example, the Volkswagen plant in Chattanooga uses AI-powered quality control systems to ensure the flawless operation of parts before actually installing them in cars. In another instance, BMW is making use of AI-based applications to support virtual layout using high-resolution 3D layouts of buildings & factories. Unlike real-world testing in a real car, AI and Machine Learning can also enable virtual product testing in a simulated environment saving money and time. Simulation software powered by Machine Learning & Artificial Intelligence allows an engineer to closely evaluate the issues and solutions that could affect the product performance, ensuring control on things before which there was limited control. The engineer can simulate and consider how a single object, such as a wheel assembled with bolts or a sub-routine of a software program, can influence the final performance of the vehicle on the road using prototype modeling and assembly previews.
In-car assistants; Going beyond Alexas' & Siris'
Connectivity transforms transportation, moving away from a "product-oriented" to a "customer-centric" business approach for personalized and digitally enhanced experiences. Vehicles are becoming "devices on wheels" with the introduction of electronics and connected features. A mobility assistant platform based on conversational AI allows users to talk to the vehicle in their natural language, control vehicle functions, and access information. While there are voice assistants like Alexa or Siri, or Google Assistant, the automakers focus on developing and integrating their voice assistants to cater to the consumers' need for a digitally personalized experience. The introduction of voice assistants in the mainstream auto market can be observed from the cohort of android Auto & Apple CarPlay based infotainment systems. OEM-specific assistants are also seen, where Morris Garages recently featured a personal AI assistant that can portray emotions through its display and offer entertainment features, a first-in-segment Autonomous Level 2 technology in their soon-to-be-launched mid-size SUV – Astor.
Keeping up with the mainstream availability of AI-based voice applications, Tata Elxsi has been working on NLP based digital personal assistants which support advanced data analytics on top of our connected vehicle platform for providing enhanced digital experience, electric vehicle management such as EV range predictions, Battery health predictions, and so on. Tata Elxsi's in-house voice assistance platform SymanTEx offers a multilingual Voice Interface with Conversational Touch with Intent & Sentiment based Context Awareness along with a Multilingual ASR and speech synthesis system. This platform enables in-vehicle controls, including voice biometrics, navigation, climate control & personalization through sentiment analysis.
AI in Predictive Analytics
Throughout the lifecycle of a vehicle, advanced data analytics can assist vehicle-related decisions. Vehicle data facilitates predictive maintenance, advises fleet administrators, and warns concerned authorities in the event of an accident. For example, Michelin has developed a tire-monitoring system using telematics and predictive analytics. It provides a real-time view into the performance and wearing of specific tires on individual trucks to anticipate problems before they occur. Using different machine learning algorithms and AI-powered predictive analytics, vehicle manufacturers can promptly estimate demand for components and predict possible changes in the order. They can inform a user that a specific system/component may require repair and maintenance activities can be initiated before the system encounters an issue.
Tata Elxsi's CANAlytics platform enables our customers to leverage connectivity's full benefits by securely collecting, aggregating, and analyzing the data from vehicles and providing customer-centric features utilizing AI, ML, and IoT technologies.
AI at Dealer Services Networks and Distribution Channels
Customer forms the backbone of sustaining any industry. Ensuring an excellent services experience for your customer during the purchase and post-buy phases provides better customer sustenance and sales.
The pandemic has accelerated the need for digital dealerships to ensure business continuity for the industry, enabling features to support customers to experience a seamless experience through digital car dealerships. AI-based Digital platforms can help identify the right customers at the right time and deliver tailored information to them. For example, a customer can complete the path from online ad space to the manufacturer's website to confirm appointments with a local dealer in a matter of minutes. Additionally, information gathered on customer preferences will allow the sales team to provide the best service experience possible.
For customer service, any time a car buyer has a problem, the dealer must identify it right away and provide a solid solution. The service workers have access to a sophisticated and scalable search facility and AI to help them do their job (for processing problem cases and knowledge data). Artificial Intelligence (AI) incorporates context information into the search process to identify the same or similar occurrences. It also eliminates the language barrier throughout the troubleshooting process using a machine learning translation function.
Tata Elxsi's solution accelerators like Tata Elxsi Solution Accelerators for Automotive Industry including TEDAx, a Social Listening & Big Data Analytics tool, and CANAlytics platform, a vehicle data analytics platform can support the automakers and suppliers to imagine and optimize their products and services for their through design thinking and digital transformation using Artificial Intelligence.
Collaborations for moving towards future mobility
Tata Elxsi has been a pioneer in working with leading automobile manufacturers to rethink the future of transportation. Tata Elxsi's customer engagements in the area of AI & Big Data Analytics for automotive broadly fall into the categories of productivity improvement, Intelligent triaging for anomaly detection& RCA analysis using AI & Big Data analytics, and design improvement through insights derived from drive chains, drivers, and occupants, and other sources of information to optimize cabin comfort, complement ADAS and other assist systems.
Tata Elxsi's cloud-based Connected Vehicle Platform powered by artificial intelligence has been deployed with Tata Motors and is live with over 120,000 vehicles and growing constantly. It supports the diverse needs of Passenger Vehicles and Commercial Vehicles. In addition, the platform is live with EVs as well. It has a rich range of features to enable tracking of the EV experience from Battery and Intelligent Charge management to live Range Polygons that predict the range of the EV, taking into consideration geospatial and traffic features. Tata Elxsi is now engaged with another OEM to help customize and deploy the Connected Vehicle platform for their Indian portfolio of vehicles.
Tata Elxsi's capabilities and processes have been built over many years, and continued value deliverance to our customers has helped us build credibility. With a firm foundation of IoT Platform, AI/ML Expertise, and Cloud Engineering, Tata Elxsi is poised to enhance the value delivered to customers with new growth dimensions of Digital Twin Technology, DevOps, Connected & Personalized User Experience and Industry 4.0 digital transformation. These new dimensions should help customers re-imagine and optimize their products and services through design thinking and digital technologies; in single window interaction.
Biswajit Biswas is the Chief Data Scientist at Tata Elxsi
Note: The opinions that may be presented in the article are that of the author/authors.