Tata Elxsi's RDK suite 'Prime' accelerates the deployment of interactive TV applications for MSOs. Bundled with an HTML5 application framework, RDK specific back-end servers and a set of engaging TV applications, Prime enables operators to reduce the time to roll out RDK. The platform optimized, multi-screen capable solution comes with a customizable user interface, addressing the needs of MSOs. The suite is available in all leading SoC (includes Broadcom, ST Micro, Marvell, Intel) and OEM platforms (includes Pace, Arris, Technicolor, Sagemcom, Ubee) on RDK2.0 and supports ATSC & Euro DVB standards.
Prime has been licensed & leveraged by leading operators and OEMs to accelerate their RDK program.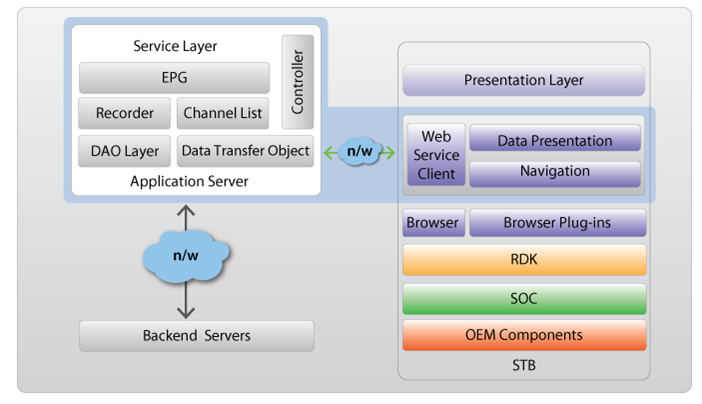 Integrated RDK solution

HTML5 apps framework
Cloud enabled backend servers
Ready to deploy HTML5 apps
Marlin DRM protected content
App store
Re-usable component architecture
USB media playback
Scalable and easily customizable
Integrated with Adobe Primetime

Global solution

Supports DVB, ATSC, extendable to ARIB

Rich interactive UX from 10 foot distance

Quick program guide, multi-room video recording, social media sharing such as Facebook, Twitter; experiencing virtual presence with friends and family members, application store

Seamless extension

Users benefit with choice of applications provided by global developers
Customizable White label UI
Tata Elxsi has also developed RDKLite, a light weight version of RDK 2.0 integrated with Prime, to enable operators to deploy RDK on their legacy platforms. RDKLite is available on multiple form-factor devices - including tiny-form dongles, small-form IP streaming devices and legacy set-top boxes.
Applications Integrated
White label app store
Facilitates MSOs to deliver a consistent user experience and manage a myriad of 3rd party applications continuously. The features enabled include:
Catalogue management
Social media, reviews & ratings
Payment gateway integration
Cloud hosting
Unified Program Guide
Tata Elxsi has developed new and improved unified program guide with the following features:
14 days program detail of all channels
Reusable component based design
Preview of currently playing video
Genre based filtering of programs