Attention
This website is best viewed in portrait mode.
industries

Displays and Information
Displays and Information
Smooth | Intuitive | Futuristic
Displays and Information
Smooth | Intuitive | Futuristic
Trending

The global transportation HMI market, worth $11 billion in 2017, is expected to grow to $47 billion by 2024, at a compound annual growth rate of more than 12%.
The growing adoption of automation, connected technology, and the IoT in construction, mining, and agricultural equipment increases the significance of displays. As a result, they are becoming more prominent and holding more information helpful to the operator when making specific decisions.
Heads-up-display, AR/VR, and a central digital cockpit are becoming more essential ecosystem components. Through the application of AR/VR, visual information may become highly intuitive, allowing the operator to make sense of their surroundings quickly.
All of these trends where the displays are connected can offer an operator a smooth, cohesive experience.

Opportunities & Challenges
Opportunities:
Ergonomics: Focusing on concept design of information system considering visual and interaction ergonomics to make a user-centric system.
Interaction Design(UI/UX): Integrating guidance on determining specific workflows and interactive elements necessary to support functionality requirements with optimal user experience.
Design for Safety & Trust: Focusing on providing understandable and usable information to the operator, thus creating a secure and trustworthy environment
Using AR and 3D: Helping design visualizations that can be very intuitive for the operator to understand better and make sense of surroundings.
Key challenges:
Information Complexity: Ensuring that the information conveyed to the driver is less complex and can be processed quickly by the driver, especially in stressful/busy situations.
Ease of Use: Ensuring that the information system is easy to interact with both physically and visually.
Intuitive Visualizations: Ensuring intuitive visualization for specific information to be understood in the least possible time and quickly by the driver.
Universal Design and Brand Language: Ensuring that the same user experience and mental models are considered across the vehicle line-up.
Promoting Trust: Ensuring that the driver can entirely rely on and trust the information provided.
Service Framework

Differentiators
Research, design, technology,​ content development, and manufacturing support​ under one roof - Faster design execution and time-to-market.
Flexibility & scalability​ - Asia's largest design house with highly scalable business models and long-term engagements​
Design thinking-led services - ​We prioritize our customers and users and create focused design and technology interventions that result in better outcomes.
Expertise & experience​ - With industries converging, our multi-disciplinary experience helps to leverage cross-functional expertise.
Advanced in-house prototyping facilities and infrastructure - Confidentiality of designs delivered and shorter execution time, collaborative/agile processes.​
Benefits
Reduced turn-around time
Due to extensive experience in Automotive HMI design and development across numerous vehicle segments leading to faster project executions.
Up to 20% reduced cost.
End-to-end solutions (research, design, and development) under one roof reduce overall costs.
Pre-defined UX frameworks reduce the need for work from scratch and hence reduce costs.
Advance HMI & Graphics Expertise
Minimize the risk of failures by digital prototyping and simulations.
Incorporating human factors design guidelines and digital ergonomics to enhance the experience of the operator.
Discover More
Insights & Experience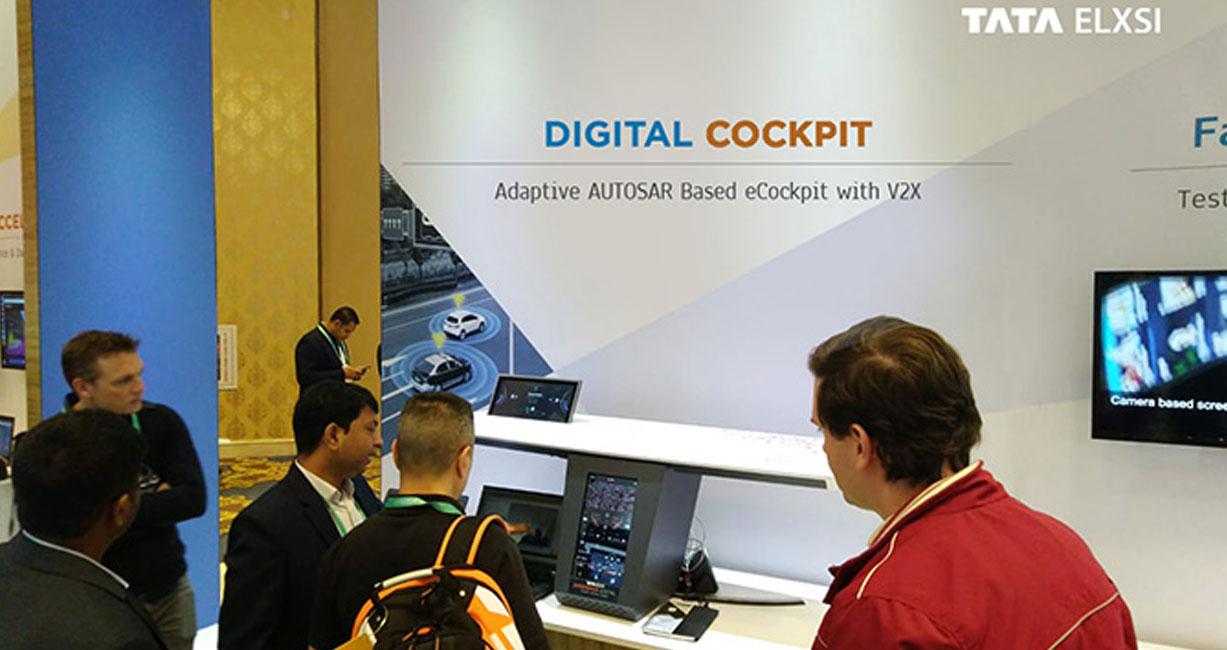 Press Release
Green Hills Software and Tata Elxsi Unveil Safe and Secure, Highly Integrated Software-Defined Automotive Cockpit
Subscribe
To subscribe to the latest updates & newsletter