SaMD – The Next Revolution in Healthcare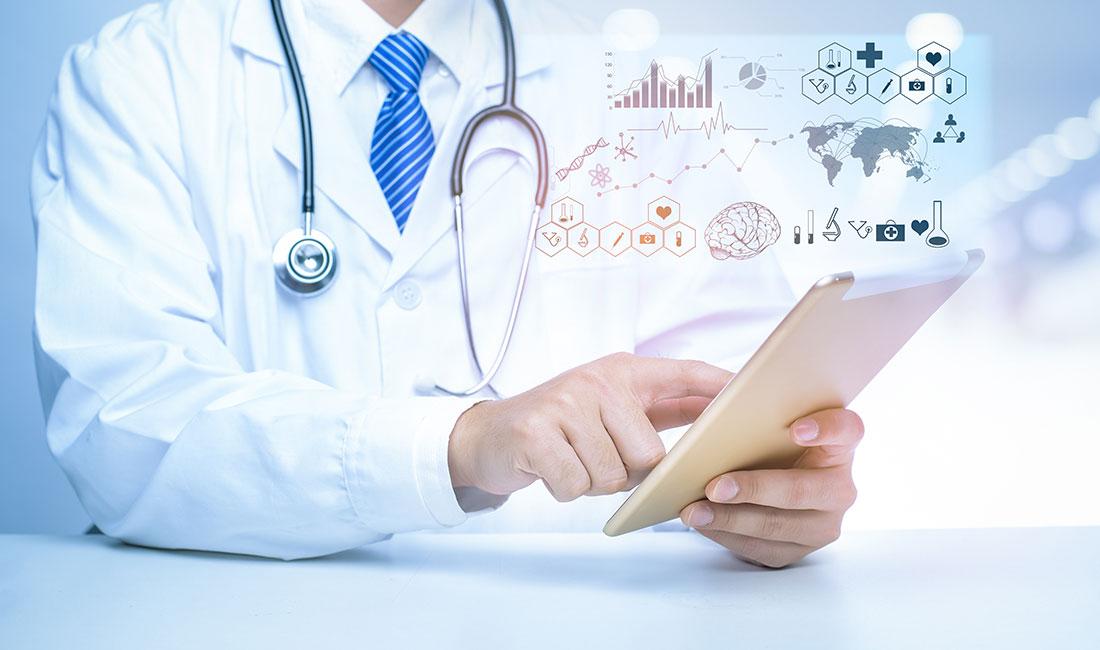 The digital revolution can be seen across almost every industry, including healthcare and 'Software' is playing a crucial role facilitating the same as it has changed almost every aspect of healthcare, whether it's patient and provider interaction, personalized healthcare, medical device functioning, or pharmaceutical discoveries.
One of the revolutionary developments in the medical devices industry that is significantly contributing to the digital transformation of healthcare is Software as a Medical Device (SaMD).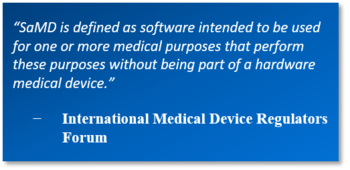 The SaMD market is expected to grow at a CAGR of 21.9% from 2020 to 2027. It has seen rapid growth in recent years. SaMD aids in the prediction, monitoring, and diagnosis of a disease, allowing medical professionals to take preventive actions at the correct time. As it does not involve any hardware, it can employ fast feedback loops for improvements. In addition to this, the growth in technologies such as AI/ML, IoT, Telehealth, Cybersecurity, AR, and VR has further boosted the growth of SaMD.
SaMD Categorization
In 2014, IMDRF gave the possible framework for risk categorization of SaMD. It considered two factors for classification; the significance of information given by SaMD for making healthcare decisions. The second factor is related to healthcare conditions such as critical, serious, and non-serious.
Based on the intersection of these two factors, IMDRF divides the risk assessment into four different categories based on the impact on the patient or public health. The categories are ranked in order of relative importance. Category-IV has the most significant impact, whereas Category-I has the least.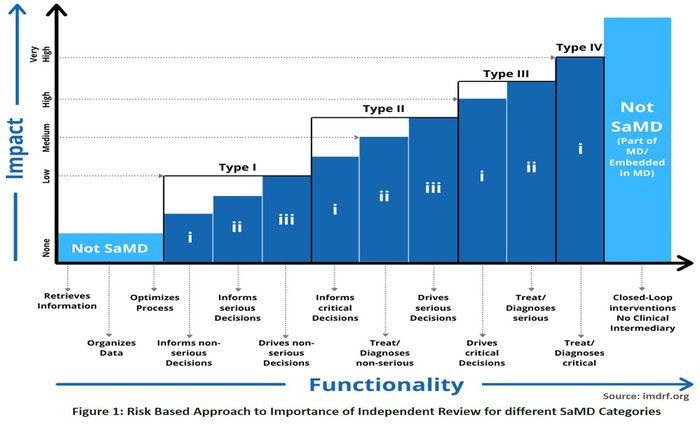 Technologies used in SaMD
SaMD uses different technologies that can assist in monitoring patient health, detecting and diagnosing the disease as well as connecting doctors and patients, thus offering health solutions that are cheaper, faster, and more effective.
AI/ML – To improve patient care, AI/ML-based SaMD services aim to improve diagnosis accuracy, therapy effectiveness, care decision making, and monitoring efficiencies. FDA approved 64 AI/ML-based software and medical devices in Radiology, Cardiology, and Internal Medicine/General Practice.
IOT – 2314 exabytes of healthcare data were generated in the year 2020 from various IoT-enabled devices. IoT integration with SaMD is used for remote monitoring, providing insights to clinicians from real-time data, raising the alarm before a disease develops, and improving disease management.
Telehealth – In 2020, due to the global pandemic, telehealth visits increased by 154% compared to 2019 during the same period in the U.S.A. alone. Telehealth provides clinical care by using telecommunication technology through various remote methods. Using this technology, SaMD can streamline patient care by allowing clinicians to monitor, examine, diagnose and treat patients virtually.
Cybersecurity – There were 3,705 healthcare data breaches between 2009 and 2020, with more than 500 records affected. For SaMD to function effectively and efficiently, it uses cybersecurity technology to protect the patients' data and privacy and assure the successful delivery of high-quality care in the future by preventing disruptions that could harm clinical outcomes.
AR and VR – The various applications of mixed reality in healthcare will enable the interaction of the digital with the physical environment in a multi-dimensional way that will help prevent, manage, and cure a wide array of ailments. Although several challenges lie ahead for the large-scale adoption of AR technologies in healthcare, nevertheless, new approaches will continue to emerge to overcome these obstacles. According to a Harvard Business Review study, VR-trained surgeons exhibited a 230% improvement in total performance compared to traditional-trained surgeons.
How are Different Players Utilizing SaMD in Healthcare?
Since its inception, SaMD has been used in multiple ways through different technologies and is assisting medical professionals to deliver patient-centric treatments. Apart from medical device companies, the quick adoption of SaMD can be seen in pharmaceutical companies, start-ups, and big tech giants. Discussed below are some of the SaMD applications in various industries and organizations:
1. Medical Device Companies:
It's difficult to discuss the medical device industry without acknowledging software's enormous contribution to medical innovation. Some of the key applications where medical device companies are using 'SaMD' are
Decision support system – Clinical Decision Support (CDS) is an area where AI can help clinicians collect, analyze, and infer from a large number of patients' data to make the best clinical decision. For e.g., Fujifilm partnered with Hera-MI, a French start-up, to create AI solutions to provide comprehensive analysis and decision support to clinicians and hospital staff. AI will detect difficult anomalies and aid radiologists by reducing their time spent on cases considered not problematic.
Patient treatment lifecycle management – Patients can use SaMD to track their health activities and vital parameters in real-time, communicate with health professions, and request medical assistance if necessary. SaMD technologies aid physicians in generating personalized treatment plans for patients with chronic conditions based on data generated by the software. An example of this is, Zimmer Biomet, a leader in musculoskeletal surgery introduced the ZBEdgeTM Connected Intelligence Suite of Integrated Robotics and Digital Health Technologies. The Orthointel Orthopedic Intelligence Platform collects pre, intra, and post-operative data and gives insights to clinicians, which in turn optimize patient care.
2. Pharmaceutical Companies:
SaMD is completely reimagining the way the pharmaceutical industry is operating. It is helping Pharma companies in engaging patients across their medication lifecycle. Here are a few trends in pharma where the applications of SaMD are being employed:
Preventive Care – The companies have demonstrated that digitally tracking a patient's condition using the technology can improve medication adherence and disease control while lowering hospital and emergency room visits. An example of this is Propeller Health, a digital health company that has received 510(k) clearance from the U.S. FDA for its connected platform developed in partnership with AstraZeneca to help improve the treatment of asthma and chronic obstructive pulmonary disease (COPD). Propeller sensors attach to patients' existing inhalers and send data on medication use to the Propeller app on their smartphones. The patients can then share the information with their clinician to formulate a personalized treatment plan.
Precision Medicine – It is a valuable and effective tool for disease diagnosis and patient pre-care. The software will examine the patient's personal and genetic information, and circumstances to diagnose and treat the disease. Pharma companies utilize this information for tailoring the treatment to patients' needs. For e.g., Javelin Biotech, in collaboration with Pfizer, aims to develop an industry-leading Organ-on-a-Chip" predictive pharmacokinetics platform It has the potential to be a market-leading platform for evaluating small molecule ADME (absorption, distribution, metabolism, and excretion) properties. The ADME platform will combine a micro physiological system (MPS), also known as an "organ-on-a-chip," with interactive computational software to assist in informing human pharmacokinetic (PK) predictions.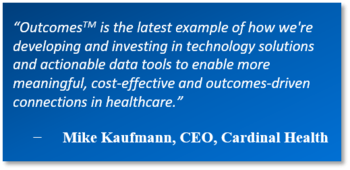 Pharma digital ecosystems for treatment adherence – Using SaMD, pharma companies are trying to completely engage patients by supporting them in all the possible aspects of care delivery. Software mitigates the challenges faced in medication adherence and provides a solution for personalized drug therapy management, digital patient involvement, and tele-pharmacy. Cardinal Health launched OutcomesTM, a digital pharma ecosystem that connects pharmacists, payers, and pharmaceutical firms to tackle the medication non-adherence challenge. Outcomes' expanded connect platform, which builds on its existing software, offers an open architectural marketplace approach to delivering solutions to pharmacies quickly, effectively, and efficiently. Its digital ecosystem already serves a network of 23 million patients and 60,000+ pharmacy locations across the country, streamlining pharmacy procedures and improving patient interaction.
3. Tech Giants:
According to the McKinsey report, the worldwide market for digital health was estimated to be worth $350 billion in 2019. Further, markets for technologies used for SaMD, such as precision medicine, digital diagnostics, telehealth, etc., are predicted to rise at least 8% each year. No wonder that tech conglomerates are investing billions in research and acquisitions in the field of SaMD. Examples below discuss how eagerly tech giants are stepping into healthcare to bring advanced medical solutions with SaMD:
Apple has gained success by vertically integrating its experience and product. It appears that it is taking a similar approach to healthcare by connecting various components of the user experience, such as the device, health record, platform, and potentially telemedicine services. Apple has bolstered its overall software portfolio with several recent artificial intelligence acquisitions, including Silk Labs. Apple's ResearchKit and CareKit Software Developer Kits (SDKs) provide templates for easily creating an application, an essential step in Apple's transition to a healthcare platform.
Google, being specialized in technological development, is also continuously making its way to attract healthcare stakeholders. A dermatology tool powered by artificial intelligence was demonstrated by Google Health researchers. Using a simple phone camera, the program assists users in identifying dermatologic problems. Another significant innovation is AI algorithms that can detect ever-smaller lung tumors. Etemadi's technology, which is a collaboration between Google, Northwestern University, and other institutions, is one of several that are moving towards clinical adoption.
4. Start-Ups:
According to one report, trends in healthcare start-ups are majorly towards clinical intelligence and enablement, screening and diagnostics, virtual care delivery, and disease management and therapeutics. SaMD plays a significant role in all of these domains.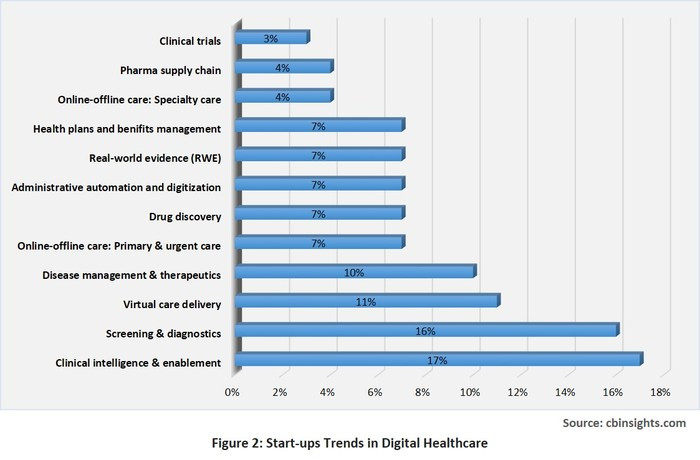 SaMD Life-Cycle
SaMD is frequently used as part of a clinical workflow sequence to improve diagnosis, treatment, and patient management. Regulations and protocols have had to keep up with the kind of development procedures medical devices require due to the emergence of Software as a Medical Device.
The necessary recommendations for designing a SaMD can be found in AAMI TIR45, a Technical Information Report (TIR) from the Association for the Advancement of Medical Instrumentation (AAMI). It explains the agile manifesto, many techniques (such as Definition of Done), their implementation, and tailoring to reference models such as IEC 62304 and 'FDA CFR, Title 21, Part 820.30'.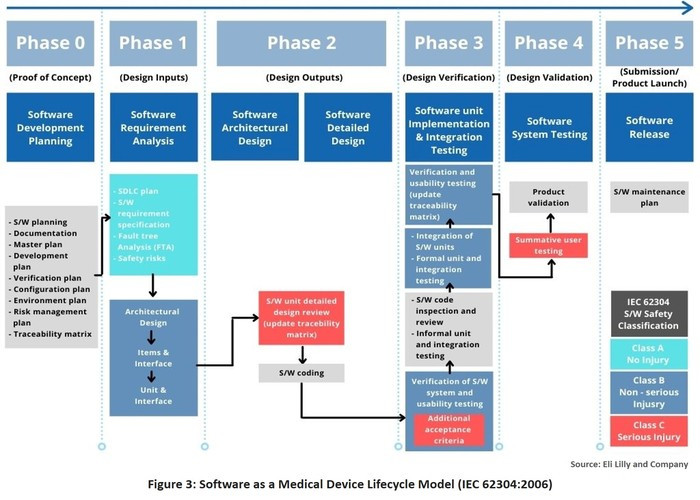 However, problems with the design and/or implementation of SaMD into a workflow might cause users to make wrong choices/decisions and delays in making decisions can have negative repercussions for patients. All organizations need to look at the two aspects of the software lifecycle:
1. Quality management – To ensure quality, organizations must follow ISO 13485:2016, which outlines the parameters for a quality management system that demonstrates an organization's ability to consistently offer medical devices and related services that comply with many region-specific and global regulatory standards.
2. Risk management – Medical device manufacturers must identify potential risks associated with the devices. Estimate, evaluate and control those risks, and assess the effectiveness of the controls. For risk management, they need to follow ISO 14971:2019, which applies to all SaMD life cycle phases.
Risk assessment and quality management of a SaMD are not only performed during the development phase but also need to be observed in the post-production and post-deployment stages. According to the real-world feedback on software performance, there can be a modification and up-gradation, which may create more risks; hence, post-production liability must be treated with the utmost attention.
Parting Thoughts
The future of SaMD is promising not only for patients and practitioners but also for society. Moving ahead, some of the most valuable technologies in the healthcare industry will not be new gadgets or large equipment but rather companion software that gathers crucial patient data to generate actionable insights to be used to create personalized healthcare plans.
In the healthcare software sector, a long-term vision towards evolving patient care, agility, and flexibility is required to respond to frequent changes in consumer expectations and business requirements. Healthcare organizations need to take a very holistic and structured approach towards the SaMD lifecycle management process that leads to creating solutions that deliver maximum value in terms of patient outcomes within the digital healthcare ecosystem.
Note: The opinions that may be presented in the article are that of the authors
Also read: How Robotic Process Automation can Revolutionize Healthcare?